If you are looking for the best live chat plugin, then you have come to the right place. In this article, we are going to list the live chat plugins that you can use on your WordPress site.
WordPress is one of the best CMS. However, that doesn't mean that it contains every functionality from the onset. If you are running a business, you need to add a live chat on your site. This instill trust in the visitors as it helps you to provide the best services to them.
Let's get started.
Top 7 WordPress live chat plugins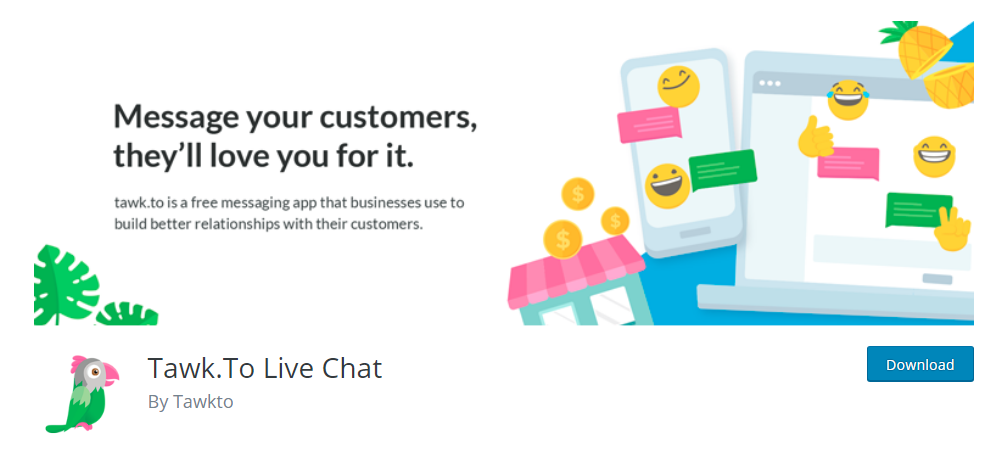 If you are looking for a free live chat plugin, then check out the Tawk.To Live Chat. It is one of the most popular plugins to install live chat on a WordPress site with over, 200K+ active installation.
The plugin is completely free with no ads or spam. By using the site, you can gain valuable real-time insights on the visitors. It also enables you to stay connected with your valuable customers and visitors from any device.
When it comes to Live Chat, it provides a good customer engagement experience. If you have multiple sites, then also you can use the plugin to manage them. It offers a good dashboard to manage multiple sites.
Key features worth mentioning:
Completely free of cost
Supports multisite
Modern dashboard
Compatible with modern browsers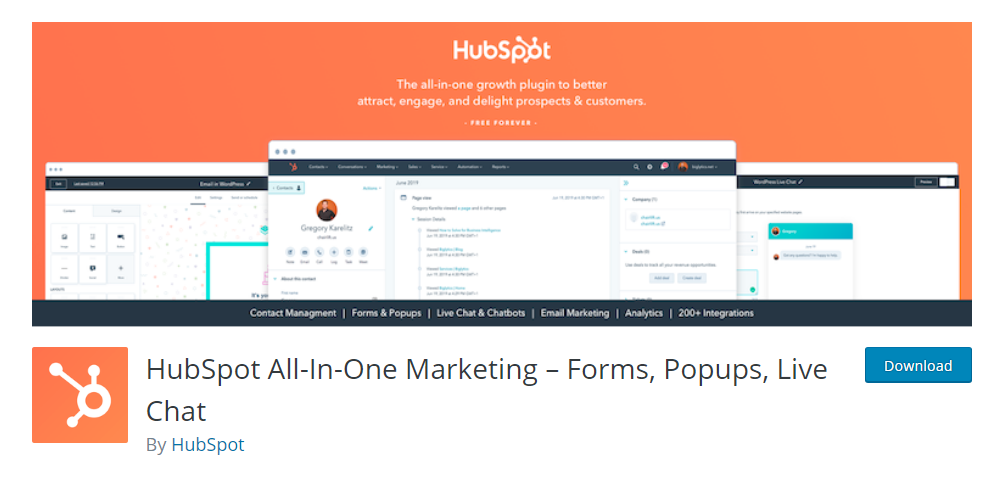 If you are looking for a complete marketing package, then look no further than HubSpot. It is an All-In-One marketing solution that offers popups, forms, and live chat.
To access the features, you need to use HubSpot's free CRM. However, you can get access to all the features with the plugin. It also lets you grow an email list and capture them through a popup or live chat.
As we are only discussing the live chat plugin, let's discuss its key features below.
Key features worth mentioning:
Supports live chat
Sales live chat
Automated chatbot
Fits well within the theme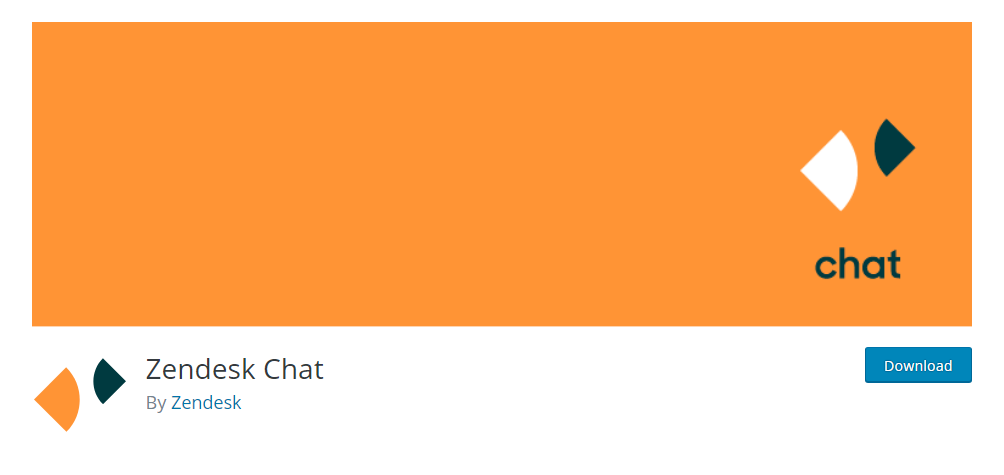 Zendesk Chat is quite a popular plugin with over 70K+ active installations. With the help of Zendesk Chat, you can enable your customers and visitors to connect with your customer support.
It comes with a dashboard that lets you manage multiple conversations. Also, the dashboard is available online so that you can connect from anywhere you want.
Key features worth mentioning:
The chat widget is mobile responsive
Automate and reach each visitor with proactive chat
Free to use
Offers good support
Supports major browsers
HTML 5 dashboard
Comes with Blackberry, Android and iPhone app
The plugin also integrates well with other plugins including Salesforce, UserVoice and so on. To use the plugin, you need to first customize the widget. It can easily be done by checking the customization option.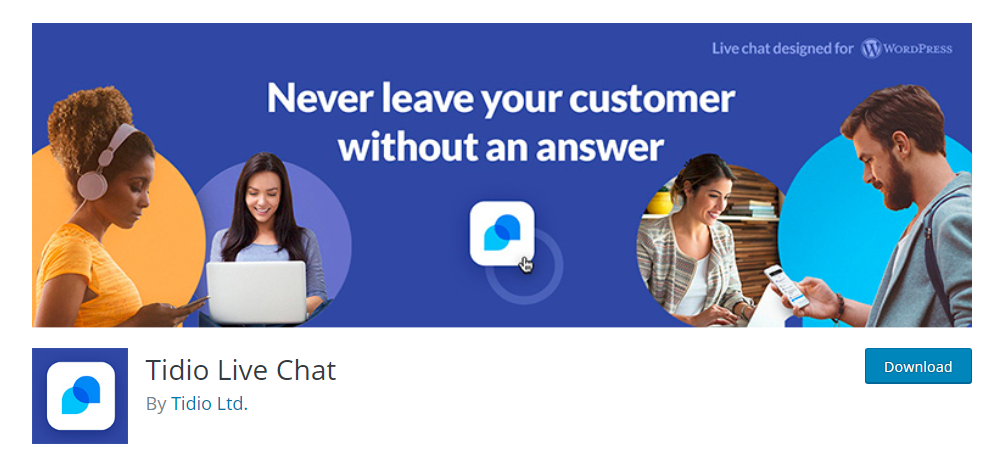 Tidio Live Chat offers a proper way to connect with your visitor. Chatbots have always been one of the best ways to engage new visitors and help customers who are in need.
Once you install the plugin, you need to configure and activate the live chat widget. It is free-to-use. However, it comes with a free plan which can be limited to a full-blown business.
Key features worth mentioning:
Easy to install
Generate more leads
Solve customer's problem 24/7
Contact current visitors
Keep track of visitors
Supports dedicated mobile app
Supports modern web browsers
You can also integrate the plugin with other marketing plugins and tools including SalesForce, Zendesk, MailChimp and more.
It also comes with the support of 183 languages. You can choose from 21 pre-translated language packages.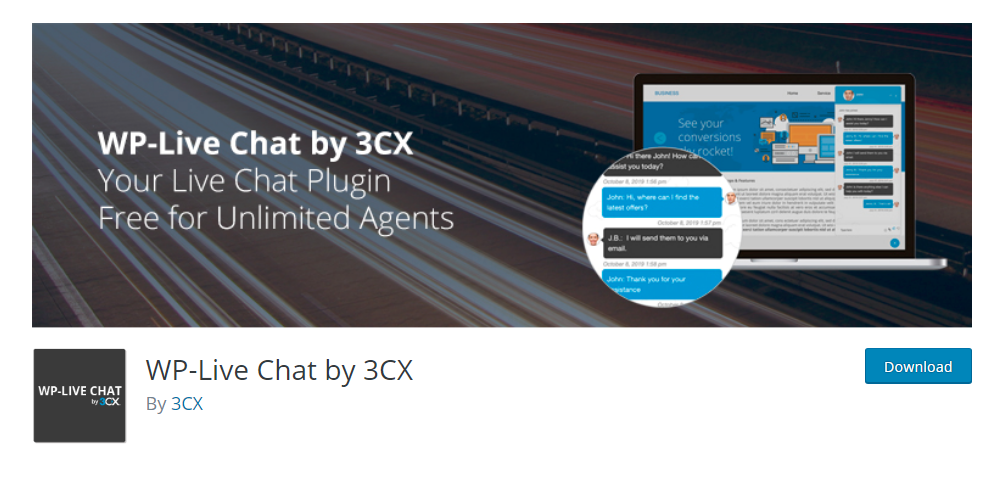 Our next plugin in the live chat plugin list is the WP-Live Chat by 3CX. With over 1,500,000 downloads and 50,000 active installations, it is one of the top live chat plugins for WordPress. It is reliable and free-to-use. By using the plugin, you are going to improve your chances to have better conversations.
Key features worth mentioning:
Free to use, no hidden cost
Live chats can be initiated with site visitors
Unlimited agents can use the plugin
Transfer chats to other agents
Set up departments
Easy to use interface
6 live chatbox themes
Completely customizable
Automatic chat box pop-up
IP address visitors ban
Offers desktop notifications
Other key features include quick responses, reporting, RIO tracker, and much more! It also comes with multiple language translations.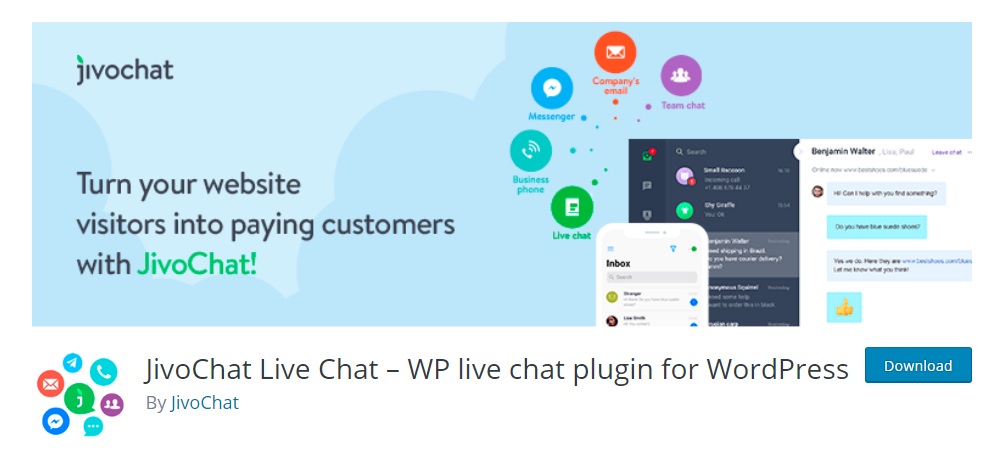 JivoChat Live Chat is an omnichannel chat plugin. This means you can not only use it for your WordPress site, but also on social media such as Facebook. If you want to have live chat in multiple places, then the plugin is for you. This also means that you will get everything in one place including messages, leads and more!
The plugin is also easy to use and helps you to boost your sales to new heights.
Key features worth mentioning:
Easy to install
Free to use
Supports 4 platform connection
Omnichannel
Offers install visitors callbacks
Multi-agent chant
Pointer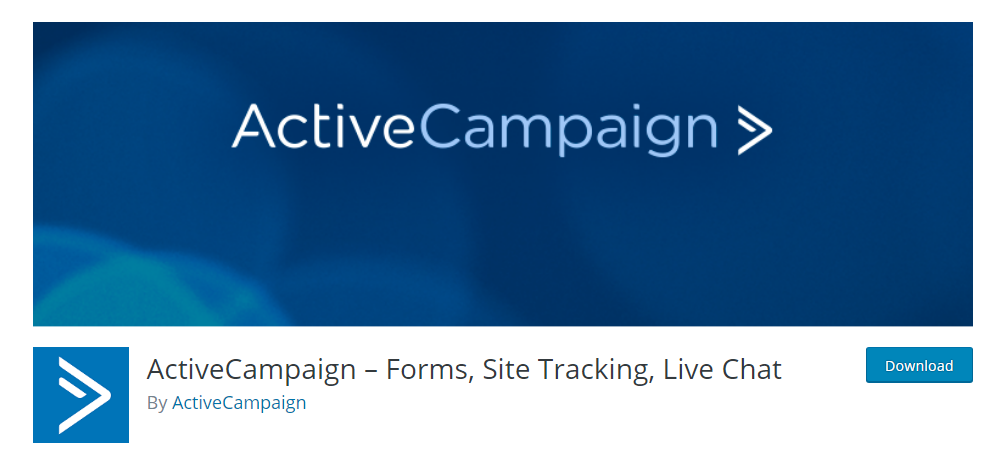 ActiveCampaigns is our last plugin for the best live chat plugins. It is also a complete package that offers site tracking, forms, and live chat.
By using the plugin, you will be able to sideload forms on the page, post, and sidebar. It also lets you track the visitors. Lastly, it offers a live chat option through which you can connect with your visitors and help you improve sales.
Once installed, you need to simply go to Settings and then to ActiveCampaign. Once there, you need to activate the plugin by using the ActiveCampaign API URL and the key. You can get that information from your ActiveCampaign account.
Key features worth mentioning:
Easy to install
Offers multi-channel customer communication
Conclusion
This leads us to the end of our best live chat plugins for WordPress. So, what do you think about them? Comment below and let us know!
I hope this article helped you choose the perfect WordPress live chat plugin. You may also want to see our handpicked list of best PDF viewer plugins for WordPress.