An image optimization plugin helps you compress your images, which will not only take up less space, but also speed up your WordPress site. In this article, we are going to go through the most popular image optimization plugins for WordPress site.
Why do you need an image optimization plugin for your WordPress site?
It is quite obvious that media content usually slows down your WordPress website. However, having media content is essential to rank your website as compelling plain content isn't enough.
Every visitor that visit your website have different criteria to judge your website and visual content plays an important role to judge whether your site is worth their time, but few issues can sink you as quickly as slow load times.
There are a lot of factors which can impact your loading times, and using high-resolution images is one of them. Large-sized and high-resolution images also play an important role to optimize the performance of your website.
With WordPress image optimization plugin, you can compress images and let them take up less space. Meanwhile, you can improve the loading time of your site while still getting to use images for your readers. It's a win-win solution!
When it comes to compressing images, there are several quality options available in the WordPress market place. And to help you find the best of the best, we have listed the top six WordPress image optimization plugins.
Top 6 image optimization plugins for WordPress site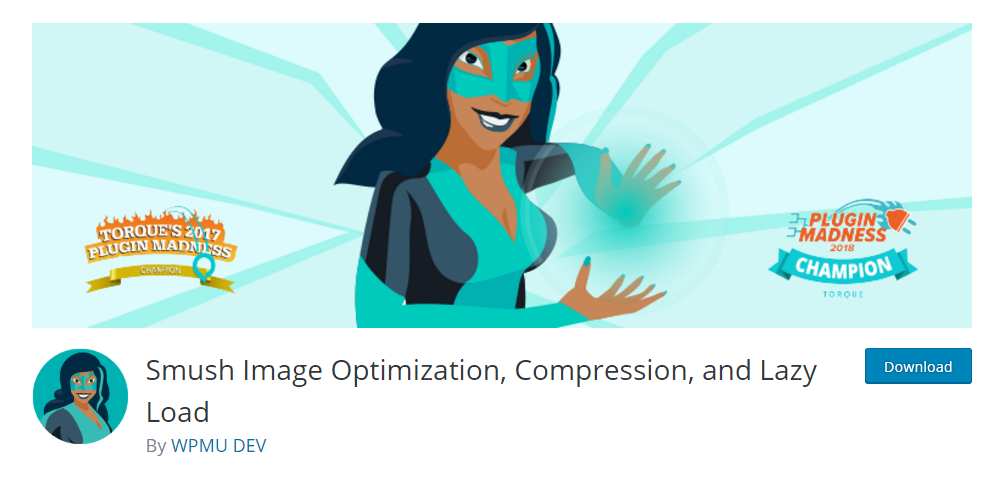 Smush has always been benchmarked and tested number one for speed and quality and is the award-winning, back-to-back proven users' favorite image optimization plugin for WordPress.
One of the best WordPress image optimizers compress, resize, and optimize high resolutions images by smushing it completely.
Some image optimization plugins compromise the quality of images as much as 30%. With Smush image optimization, you can eliminate the errors, prevent the damages, and detect the incorrect image size.
Here are some of the key features of Smush image optimizer:
Optimize up to 50 images with one click
Strip unused data without affecting image quality
Set a max width and height and large images will scale down as they are being compressed
Incorrect size image detection
Defer offscreen images with the flip of a switch
Compress any image in any directory
Compatible with your favorite WordPress media library plugins
Serve images with correct dimensions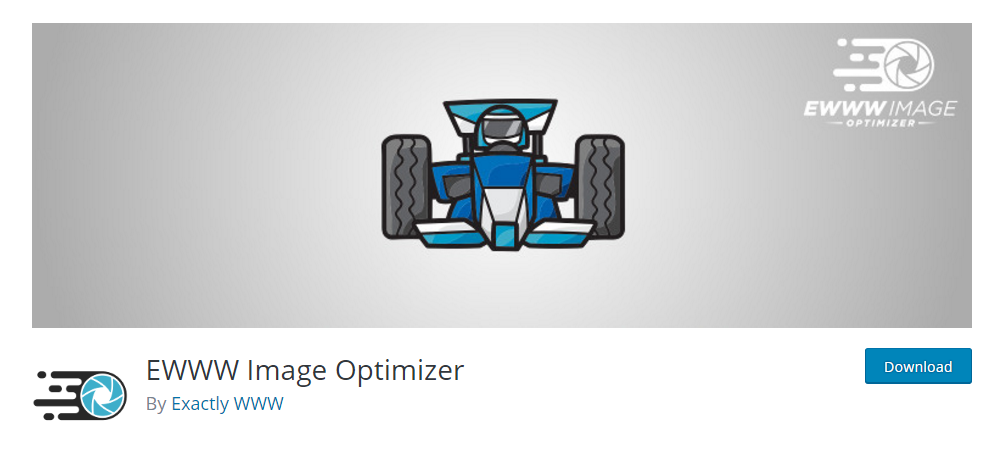 The EWWW image optimizer is the second contender in this list for various image optimization features it has. EWWW is one of the most feature-rich WordPress image optimization plugins that will optimize your image and increase the speed of your website.
Increased image speed can result in better ranking and improved conversion rates. It will also save you storage space and bandwidth.
After installation, EWWW will automatically compress and optimize the images right after you upload them and optionally convert your images to the best file format. You can even choose pixel perfect compression or high compression options that are visually lossless.
Here are some of the key features of EWWW image optimizer:
No Speed Limits and unlimited file size
Capability to skip previously optimized images
WP image editor and WEBP images
Smooth Handling with pixel-perfect optimization
Intelligent conversion options to get the right image format for the job (JPG, PNG, or GIF)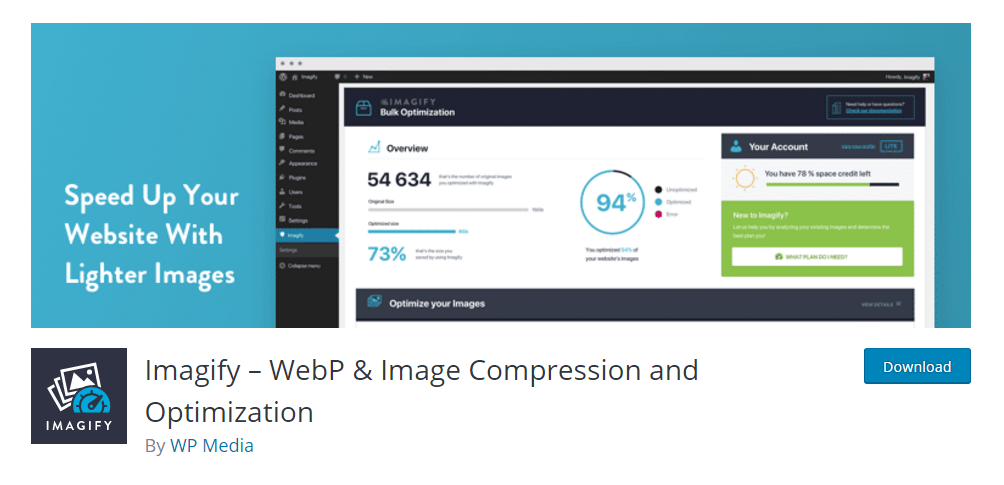 This simple yet powerful tool optimizes your images without compromising the quality and speeds up your WordPress website. Imagify is the most advanced tool to optimize images including thumbnails. You can also use Imagify to convert WebP images for free. It supports WooCommerce and NextGen.
You can even choose from three different settings for the optimization — Normal, Aggressive, and Ultra.
Key features of Imagify:
Get WebP version of each image you upload separately
Compress, resize and optimize images automatically
Full-sized WebP image
Optimized thumbnails
WebP thumbnails
Compatible with WooCommerce and NextGen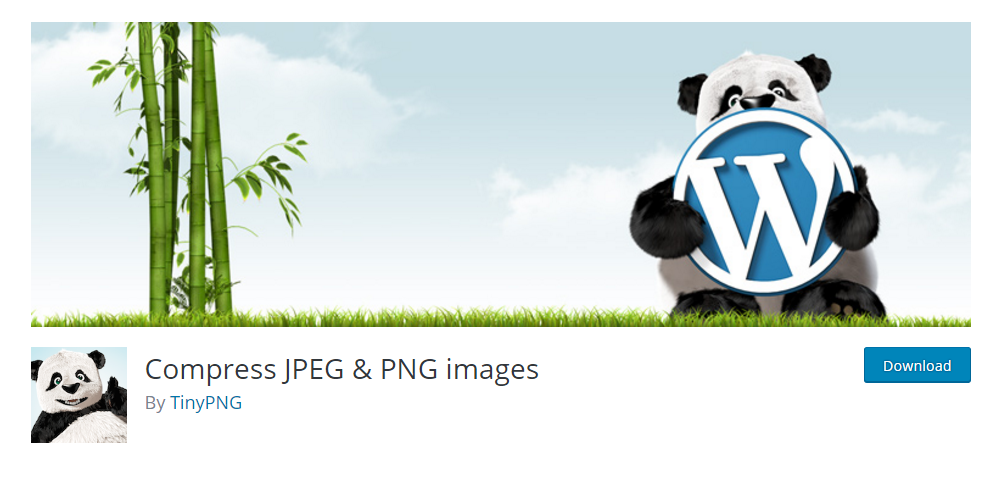 It simply does what it says. One of the lightweight and powerful plugins that will not only resize and compress the images without compromising the quality but also increase the speed and improve the conversation rate as well.
This plugin automatically optimizes all your JPEG and PNG images by integrating with the popular image compression services TinyJPG and TinyPNG.
Key features of Compress JPEG & PNG images:
Automatically resize, optimize and compress new images on upload and ones in the directory
Optimize individual images already in your media library
WooCommerce compatible
Color profiles are automatically translated to standard RGB color
Supports compression of animated PNG
No file size limits
Multisite supporter
And many more.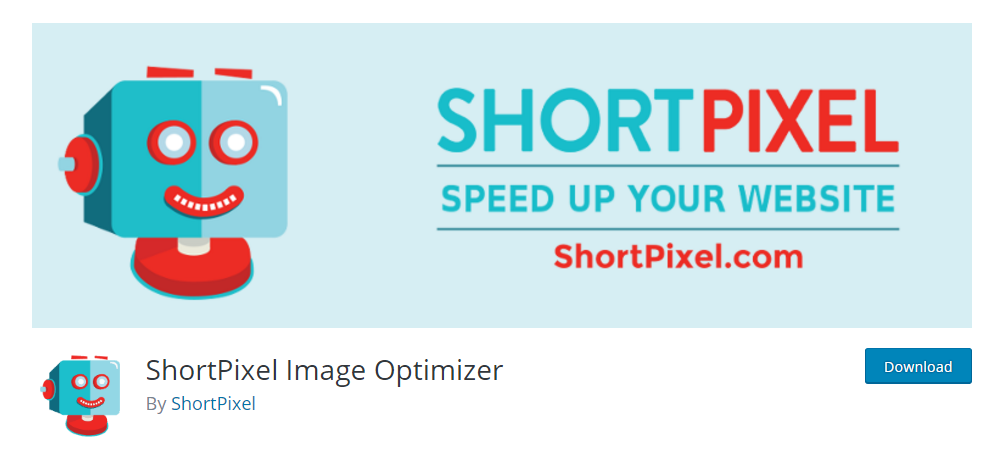 ShortPixel is one of its kind and top of the line image optimizer plugin that not only stands out of the crowd when it comes to resizing and compression but also has an overall nice user interface that allows you to access all the features conveniently. It is a popular image optimization plugin with over 100,000 active installations according to WordPress.
ShortPixel is easy to use, lightweight, install-and-forget-about-it image optimization plugin that can compress all your past images and PDF documents with a single click.
In addition, it will increase the website's SEO ranking, number of visitors and ultimately your sales by optimizing any image or PDF document on your website. it is also compatible with WooCommerce, NextGen and Modula.
Feature spotlight of ShortPixel Image Optimizer:
Compress JPG, PNG, GIF (still or animated) images and also PDF documents
Optimize thumbnails as well as featured images
Select individual thumbnails to exclude from optimization
CMYK to RGB conversion
eCommerce websites using WooCommerce or other plugins, NextGen gallery, and many others
WooCommerce, WP offload S3 and WP Stateless compatible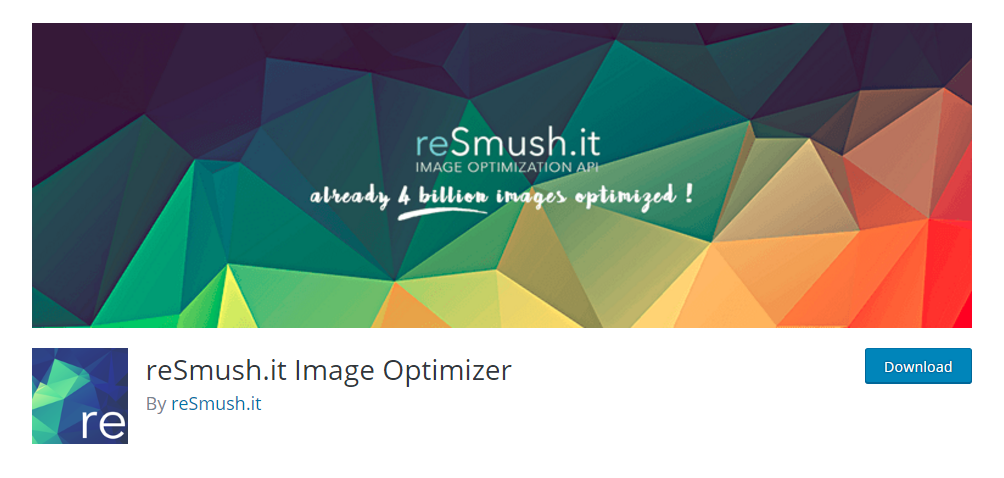 reSmush.it is one of the simplest and lightweight plugins that allows you to optimize and compress the images for overall WordPress optimization that not only loads faster but also help you to increase the rank and conversion rate. The API accepts JPG, PNG and GIF files up to 5MB.
Here are the key features of reSmush.it Image Optimizer:
Optimize pictures up to 5MB
Bulk operation to optimize all your pictures within a few clicks
Image size reduction based on several advanced algorithms
Final thoughts
It is important to keep in mind that optimizing your images won't make your site magically load in milliseconds, it's one of those things that show you consider every detail. You will have to look after other aspects of optimization as well.
However, for image optimization, above-mentioned tools are some of the best WordPress image optimization plugins. So, which plugin are you using to compress your website images? Comment below and let us know.
I hope this article helped you find the perfect WordPress image optimization plugin. You may also want to see our list of best WordPress user role plugins.