Social media drive is an integral part of any companies content marketing strategy. It is common for social media marketers to spend a lot of time for publishing. However, nowadays, all you need to do is use an social media auto publish plugin.
WordPress auto-publish plugins automate the publishing part so that you can focus on the essential things.
Let's go through the six best social media auto publish plugins for WordPress.
6 best social media auto publish plugins for WordPress site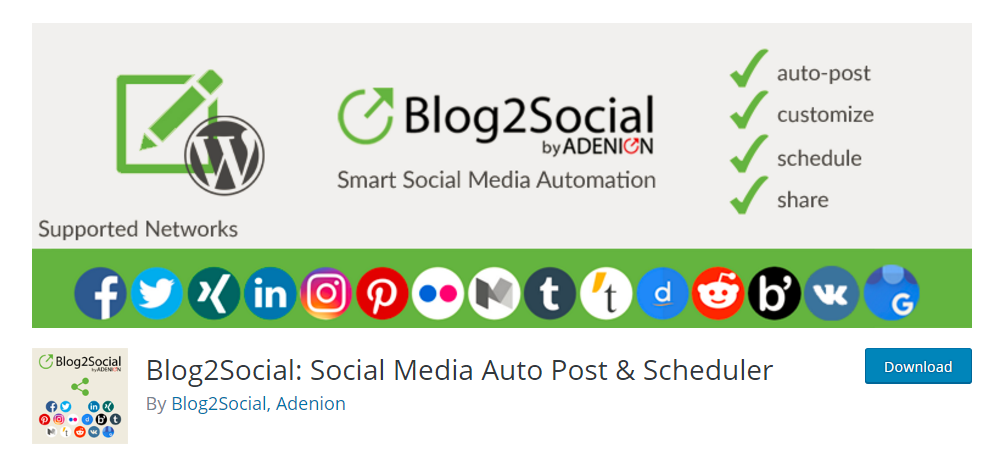 Blog2Social is a free-to-use social media auto publish plugin. It lets you auto-post and schedules your post.
Moreover, you can also use it to cross-promote your content across multiple social media platforms.
The list of social media support includes popular social media platforms, including Twitter, Facebook, Linkedin, My Business, Pinterest, and Reddit. Apart from these, it also supports other social media platforms.
Additionally, it can automate the whole process by selecting content and generating social media posts out of them. It can also gauge the time to publish the content, saving you the time required to plan as well.
Lastly, it is compatible with WooCommerce and Gutenberg Editor.
Key features worth mentioning:
Support 14 networks
Customize social media posts
Manage posts, pages, and user-generated content
Meta-tag user information editing
Generate hash-tags
Offers extension for Chrome and Firefox
It also comes in Pro version with a 30-day trial.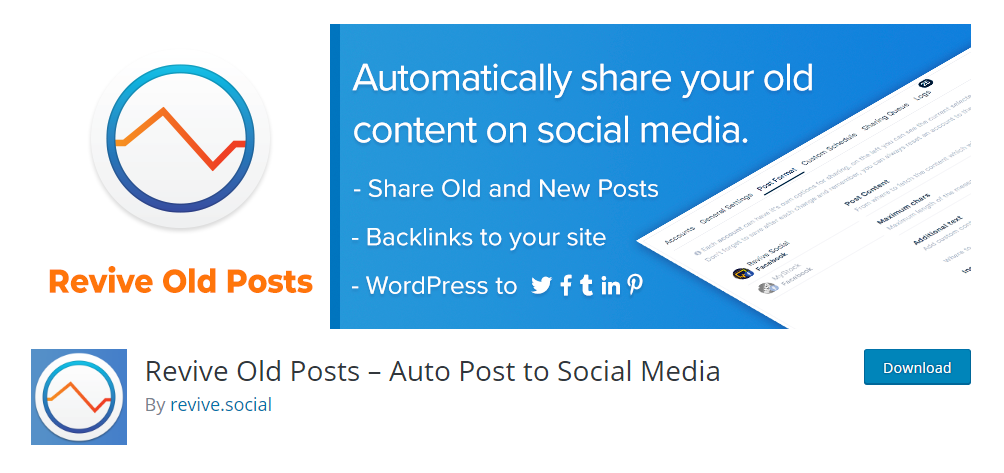 There are many sites who don't take advantage of their old posts. Old content is useful, and you can leverage it using Revive Old Posts plugin.
The plugin automatically selects your old post and shares them on social media. Furthermore, you can also use it to drive more traffic on social networks.
This means that you are in full control and can set the different parameters, including the number of posts and sharing interval.
Key features worth mentioning:
Share old posts automatically
Choose the interval between posts share
Choose the number of times posts are shared
Exclude specific posts and categories
Use hash tags
Include link bank to the sites
WP to Twitter
Support URL shorteners and Google Analytics
As usual, it also comes with a free and Pro version. The PRO version offers great feature-set including support for multiple social accounts, share content variations, custom schedule, magic tags, media library content share, and so on!
You can also check the difference between free and Pro here.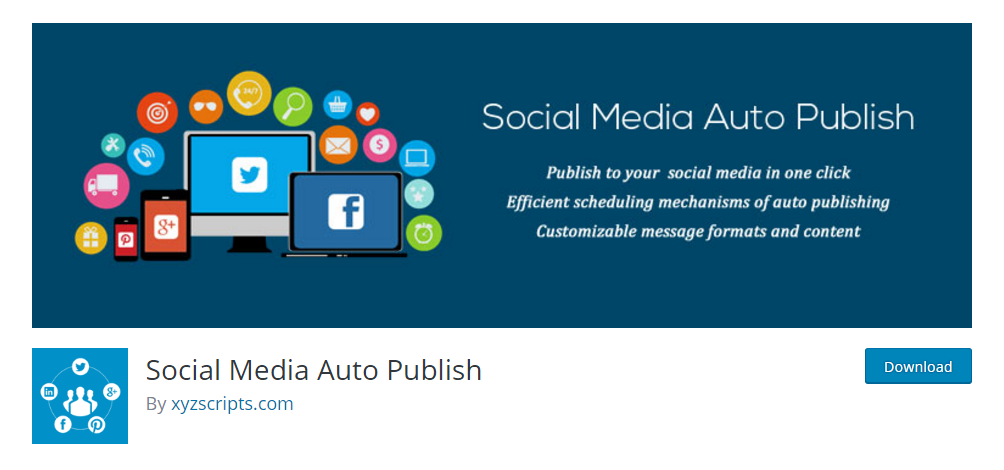 Social Media Auto Publish is yet another free plugin for auto-publishing content on social media. With it, you can publish posts using the filter.
You can use custom post types, categories, and other filters to narrow down according to your specific needs.
However, it only supports the auto-publish option to three platforms, including Linkedin, Twitter, and Facebook. For most businesses, this would be more than enough.
Key features worth mentioning:
Support customization
Support custom messages and images addtion
Auto-publish for Twitter, Facebook, and Linkedin.
Filter posts according to different criteria including post types, categories, and pages.
Multiple posting options available.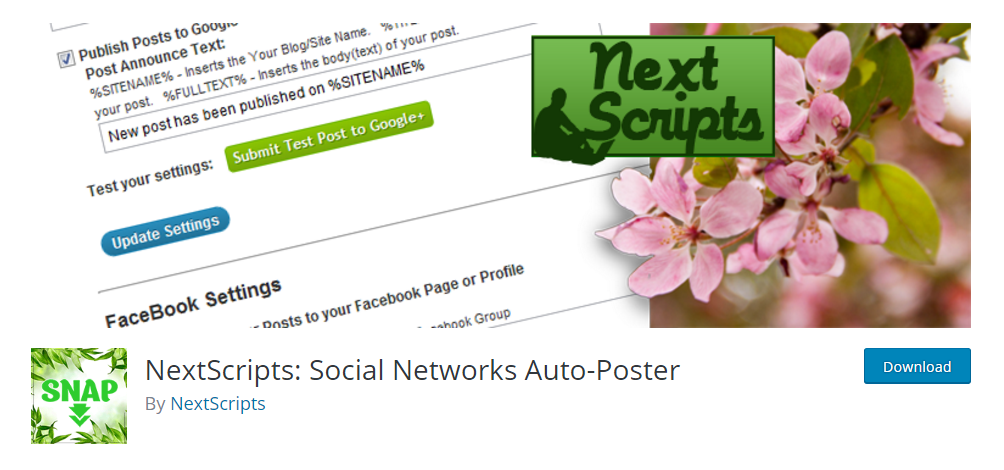 Our next plugin in the social media auto publish plugin is the NextScripts plugin. It is a social networks auto-poster that supports a wide range of social media platforms.
Apart from the famous social media platform support, it also supports other platforms including Flickr, Tumblr, LiveJournal, ok.ru, Flipboard, Telegram, Line, and so on.
Also, you do not have to worry about compatibility issue as it has been updated to support WordPress 5 and Gutenberg.
It supports more than 30+ social media networks with more social media platform support in future planned.
Key features worth mentioning:
Support filters and message formating tags
URL shortener supported
Schedule posts
Supports addtional URL parameter
Import/Export plugin settings
Spin message post template
Supports WooCommerce
It also comes in the Pro version, which adds more features including advanced filters, random auto-post, limiting auto-posting, and so on!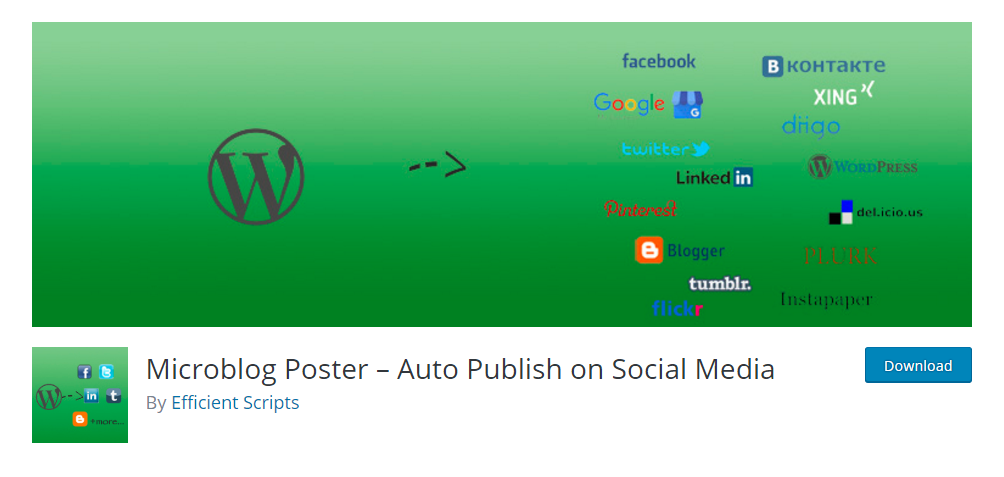 Microblog Posters is an easy-to-use auto publish plugin for social media platforms. It is a fully-featured plugin that lets you do all the basic things without the need to buy any Pro version.
It does come with add-ons that expand the core features of the plugin. The add-ons are payable, and you can opt for anyone that you see fit.
Key features worth mentioning:
Auto-publish to social media platforms
Republish old blog posts automatically
Addtionally flter posts
Support multiple accounts per social site
Offers log support
Support WordPress multisite
Overall, it is a great plugin that lets you manage your social media effectively. The add-ons are also useful for enterprises, big businesses, or specific requirements.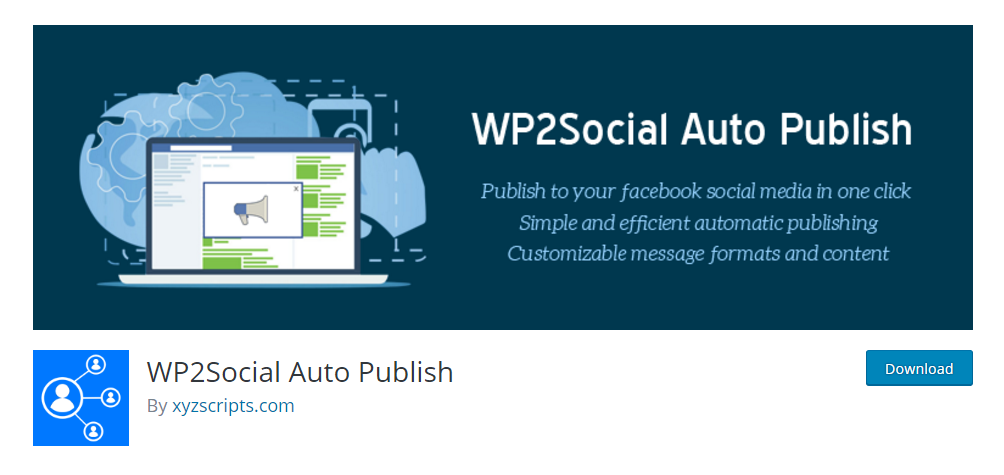 Our last plugin in the list is the WP2Social Auto Publish. It is a Facebook-only plugin. This means it only supports Facebook platform.
With WP2Social, you can push new posts to Facebook with text and images. The text can be customized according to your requirement. Moreover, it also supports filtering option, including categories, post-types, and pages.
Key features worth mentioning:
Support simple text message
Facebook specific pages posts
Blog post link support
Blog post attachment
Proper filter settings
Message format settings
Wrapping up
This leads us to the end of our six social media auto publish plugins for WordPress site. All these plugins are popular and offer unique value to the user. So, which plugins are you going to use? Comment below and let us know.
You may also want to see step by step guide on how to add social share buttons to WordPress site.