Creating regular backups for your WordPress website is one of the best security measures you can take. Having access to backups allows you to secure your data in case of any technical issues or security breaches. If your website is hacked or you happen to lock yourself out accidentally, a WordPress backup plugin is your only way out of such a situation.
Top reasons why you should install WordPress backup plugin:
Protection against human error
Reverse problems with updates
Prevent data loss
Resolve compatibility issues
Resolve malware issues
Protection against hackers
Here are the six best WordPress backup plugins that you can try out for your website. All of the plugins are focused on security and are capable of offering you all the features that you would need to keep your data safe.
6 best WordPress backup plugins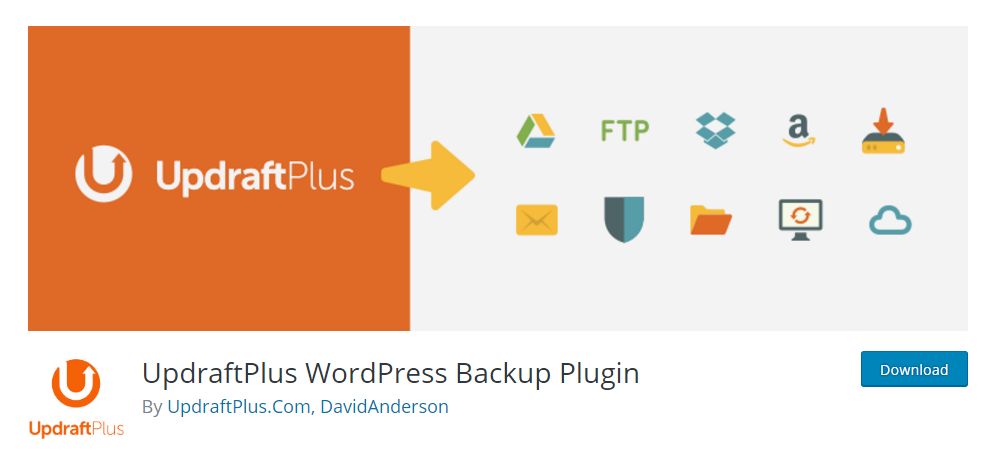 UpdraftPlus allows you to create WordPress backups of your website to safeguard yourself against hackers and other issues. Whether it is a server crash or a hosting service migration, you can rely on UpdraftPlus' backups to take care of your needs.
Just like any other content management system, WordPress websites are not completely immune to technical issues. There may be instances of security flaws or hacks even if you take the best security measures possible.
If anything happens to your website you can use the plugin to restore an older version of your website instantly. For more details, please see our step by step guide on how to backup & restore your WordPress site with UpdraftPlus.
With UpdraftPlus, you can:
Create incremental backups
Duplicate existing websites and migrate them
Backup WordPress files and databases
Encrypt your data
Get professional support
The plugin is free to use and if you want premium features, you can upgrade to the Pro version as well.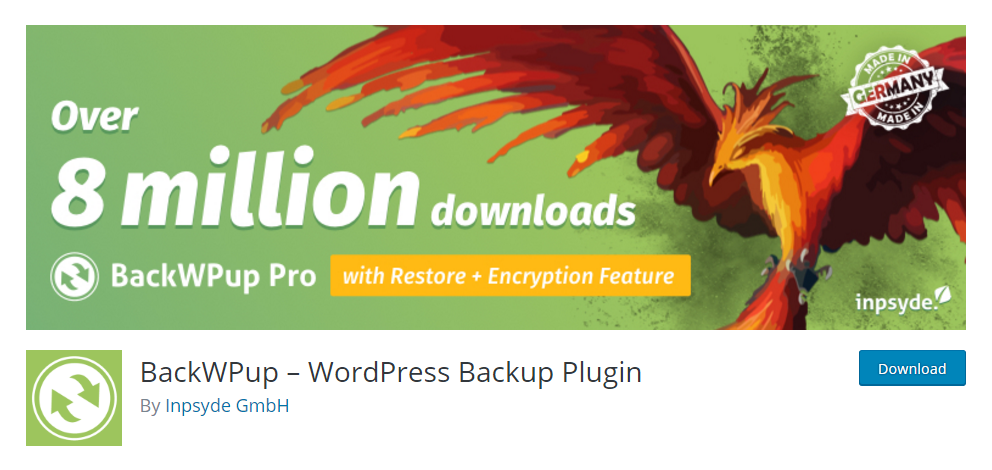 This backup plugin is capable of saving your website's complete installation including your content folder. You can store all of your data to any external backup service of your choice including cloud storage services.
The backup process when using the plugin is very simple and all you need to do is create a zip file. You can use the same plugin to restore your website using the backed up zip file making the process very simple. On top of the basic backup features, you can also encrypt all of your data for added security.
A lot of times hackers often target backups as well and being able to keep your information protected no matter where it is, is an added bonus. With hundreds of thousands of users across the globe, BackWPUp is one of the most reliable plugins available for website backups.
Here are the features you can expect from the plugin:
Database backup
WordPress XML export
Database optimization
Database repair
File backup
There are two versions of the plugin. The free version is available from WordPress plugin repository. If you want more features, go for the pro version.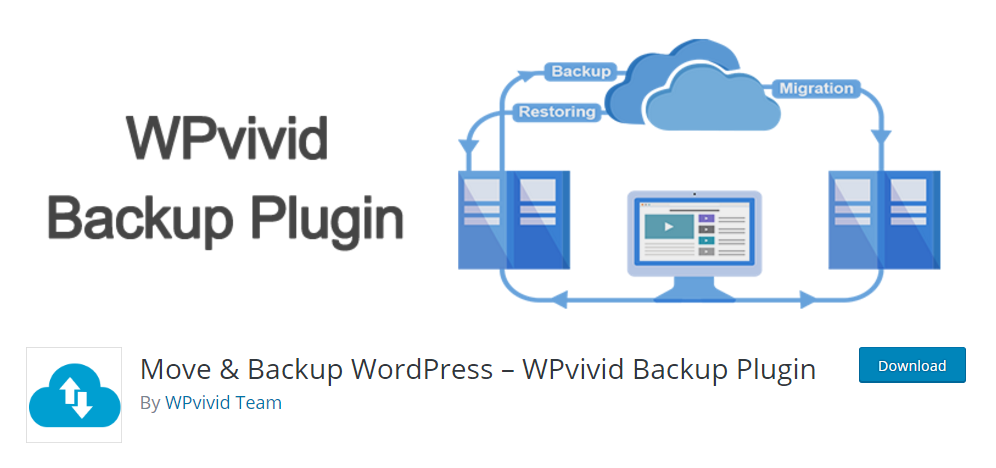 If you are looking for an all-in-one free solution for all your backup needs, WPvivid backup plugin is the go-to option for you. The plugin allows you to clone or copy WordPress websites and move them to a new host or save your data for security purposes. You can also setup backup schedules to automatically backup your data. For more details, see our guide on how to backup WordPress site with WPvivid backup plugin.
Moreover, the backup files created can be transferred to remote storage as well. Currently, it supports for backing up to Google Drive, Dropbox, Microsoft OneDrive, Amazon S3,DigitalOcean Spaces, and FTP/SFTP.
The plugin allows you to migrate your website with a single click. You can also switch between dev environments, which essentially means that you can move from one live server to another with a single click (see our guide on how to migrate a WordPress site to a new host).
The restore process is just as simple and you can get your data back with a single click in case things go wrong (see our detailed guide on how to restore a WordPress site from backups) .
Here are the top features that you get with WPvivid backup plugin:
Website move or migration
Manual and scheduled backups
One-click restore
The support for leading could storage
Backup content customizable (entire site, only database or all files)
Filter large files
No limit for backup size
Backup splitting
Optimization for shared hosting
Log files
Email reports
At the time of writing this article, the plugin is completely free and you can get it for yourself from WordPress plugin repository.
Duplicator is one of the most commonly used plugins in the world. There are over 15 million websites that have taken advantage of the plugin as it allows you to seamlessly copy, move and clone sites from one location to another. You can also use it for backups as well.
The backup and restore process suffers from zero downtime and you can expect to be able to save or get your data back whenever you want. You can also move from one live server to another without any technical hitches as the plugin automates everything for you.
Here are the top features of the plugin:
Professional support
Cloud storage support
Scheduled backups
Email notification
Database backup
There are two versions of the plugin. You can opt for the free version for basic functionality or go for the Pro version for added features.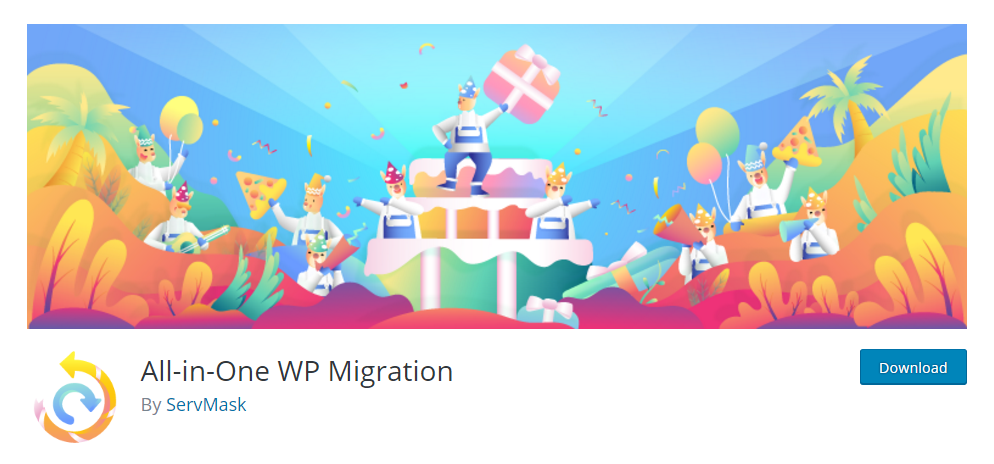 The All-in-One WP Migration plugin allows you to back up your WordPress website completely including all databases, media, plugins, themes and other important data. You do not need any technical knowledge to backup and restore your page as the plugin does everything for you.
The plugin is one of the first to offer full mobile compatibility as long as your website is running WordPress 3.3 or any newer version.
Here are the top features of the plugin:
Database backup
Website migration
Cloud storage support
One-click restore
Mobile friendly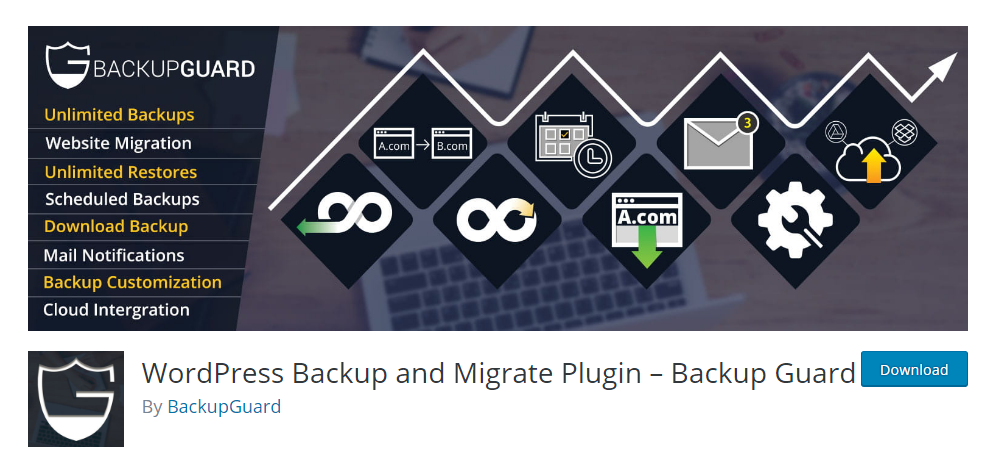 Backup Guard is one of the most complete WordPress backup plugins that you can get. It offers easy access for users who want to migrate, backup or restore their WordPress websites. You can also backup your files and databases.
You can also create backups for multiple websites using one license of the plugin which is very useful for owners of multiple sites. The backups can be uploaded and restored from third-party cloud storage services as well.
The top features of Backup Guard include:
Multi-site backup
Live progress tracker
Scheduled backups
Website restore
Backup download management
The plugin provides two verisons, free and pro versions, as well.
Wrapping up
If you own a WordPress website, you should most definitely install a backup plugin to keep your data safe. Losing data to hackers or technical issues can jeopardize your website and it's better to be safe than sorry. Even if you opt for a free plugin, you will get basic features to secure all of your data.
I hope this list helped you choose a best WordPress backup plugin for your site. You may also want to see our collection of 6 best WordPress SEO plugins for higher rankings.