AMP or Accelerated Mobile Pages enhance the browsing experience of mobile users. Since, the mobile devices have become prevalent and more and more people using their mobile devices to browse the internet, making sure your WordPress website is mobile-friendly is a must. WordPress AMP plugin helps you make your website mobile friendly and load it faster along with improving search engine rank.
Why do you need an AMP plugin in WordPress site?
Google introduce AMP a few years ago and since that it becomes very popular as it has numerous applications which improve your WordPress site. Popular websites such as Facebook, Tasty, Twitter, Slate, Wired, CNBC, etc. have already adopted AMP and now it's your time to embed AMP in your WordPress site.
Furthermore, WordPress AMP plugin is one of the best ways to increase your website's visibility to Google's SEO algorithm. If the search engine will see that your website won't load faster, it will not prioritize your website pages on search engine result. However, AMP-enabled websites have greater chances to get listed on top.
If you want to make your website mobile-friendly, load faster, improve SEO and much more, then WordPress AMP plugin is the best option to rely on.
Here we have listed the best WordPress AMP plugins to eliminate the hassle and research work for you.
Top 5 AMP plugins for WordPress site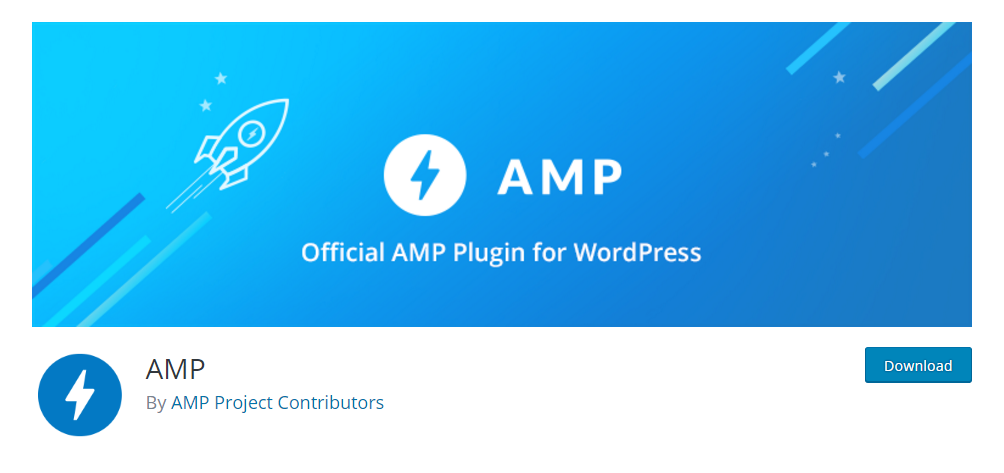 AMP, a simple yet powerful WordPress AMP plugin, takes the web experience to another level when it comes to browsing through mobile devices.
The plugin offers three different modes of configurations along with many other features that make your WordPress website beautiful, fast, high-performing, and Google search engine friendly. The three different template modes include Standard, Transitional, and Reader.
Additionally, the AMP plugin doesn't redirect mobile devices to the AMP version but only supports mobile visitors when they find the content on platforms such as Twitter, Pinterest, Google Search, and others.
Here are some of the key features of AMP plugin:
Full-site AMP experiences without sacrificing the flexibility of the platform
The AMP plugin is compatible with all core themes
Automatically remove the majority of unused CSS to make the website load faster
AMP plugin enables the creation, editing, and publishing of AMP Stories in WordPress
Google Analytics and Google Adsense (AMP-AD) Support with 4 different Ad slots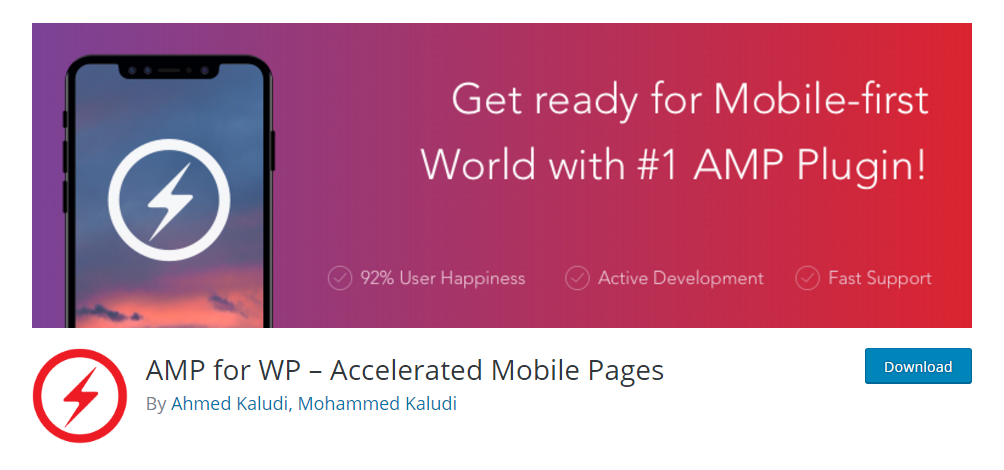 AMP for WP is one of the most popular WordPress AMP plugins that enable AMP functionality on your WordPress website automatically. The plugin makes your website faster for mobile users and improves the overall SEO ranks as well.
Additionally, the plugin also supports several other extension plugins including AMP Adsense Support, Contact Form 7 Support, Email Opt-in Support and Call to Action Support. Rock-solid community support is a plus point.
The features of this plugin you should know:
Automatically add accelerated mobile page functionality
Page, category & tags support added
Makes your website faster for mobile visitors
Custom AMP editor and mobile redirection
Supports posts and pages and other custom post types
Great community support and GitHub repository
Page builder & shortcodes compatibility
Alexa Metrics, Chartbeat, Hi-stats, Yandex Metrika, Piwik, Segment.com, StatCounter, Effective Measure, and comScore built-in support
7 new social media integrations added
And many more.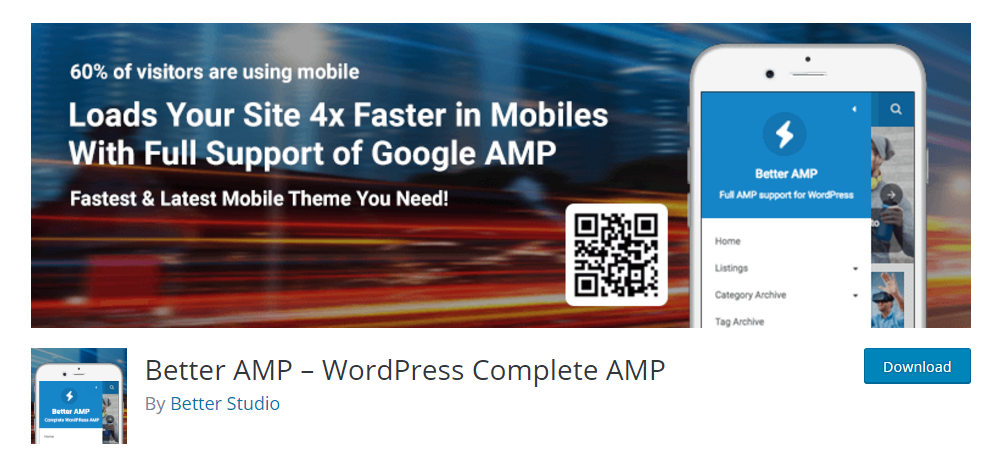 The next one is Better AMP. It is one of the most feature-rich WordPress AMP plugins that offers a one-stop solution for all your AMP requirements. All pages, posts, categories, tags, author page, search… are supported in Better AMP and there is a lot of more options that you can use them in customizer with live preview.
The plugin supports all the custom themes and other such plugins to extend its power. It is compatible with almost everything and improves the loading speed of the website.
Key features of Better AMP:
One of the fines AMP plugins to increase the speed and search engine rank
Supports custom pages, themes, and extensions
Better AMP supports RTL languages completely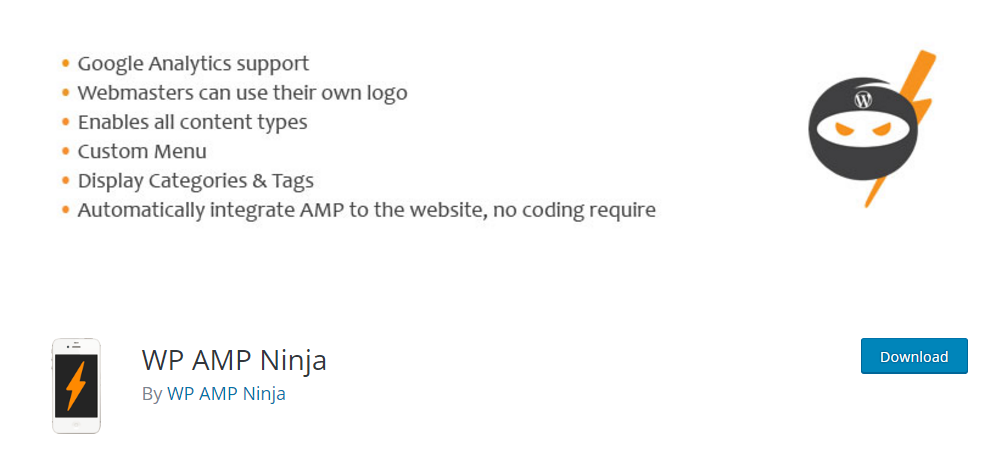 WP AMP Ninja allows you to publish and manage the content directly from WordPress to Google Accelerated Mobile Pages (AMP). This simple WordPress AMP plugin is an out of the box tools with no additional condifguration needed.
Once the WP AMP plug-in is activated, the website dynamically generates the AMP version.
This WordPress AMP plugin also has a premium version which extends its power to max level. The premium version comes with tons of features which become essential when it comes to optimizing your WordPress website not only for SEO but overall performance.
The features of WP AMP Ninja plugin:
Google Analytics support
Webmaster can use their logo
Supports all content types
Disable Post Type or specific Post for AMP pages
Custom menu, display tags, and categories
Automatically integrate AMP to WP website
Support of GIF image, Video, Iframe and Audio tags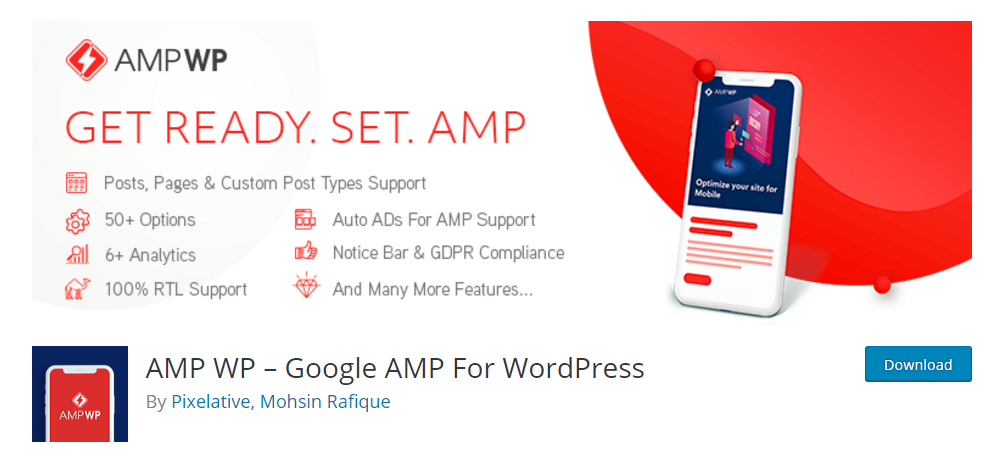 Last but not least, this powerful WordPress AMP plugin comes with hundreds of features that only make your website mobile friendly but also improve the performance, make it search engine friendly and consumes fewer data.
It automatically adds accelerated Mobile Page (Google AMP Project) functionality to your site and make your site load 5X faster on mobile according to the plugin description in WordPress plugin repository.
Feature:
AMP WP powerful settings panel and options panel
Site loads 5x faster in mobiles
100% valid AMP contents
Fully compatible with RTL & Yoast SEO
Embed images, videos, audios and iframes
Third-party analytics to track visitors
Wrapping up
AMP functionality is essential when it comes to targeting the mobile user and improving the searching engine rank for your website. Apart from that, AMP also improves the overall performance of your website without requiring any coding or programming.
We hope that the above-mentioned WordPress AMP plugins will help you to make your WordPress site AMP-enabled without having much hassle. You may also want to see our handpicked list of best WordPress poll plugins.