Are you looking for the best way to boost user engagement and participation on your WordPress website? Do you want to know what users think about the content on your website and what they would like to read about next? If your answer is yes, then you are at right place. WordPress poll plugin is one of the best ways to accelerate user engagement and to know what they think of your website.
Why do you need a poll plugin in WordPress site?
Polls and surveys is a better way to attract more users and engage them with content and 'things' going on your website. Higher the engagement, the longer the user will stay on your website, which is even better for your website search engine ranking.
If you are looking for a fun and interesting way to keep your audience engaged, then WordPress polls plugin is something often recommended.
There are a wide range of free and premium WordPress poll plugins available but choosing the right one to become essential when it comes to engaging the users.
Before you choose to install any of these poll plugins, make sure that it is easy to install, polls should look nice, the plugin shouldn't affect the website performance and should be able to display poll results with graphs and charts.
Top 6 WordPress poll plugins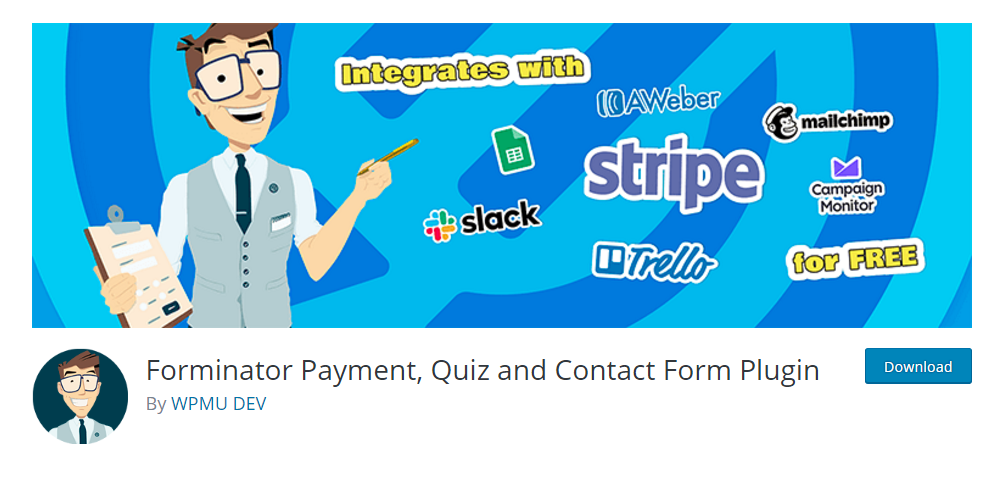 Forminator, not just being polls and survey plugin is quite versatile. Initially, it is form builder with extended capabilities. This WordPress poll plugin allows you to create any form – from contact forms and feedback widgets.
Moreover, it can also create interactive polls and surveys with real-time results, buzzFeed-style "no wrong answer" quizzes, and registration forms with payment options including PayPal and Stripe.
The easy drag and drop feature allows you to create interactive and engaging polls and surveys, customs forms, quizzes, etc. It also collects information, generates leads, takes orders, and engage visitors.
Here are some feature of this plugin you have to know:
Create engaging forms, polls & survey, quizzes and service estimator
Poll and survey your visitors
Get your own Facebook-style quizzes
1000+ third party integration including email services, CRM, storage, and project managers
Payment integration including Stripe and PayPal integrations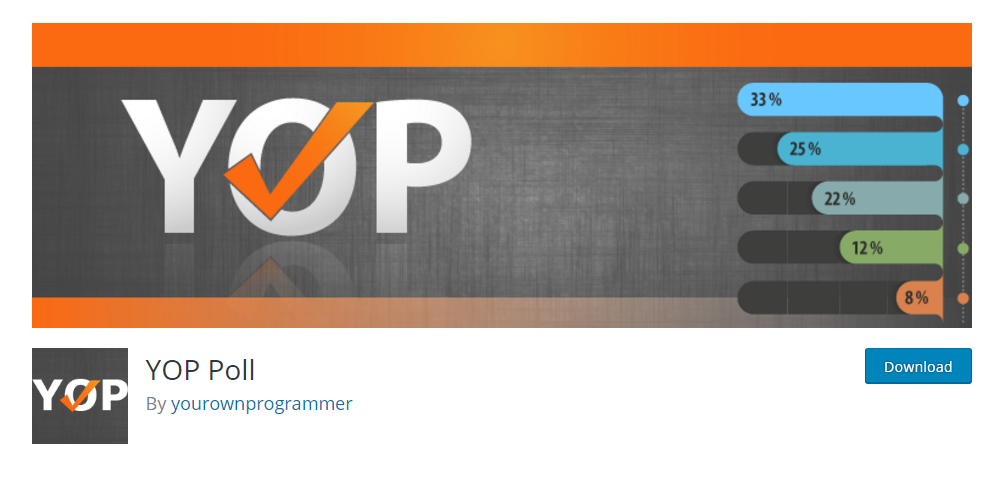 YOP Poll is one of the most popular WordPress poll plugins that allows you to add interactive online polls and surveys to your website. It is free and easy to install in WordPress.
With YOP poll, you can create polls to include both single or multiple answers, schedule polls, run multiple polls at the same time, display poll on multiple pages, display results in different styles including numbers and percentages, reset poll anytime, and more.
Here are some of key features of YOP Poll plugin:
Create/ edit / clone/ delete poll any time as per your convenience
Poll schedule, clone, reset, and other features
Limits the voting accessibility to guests registered users or both or blocks user access by cookie, IP and username
Poll answers, multiple answers and includes a sorting module by various criteria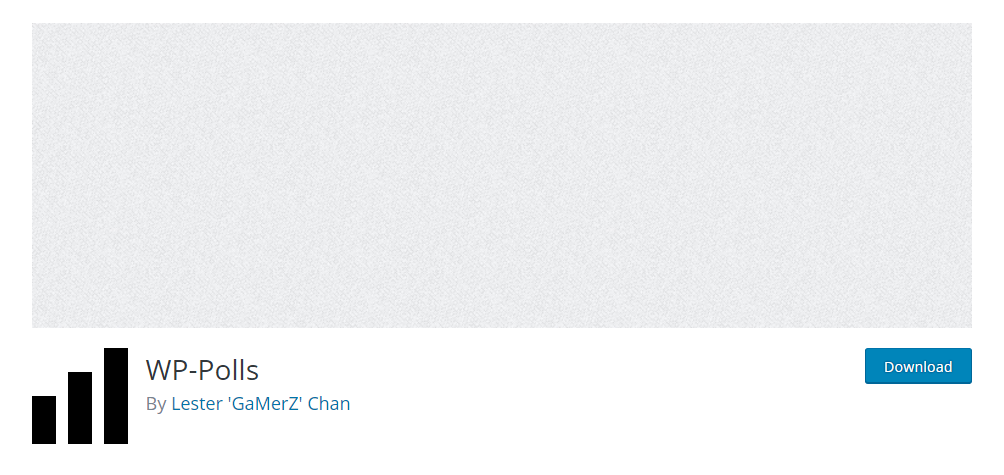 WP-polls is easy, simple yet powerful WordPress poll plugin that allows you to create highly customizable polls and surveys to your WordPress website. You can add online polls in your WordPress pages, posts, and widget areas.
When it comes to showing results, this plugin allows you automatically shows the results after the users select their choices.
With this plugin, you can create highly interactive and intuitive polls without any knowledge of programming and coding.
Key features of WP-Polls:
Add online polls in your website pages, posts, sidebar, and other widget areas
Extremely customizable via templates and CSS styles
Add multiple choice polls and display results quickly on the same page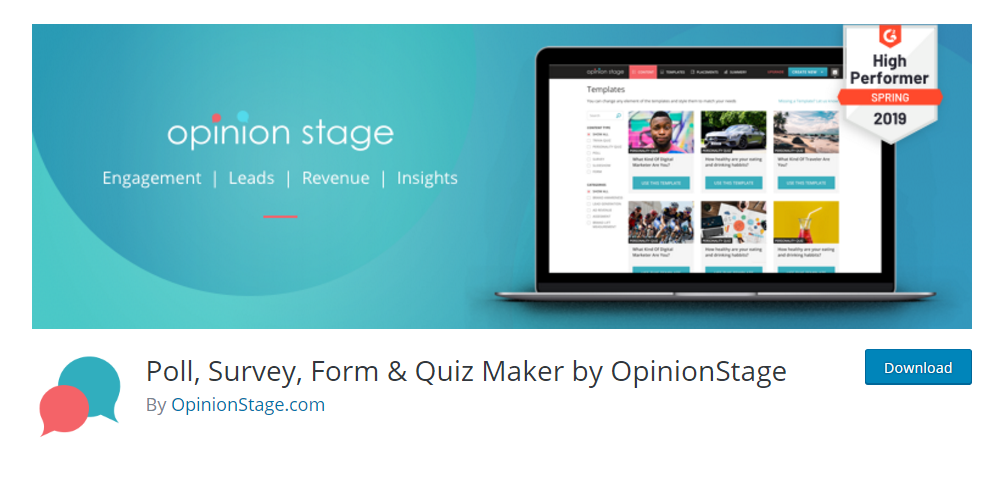 WordPress poll plugin by Opinion Stage allows you to create interactive polls, survey, form, and quiz for your WordPress website. The plugin offers anything from opinion polls, feedback surveys, BuzzFeed's style quizzes to contact forms.
Also, you can share the final results of the poll on social media with social buttons. Additionally, there is a wide range of designing options that include colors, templets, themes, etc.
Here are some features of this plugin you should know:
Create a main poll, survey, form & quiz either from scratch or using one of the hundreds of free templates
Integrate images & videos into the polls
Opinion Stage offers dozens of third-party integrations
Polls opinion, quizzes for engagement & surveys for leads gathering
Boost engagement & traffic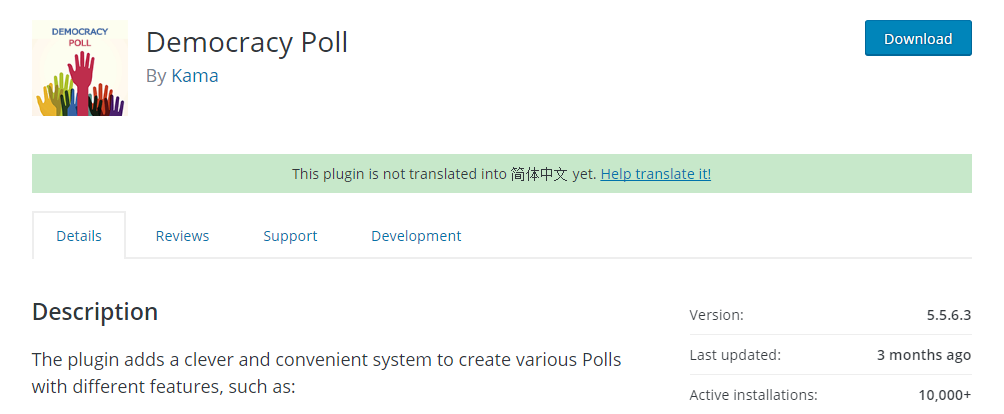 One of the most popular WordPress poll plugins, Democracy Poll, is been around for a decade now. However, it hasn't been updated since 2006 but now the plugin is back with a pack of modern and powerful features.
With democracy polls, you can create single and multiple choices polls, schedule polls and surveys, also choose from multiple poll design templates, and even limit the poll to registered users only.
Key features of Democracy Poll plugin:
Clever and convenient system to create various Polls
Single and multi-voting provided and uses can add new visitors
Remember users by their IP, cookies, WP profiles
Works with popular cache plugins like W3 Total Cache, WP Super Cache, etc.
Multiple poll designs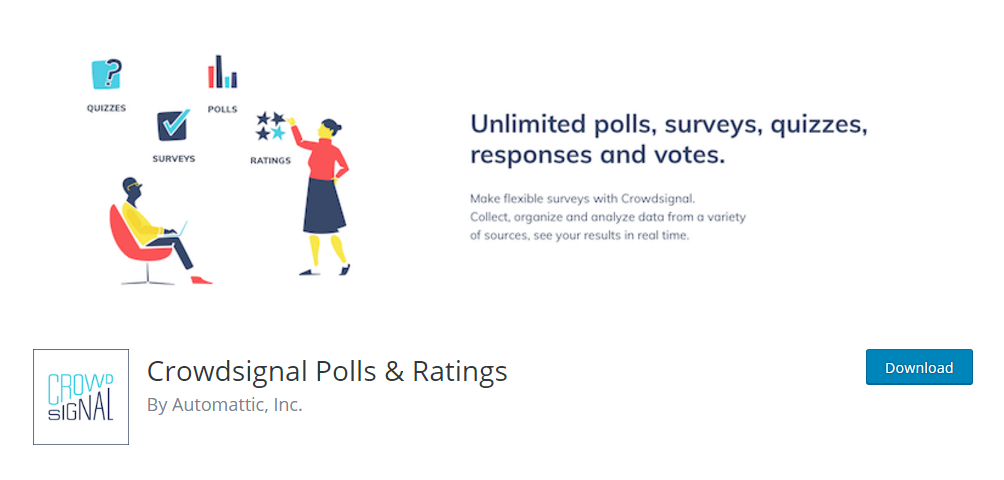 Last but not least, this WordPress poll plugin allows you to create and manage polls and ratings from your WordPress dashboard. The polls created by Crowdsignal comes with 20+ different styles and other designing options that make the polls visually more appealing.
With this plugin, you can create customize polls, schedule them, display polls on pages, posts, sidebar, and widget area, and collect unlimited votes and display the answers. This widget will show you the top-rated posts, pages, and comments with its 'Top Rated' widget.
Key features of this poll plugin:
Create and manage polls and ratings
Supports multiple languages
Highly customizable polls and surveys for user engagement
Option to keep the result private
Wrapping up
WordPress poll plugin is one of the best ways to boost user engagement and improve the website search engine rank. Above-mentioned plugins are some of the best plugins which come with multiple features and fit all your WordPress polls and survey requirements. Try them and save your time and efforts.
You may also want to see our handpicked list of best WordPress contact form plugins.