Email is still one of the most convenient and reasonable ways for people to contact you. If you are looking to add a contact form on your WordPress website without any coding, WordPress contact form plugin is the best way to do it.
Why need a contact form in WordPress site?
Imagine a scenario when a loyal visitor of your website goes to your website and try to find the contact information for some sort of subscription services or products you are offering, what is he going to find? He may come across live chat box where he can leave a message or may find the phone number to contact you. These are some of the most important customers support you can provide.
However, it is best to have more than one or two contact avenues through which your customer can reach your company. Nothing works better than a classic email box!
Now, there are many WordPress plugins available to create a contact form. But choosing the right one is crucial as it can play a key role to convert your audience into a customer.
In this article, we have carefully selected 6 best WordPress contact form plugins for your website along with its features so you can easily opt for the right one.
Top 6 WordPress contact form plugins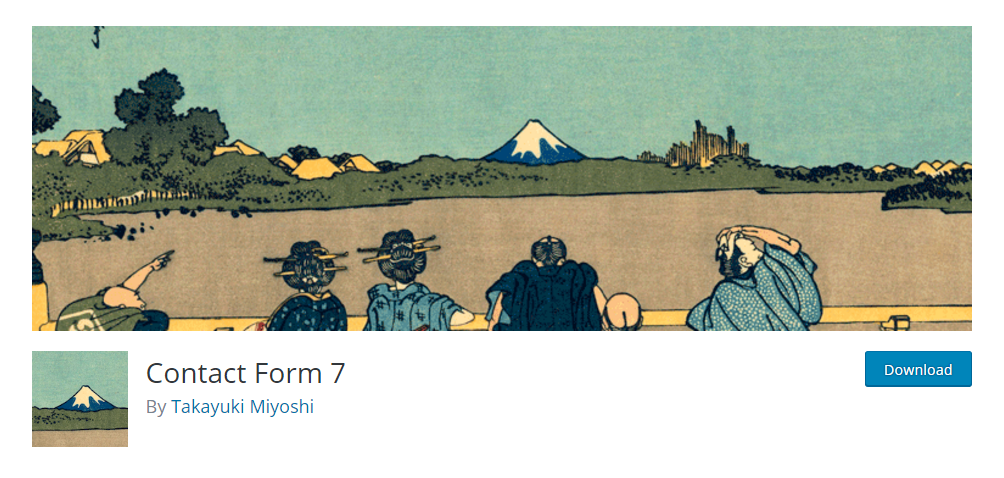 Contact Form 7 is leading the pack with 5 million+ active downloads. This leading WordPress contact form plugin lets you create and manage multiple contact forms with ease.
In addition to that, you can customize the existing forms and manage email contents with simple markup functionalities. Moreover, you can place the create forms anywhere on your website.
The form supports Ajax-powered submitting, CAPTCHA, Akismet spam filtering and so on. Some of the key features of this plugin are:
You can customize and manage multiple contact forms
Simple, easy and convenient to use
Neat and clean outlook
Supports multiple tools i.e. Akismet spam filtering, CAPTCHA and Ajax-powered submitting
Check this plugin out by yourself and let us know how it goes!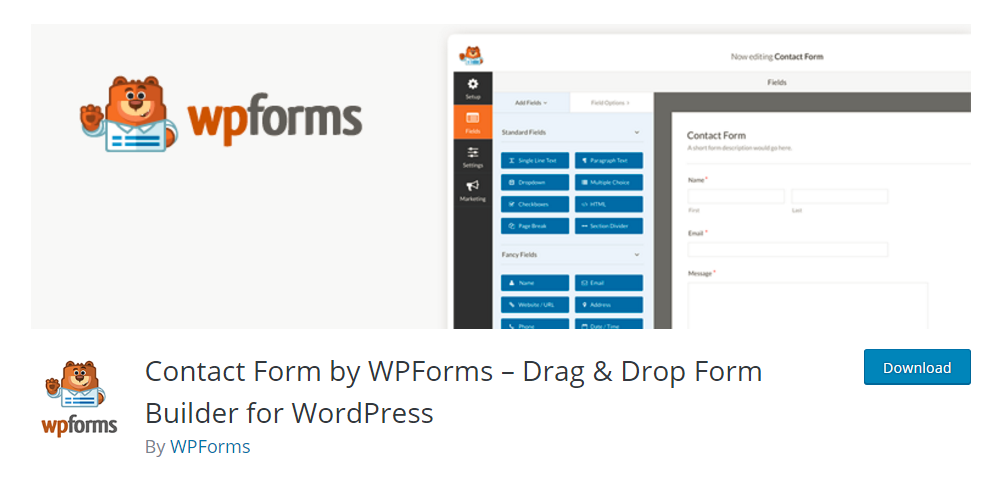 Contact form by WPForms is the second-best WordPress contact form plugin with 2 million+ active downloads. The plugin is quite popular for its drag and drop functionalities which makes it even more easy and powerful.
WPForms allows you to create all type of forms with amazing outlooks. Be it contact forms, feedback form, subscription forms, payment forms, and other types of forms for your site and you can create them within minutes, not hours!
Moreover, it also has some of the best built-in templets to make your job easier. Forms created using this form builder will always look great on various devices.
Furthermore, WPForms' contact forms are optimized for web and server performance which makes it even quite suitable when it comes to SEO, marketing and conversion.
Here are some of the most amazing features of this plugin:
One of the fastest WordPress contact form builder plugins
Drag & drop contact form builder
Built-in form templets
Mobile ready, SEO friendly and optimized for speed
All the fields & features that you need to succeed
Variety of integration and addons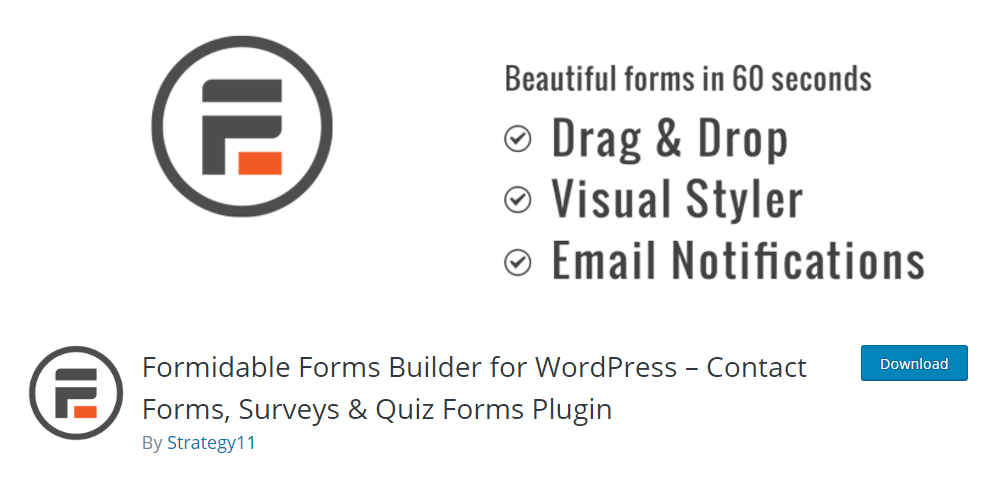 Formidable Form is a one-pack solution for all your form building requirements. With Formidable you can simply drag and drop to create a variety of forms i.e. contact forms, surveys, quiz forms, registration forms, payment forms, purchase forms, email marketing forms, calculator forms, and just about any other form you can imagine.
Till date, it has managed to stay one of the best WordPress contacts form plugins with its functionalities that no ordinary form builders can provide.
Plus, Forms created by Formidable are 100% mobile responsive and looks great on a tablet, mobile phones, computer, and laptop.
In addition to that, it is also optimized for speed and maximum server performance which makes it quite suitable for SEO purpose.
Key features of Formidable forms builder:
Drag & drop contact form-maker and advanced form builder
Quickly create advanced WordPress registration forms for any use case
Complete entry management for contact forms and surveys
The only form maker plugin with an advanced form style maker
Accept credit cards and easily collect payments
Grow your business with marketing integration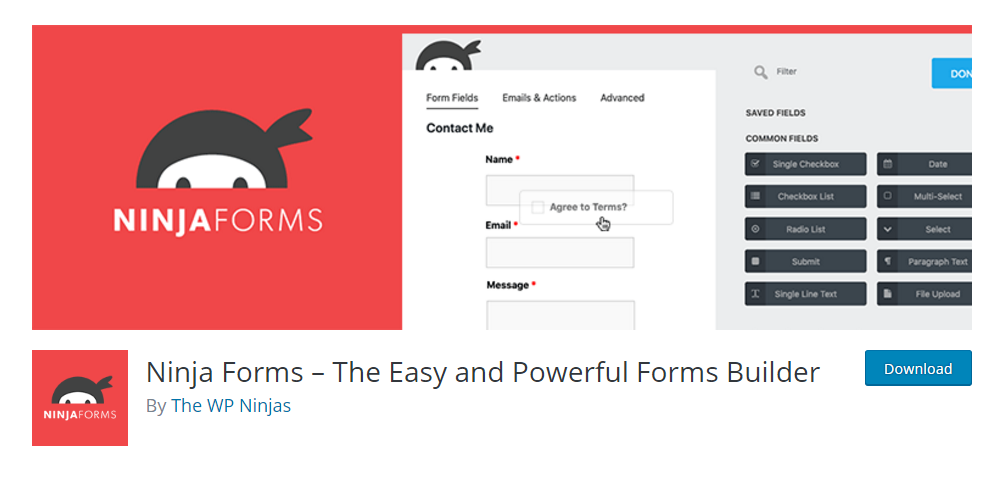 Ninja Forms is the fourth contender in this list of best WordPress contact form plugin. It is an all-in-one tool that allows you to create and manage contact form conveniently.
This form builder has built-in drag and drop functionalities that let you build all kind of forms within a minute and without requiring you to have any coding background.
In addition, there are also several options for developers. Here are some of the key features of this plugin:
Unlimited of forms, fields, emails, actions, or submissions
Email form data to administrators
Dedicated fields for emails, dates utilizing a date picker, phone numbers, addresses and more
Export and Import forms and favorite fields
Several anti-spam field options including Google reCaptcha, Akismet, question/response fields, and honeypot fields by default
There is also a premium version available for Ninja Forms that lets you expand the power and functionalities of this form builder.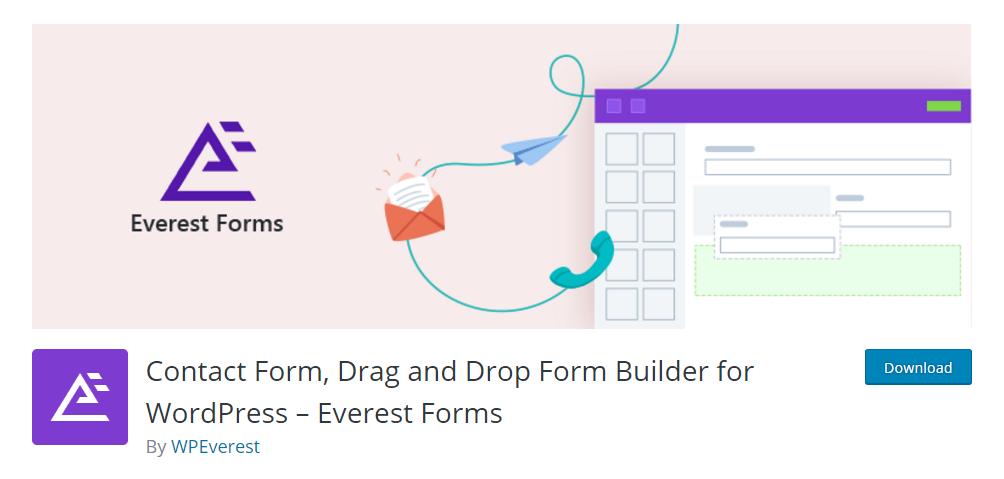 Everest Forms is one of the simplest and easy to use contact form builder available for WordPress website. You can build any type of forms with its simple drag and drop functionalities. This WordPress contact form plugin is way convenient that even beginner can use it without having much trouble.
Moreover, the plugin is lightweight, fast, extendible and 100% mobile responsive. The key features of WordPress contact form builder are:
Create unlimited forms without any restrictions
Create multiple column forms within a few clicks
Pre-built templates and design layouts
Drag and Drop Form fields
Shortcode support
Multiple email recipient and email notifications
Premium version available to extend its functionalities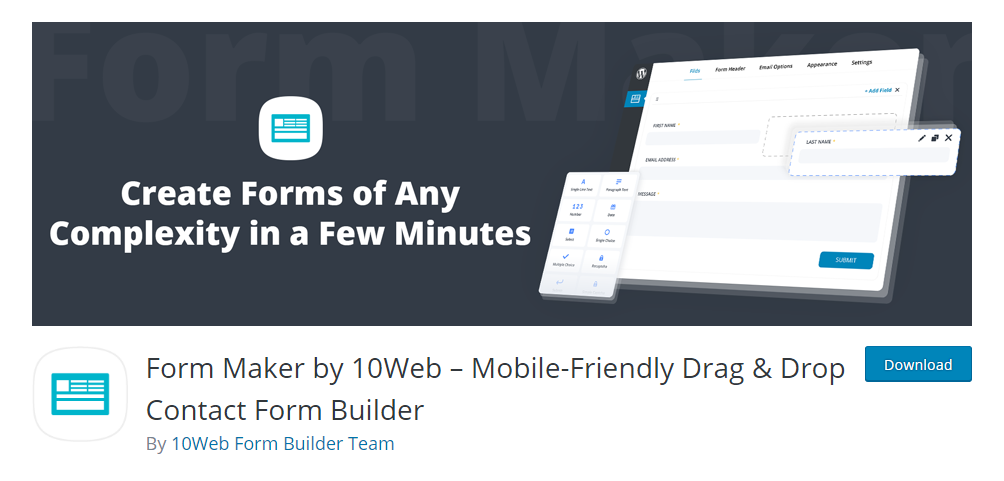 Form Maker by 10Web is a simple WordPress form builder that allows you to create mobile-friendly forms. Its simplicity lies within its drag and drops functionalities that let you create a complex form within a few clicks.
Furthermore, it has several built-in templates, fully customized themes, protection from spams and much more.
Key features of From Maker by 10 Web:
Drag and drop to build complex forms with just a few clicks
Mobile, tablet, and desktop friendly forms
43 different forms of field types
Fifteen beautiful themes to make your forms match the website design
Block IPs and set captchas to avoid spam
Payments and donations using integrated PayPal and Stripe gateways (only Premium version)
This form also comes with a premium version which is designed to expand the power and functionalities of this plugin which includes several integrations and add-ons.
Final Thoughts
The plugins we mentioned in this article can all help you create a contact form plugin. However, deciding the best WordPress form builder plugin varies based on your needs.
You may also want to see our list of six best WordPress membership plugins.