If you want to know how to manage multiple WordPress sites, then you have come to the right place. Managing multiple websites is not an easy task. It requires time and effort for the administrator.
WordPress comes with a useful dashboard. The dashboard not only gives you a glimpse of what's happening on your site but also gives you access to different features of the WordPress site.
But, what happens when there are multiple WordPress installations to manage? Then, it becomes a mess!
As an administrator of multiple websites, you need to keep switching between sites and ensure that the site is running updated themes and plugins. Not only that, but you also need to moderate content and do other regular maintenance things. The more the number of sites you have, the more work you have to do!
The solution is to use a proper WordPress management tool. The tool will be responsible for managing all the sites, including helping you to manage users, comments, content, update, and doing other maintenance tasks. Many plugins provide the functionality of the WordPress management tool.
Things to look into the right WordPress management tool
Before you decide to pick the right plugin to manage multiple WordPress sites, then you need to look for some key features. They are as below:
Top 5 plugins to manage multiple WordPress sites from a single dashboard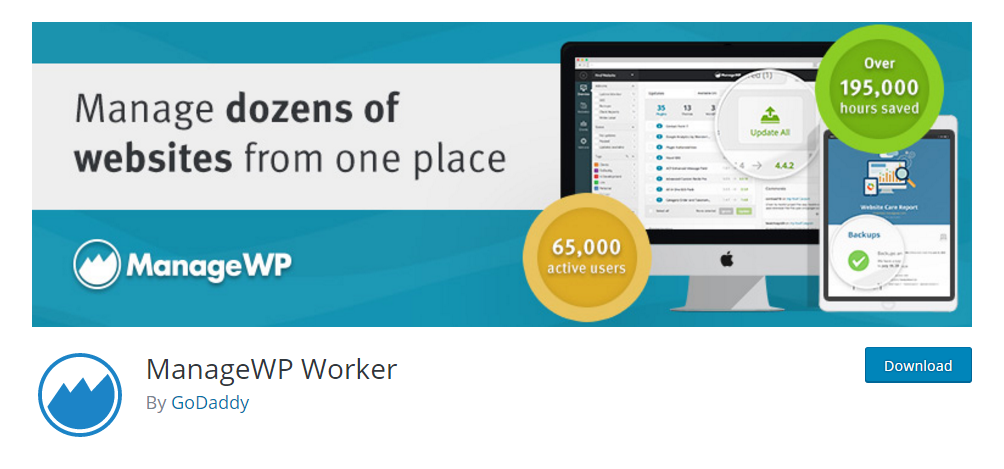 ManageWP Worker is a very popular plugin for managing multiple WordPress sites. The plugin is managed by ManageWP, a popular site that offers services for managing multiple sites.
It lets you automate your WordPress management workflow so that you can focus on other things. The plugin is free-to-use, and you can add as many websites as you want.
If you use this plugin, then you do not have to leave your dashboard. You can also do bulk actions and update multiple sites in one single click. Other bulk actions that you can take include clearing spam, running security checks, optimize the database, and so on! It also comes with cloud backup, which means that you can restore your site if something goes wrong.
Apart from actions, it also lets you create client reports and manage performance & security checks. You can gauge its effectiveness by the fact that it has more than 900K+ active installations.
Key features worth mentioning: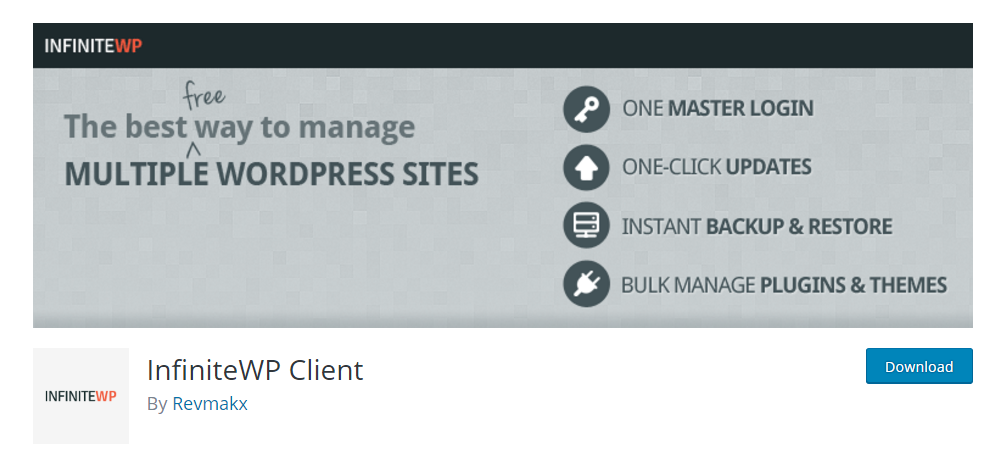 The next plugin that we are going to discuss is the InfiniteWP Client. You can manage multiple WordPress sites using the InfiniteWP plugin. With it, you can fully control your sites.
Also, the system is hosted on your server so that you have full control over the plugin and its functions. Just like other plugins, it also supports one-click update feature.
It also offers instant restore and backup so that you can work with your site with peace of mind.
Key features worth mentioning: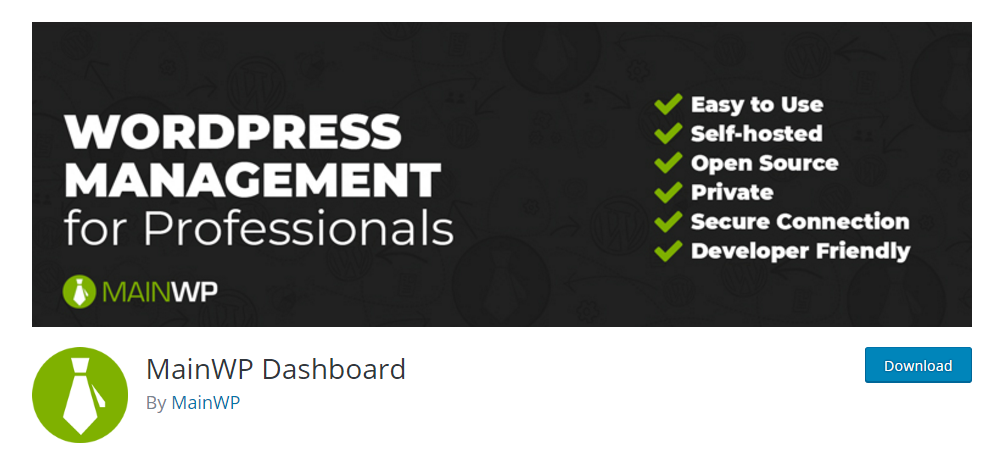 Another self-hosted WordPress plugin is MainWP. It is an open-source, free-to-use plugin that lets you control multiple WordPress sites from one place.
With the MainWP dashboard, you can control your websites without paying any service fee to anyone. Once installed, you get access to the dashboard, which offers a lot of options for you to play.
The plugin is an ideal choice for self-starters as it can help you create a cost-effective multiple WordPress site solution.
Key features worth mentioning:
They also offer paid extensions, which let you add more features to your control management system.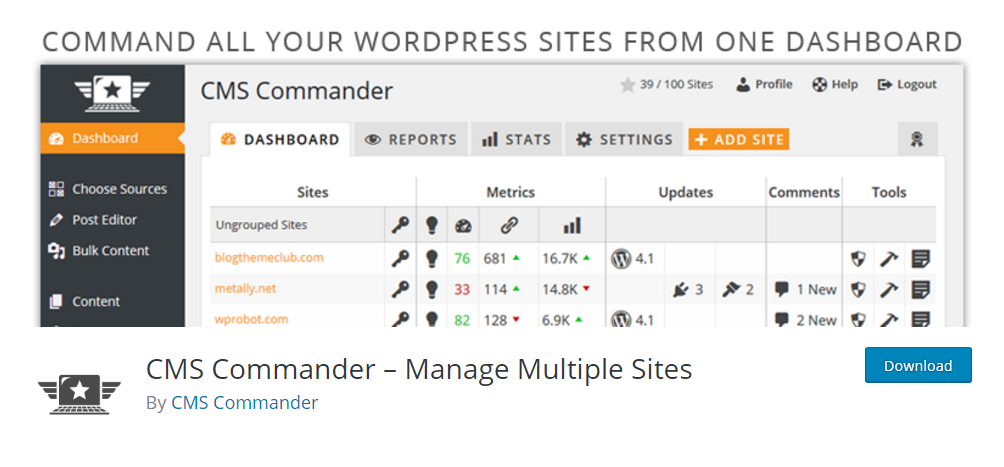 Another popular plugin in this category is the CMS Commander. It lets you manage multiple WordPress sites, just other plugins that we shared. By using the plugin, you can monitor, control, and backup sites.
There is no limitation of websites that you can add to the plugin. It also comes with essential marketing tools that let you do site monetization and content optimization.
Key features worth mentioning:
It does come with paid options. The main options offer all the features and have a limitation on how many sites you can manage.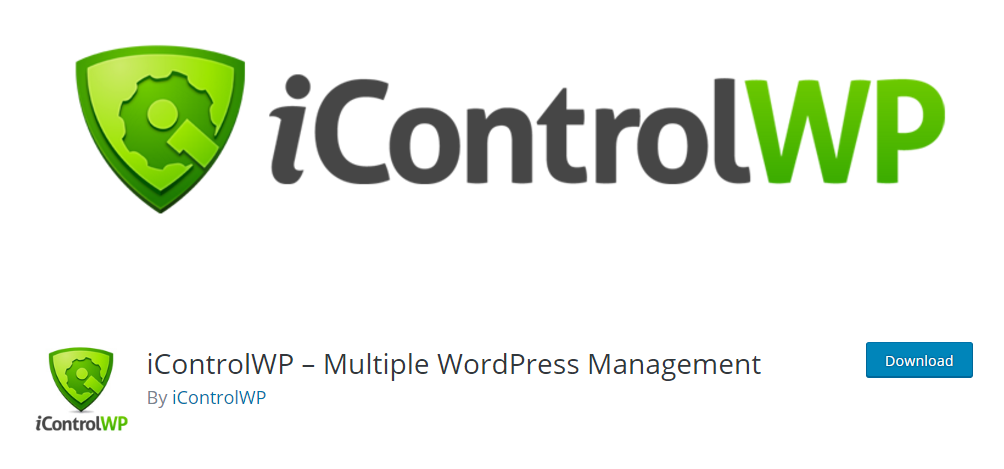 iControlWP is our last plugin for the listicle. However, it doesn't mean that it is not good. It offers all the features that you would expect from a multiple WordPress management plugin.
By using the plugin, you are going to save time when managing multiple sites and then use that time to do more productive tasks. It also enables you to manage the sites without the need to install additional plugins.
Key features worth mentioning:
The plugin is not completely free, but you can use the trial on your site to see how it works.
Conclusion
This leads us to the end of our best free plugins to manage multiple WordPress sites from one dashboard. So, which one are you going to pick for your websites? Comment below and let us know.
You may also want to see our handpicked list for best WooCommerce PDF invoice plugins.