Have you ever wondered which are the best PDF viewer plugin for WordPress? If you do, then you have come to the right place.
PDF viewer plugin enables visitors to view PDF files directly on your site. With so many plugins to choose from, it is common for people to get confused about which one to choose. Almost every PDF reader offers unique functionalities and features. However, not all of them are good.
At the end of the article, you will be able to choose the right PDF viewer plugin. Let's get started.
Top 7 PDF viewer plugins for WordPress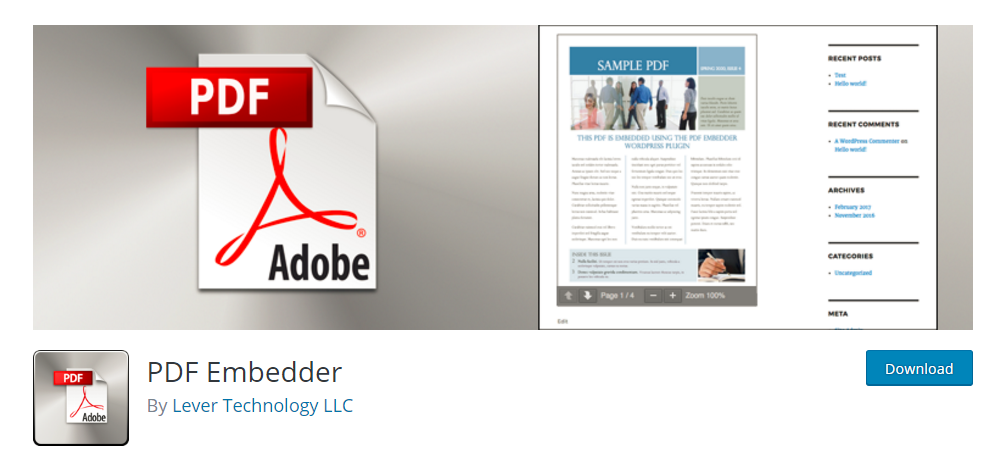 PDF Embedder is one of the most popular PDF viewer plugins. It has more than 200K+ active installations. Using PDF Embedder plugin is easy. Once you install the plugin, you can start using the plugin on your site.
Once installed, you can add PDF files to your sites. The viewer benefits from the plugin instantly as they can view PDF files in the right resolution.
If you like customization, you can also choose the height and width of the PDF viewer window. Also, the plugin is responsive and resizes itself when needed.
Key features worth mentioning:
Easy resizable window
Offers Next/Prev buttons
Full control over PDFs files
The pro version of the plugin offers additional features, including the option for users to download the PDF file.
Other key features offered by the premium plugin include download button, functional hyperlinks, mobile-friendly, full-screen mode, and much more!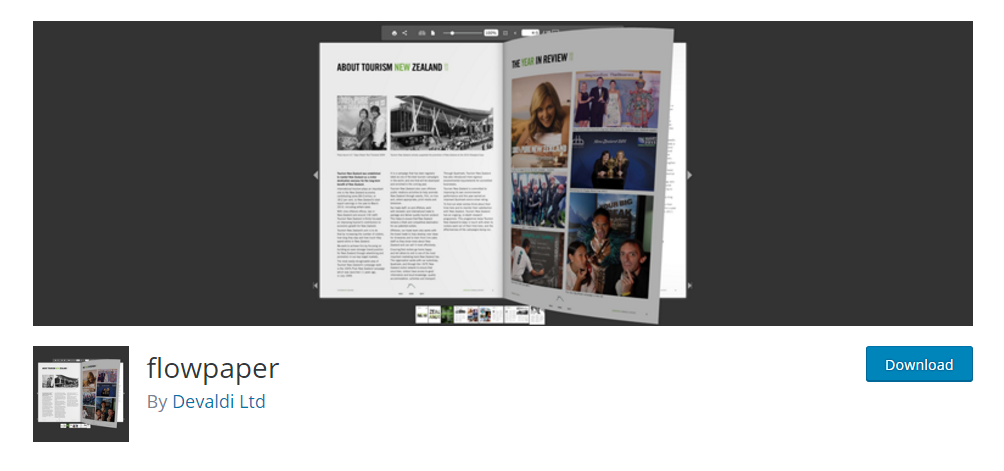 If you are looking for a plugin that can let you embed multiple file types, including brochures, magazines, and PDF, then Flowpaper is for you.
Flowpaper converts the media into flipbooks and then lets the visitor view them in HTML5 format. The plugin is free to use. Also, it has more than 30k+ active installations.
However, the plugin has limited support for PDF files. Currently, it can only display PDF files that are 15 megabytes or less.
To add PDF, you need to use a shortcode that lets you add PDF using URL. You can also add PDF files from the media section. Lastly, it also supports publication directly from FlowPaper Cloud.
Key features worth mentioning:
Supports PDF upload in three different ways: URL, Media, and FlowPaper Cloud.
Two customize themes supported: dark and light
Completely customizable

Another versatile file manager is BSK PDF Manager. As you might have guessed, it comes with the support for PDF files. Apart from that, it also supports other formats, including jpg, zip, gz, png, and so on.
At the core, it lets you manage your PDF files in your WordPress installation. You can also list the PDF files using categories.
Key features worth mentioning:
Supports multiple file formats
PDFs file can be categorized according to the category name
Easy to use
PDFs file can be embedded within page or post
It also comes with the pro version, which offers more features.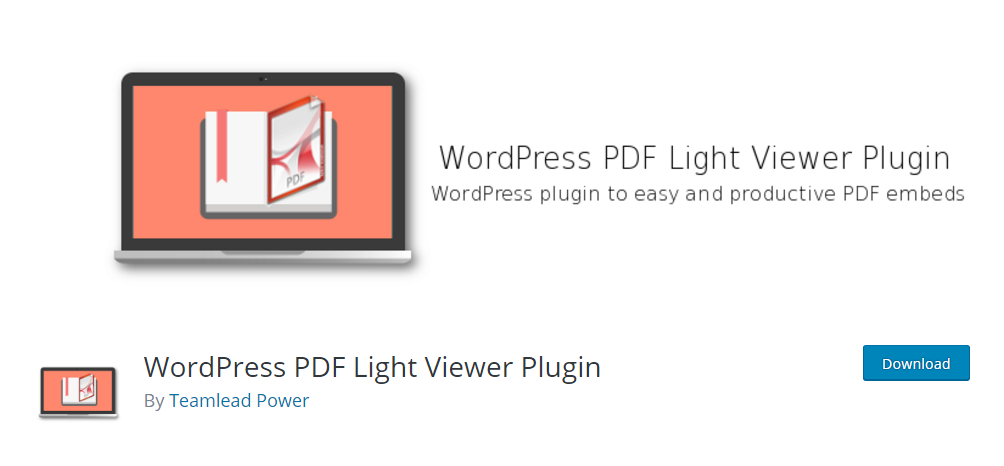 If you are looking for a light-weight PDF viewer, then check out the WordPress PDF Light Viewer Plugin. It lets you embed PDF files to your site.
It changes the PDF files to flipbooks and then offers thumbnail navigations on them. Also, there is no limitation on the size of the PDF file.
Key features worth mentioning:
Unlimited PDF file size
PDF file size has no performance hit
Offers page zoom and navigation
Well-documented
Completely responsive design
Comes with CLI integration
PDF download option available
A full-screen feature supported for modern browsers
CLI integration
It also comes with pro add-ons that add more features to the plugin. For instance, you get better PDF categorization, SEO friendly mode, and much more!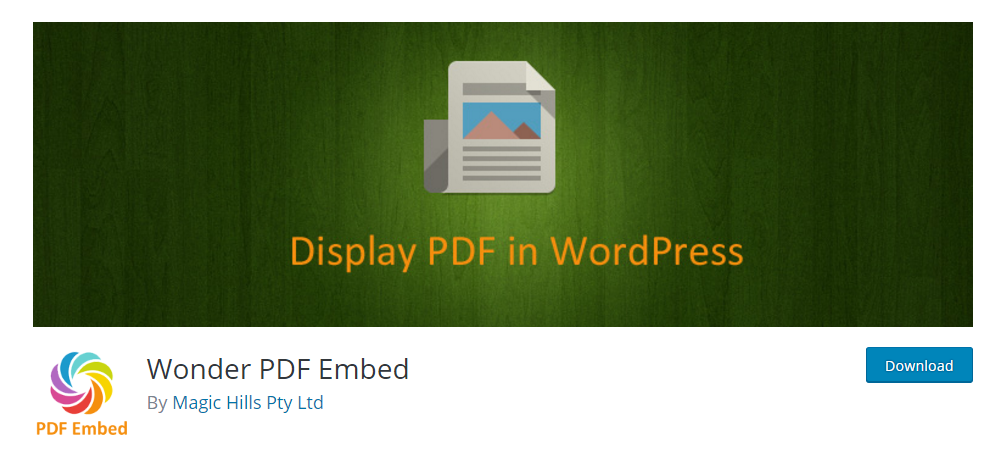 WonderPlugin PDF Embed is a useful plugin when it comes to embedding PDF. It utilizes the popular Mozilla's PDF.js library to bring functionality to the WordPress site.
Key features worth mentioning:
Responsive PDF viewer
Easy to use
Works with other plugins
Download option available (Can also be kept hidden)
Support shortcode with a lot of customization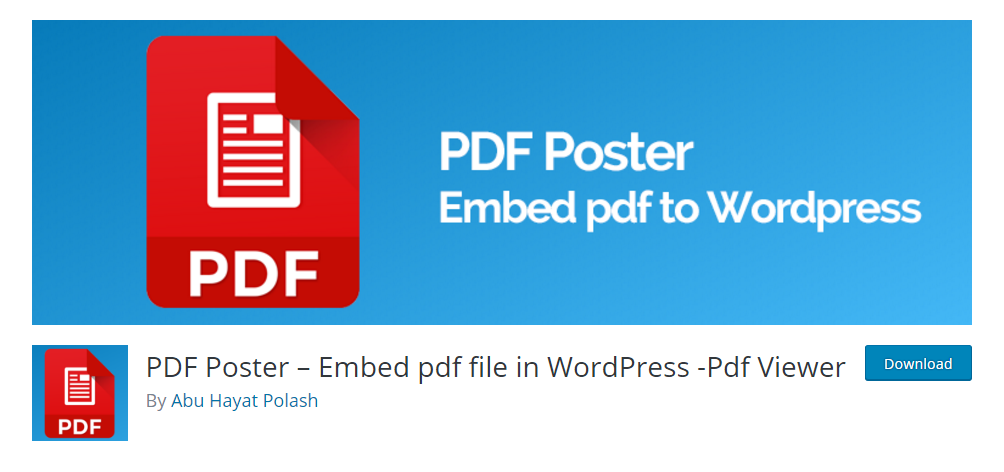 Our next plugin is PDF Poster. It is a free-to-use plugin which has a good number of active installations. Once you have the plugin installed, you need to go to the PDF Poster menu option in your dashboard sidebar.
There you can add documents and generate shortcodes. The shortcode, once generated, can then be used on any part of your website, including page, widget, post, and so on. You can also add it to the template file if you want the PDF file to showcase it in a certain section of your website.
If you are using Gutenberg, then you can also use it. The plugin activates a Gutenberg block. It is known as PDF Poster Under Common Category. You can use it to embed PDF files into your pages, post, and other section of your site.
Key features worth mentioning:
Supports Gutenberg
Easy to use
Shortcode supported
Add as many PDF as you want
It also comes with the pro version, which offers more features, including no ads, file content protection, shortcode generator, better performance, and much more!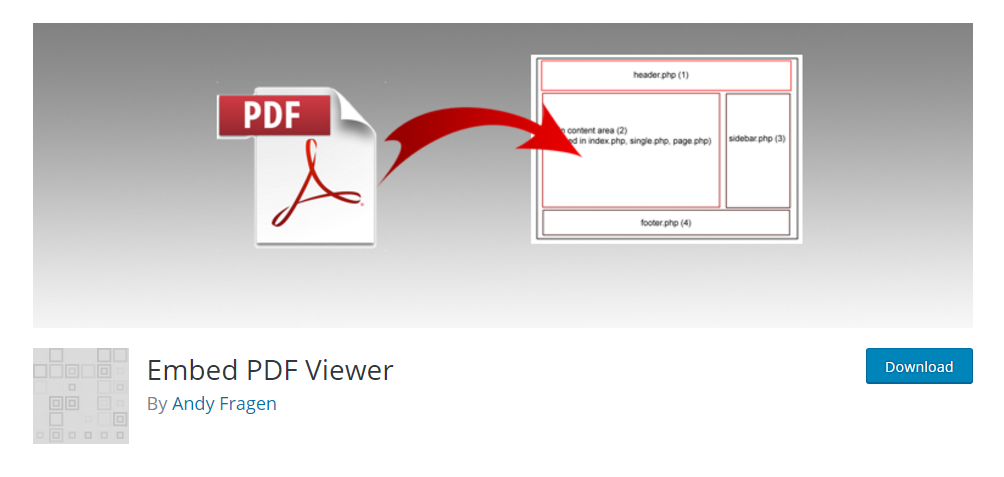 Our last plugin of the list is the Embed PDF Viewer. It offers a simple yet effective way to embed PDF files into your WordPress site. All you need to do is upload the PDF file into your Media Library and then integrate it to post pages and other sections of your site.
Key features worth mentioning:
Supports the latest WordPress version
Media library integration
Easy to use and install
Conclusion
This leads us to the end of our best PDF viewer plugin list for WordPress. Did you find the one that fits your needs? Comment below and let us know.
You may also want to see our handpicked list of best plugins to manage multiple WordPress sites from one dashboard.