Do you want to provide your users with option to download documents and media files from your WordPress website? If yes, then you will need to install a download manager plugin to help you out.
As such, we have put together a list covering the best free download manager plugins for WordPress. These plugins will not only help you add, manage, and track your downloads but also comes with distinct features to provide a more intuitive and engaging experience for both you and your users.
So, without further ado, let's get started.
Top 7 WordPress download manager plugins
WordPress Download Manager plugin offers tons of awesome features and functionalities to help you track, manage, and control file downloads on your website. It gives you the option to password protect downloads, assign user roles to give control over downloadable files, limit download speeds and much more.
Additionally, it also comes with built-in security features that help to block bots, spammers, and much more.
Key features worth mentioning:
Tons of options to help you effectively manage all your downloadable files.
Password protect downloadable files.
Assign user roles with access to the downloadable files.
Option to limit download speed.
Security option for blocking bots, spammers, and even IP blocking.
Terms and Conditions checkbox before downloading.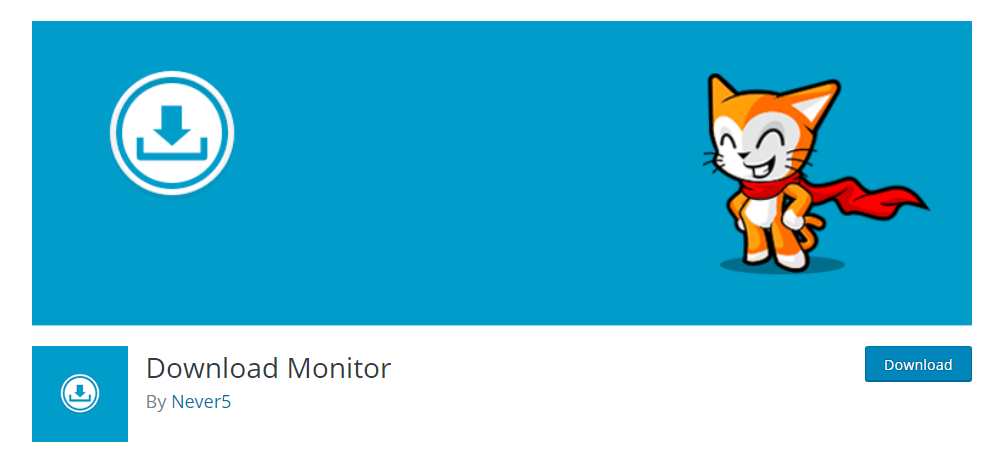 With Download Monitor, you get access to an intuitive interface that you can use for uploading and managing different downloadable files. It even allows you to maintain multiple versions of the same file.
You also get access to dedicated features that help you track the downloads and even set up member-only downloadable files.
Key features worth mentioning:
Add, remove, and edit downloads similar to how you work with posts and pages.
Assign tags and categories to each download.
Option to add download links directly to your posts.
Define mirror links for each download version.
Track the total number of downloads and user download attempts.
Set up member-only downloads.
Dedicated Gutenberg block.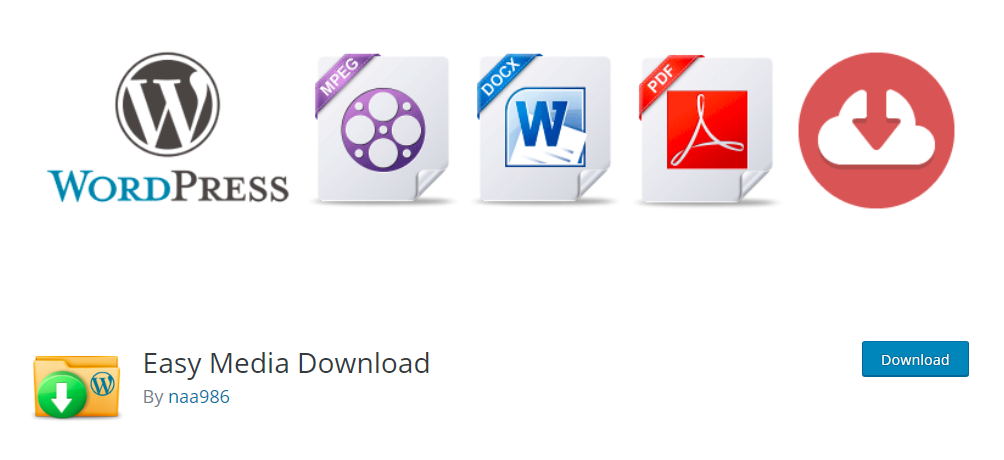 Easy Media Download helps you to create a platform where you can easily set up all your digital content for your readers to download. There is no limit to the file size that is being uploaded by you or downloaded by the user.
The plugin also offers a dedicated download button that you can place on your landing page.
Key features worth mentioning:
Helps you provide downloadable content straight on your website.
Insert a dedicated download button on your landing page (or any other page).
No limit on file size.
Built-in tracking and monitoring of total number of downloads.
Forces the browser to open a download prompt. It also allows opening download in a new tab.
Option to take donations using PayPal.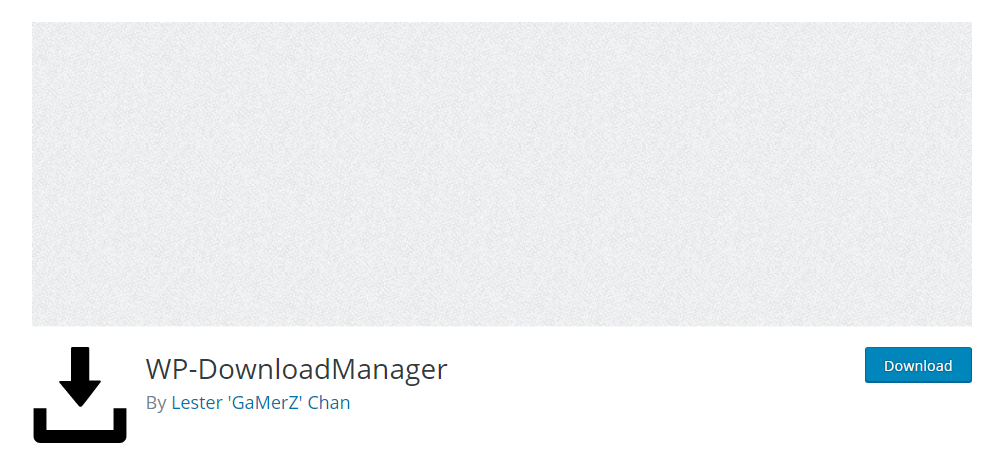 WP-DownloadManager gives you a dedicated dashboard from where you can upload files, add descriptions, assign categories, and much more. Once installed, you can embed a download button for the file straight into your WordPress posts and pages.
This also can be done using a shortcode, or the dedicated buttons it provides in the WordPress editor.
Key features worth mentioning:
Intuitive download management interface.
Make rich downloadable content by adding descriptions, categories, and other metadata.
Option to show file size and total number of downloads of each file to the user.
Dedicated button in WordPress editor for adding downloadable files to your posts and pages.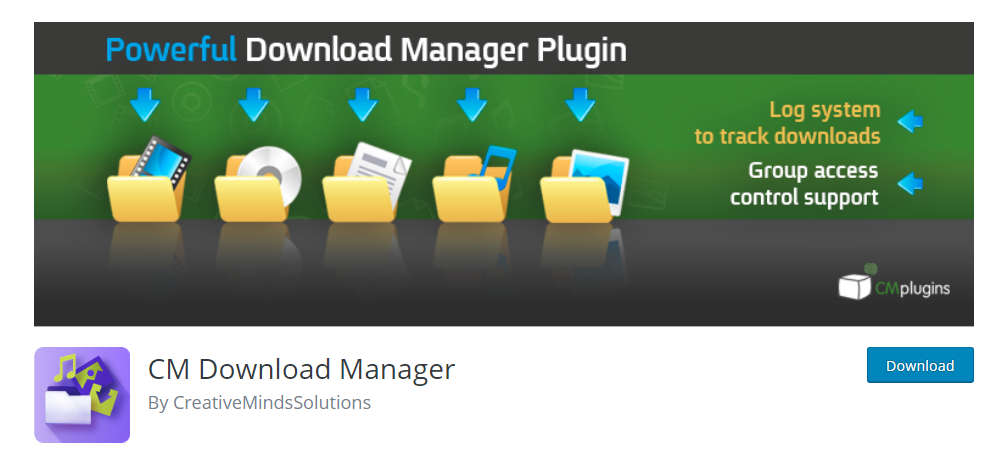 CM Download Manager plugin is an excellent file sharing and download management system for community-based websites. You can use it to provide users with links to documents and media files, which they can download to their system.
Additionally, each downloadable file comes with a voting system to let other users know if it is good or not.
A pro-version of the plugin is also available adding many more advanced features and functionalities.
Key features worth mentioning:
A file-sharing and download management system.
Add image preview for each download.
Comes with a voting system for each downloadable file.
Filter through all your downloadable content using an internal search engine.
Users can track their download history from their user profiles.
Option for users to vote on each download.
Each download can have its own support forum.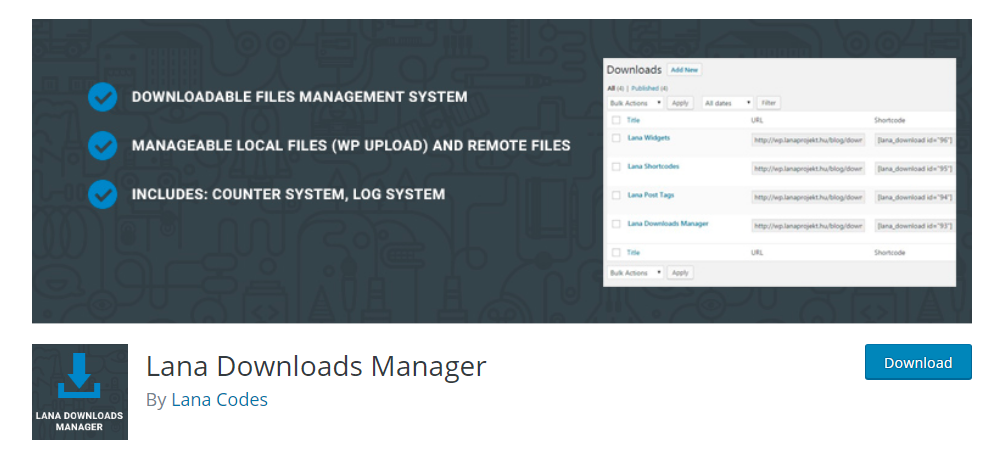 Lana Downloads Manager is a simple plugin to help you manage and track downloadable files on your WordPress website. It can help you manage files that are directly uploaded to your WordPress media library as well as remote files.
The plugin basically treats downloaded content like a custom post type, and you get a similar interface as you get with WordPress post and page editor.
Key features worth mentioning:
Adds a Downloads custom post type.
Comes with a counter and log system to help monitor your downloads.
Helps you manage downloadable files that are either local uploads or located in remote storage.
Shortcode support.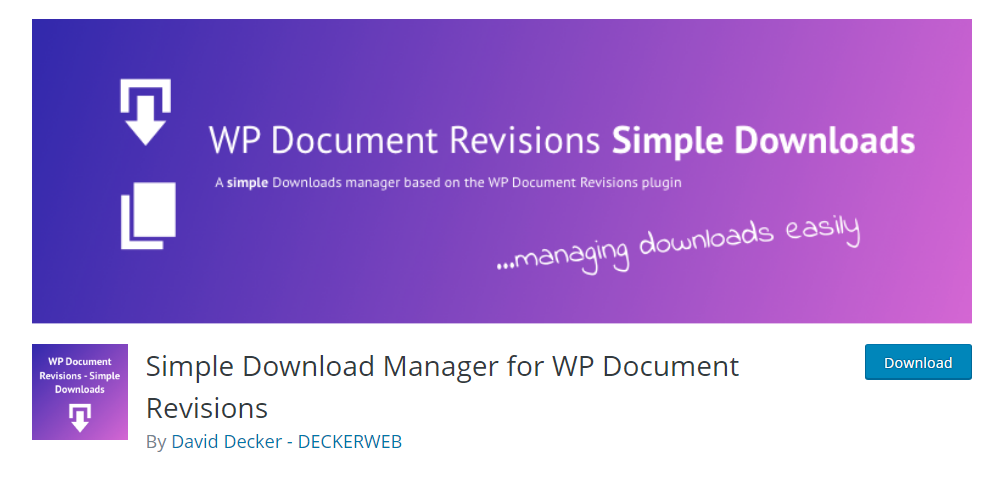 Simple Download Manager plugin is an add-on for WP Document Revisions. It functions as a download manager and will allow your users to download documents you have provided for them on your website.
Key features worth mentioning:
It is an add-on for the WP Document Revisions plugin.
Gives you a basic download counter to monitor how many times a file has been downloaded.
Helps users download documents from your website.
Comes with its own plugin set up page.
Widget support.
Conclusion
So these were our picks for the best plugins to help you manage downloads on your WordPress website. As you can see, we have made sure to keep the list as diverse as possible covering different free plugins with different features.
So, do let us know if the list was useful and whether it helped you in finding the right download manager plugin for you.
Also, if you know another awesome download manager plugin that we left out from the list, then do share them in the comments below. You might even help out a fellow reader with their own project.
You may also be interested in our handpicked list of best free WordPress timeline plugins.