Shortcodes give you access to small code snippets which you can use to add a certain design or functional elements to your WordPress website. It is a super convenient feature as it allows you to create and add objects that would otherwise require a lot of coding. All you need to do is simply install a WordPress shortcode plugin, and you will be able to add a laundry list of awesome shortcodes to your posts and pages.
Now, many of you might be using a WordPress theme that already comes with its own collection of shortcodes. However, did you know that if you ever decide to change your theme then it will also remove the shortcode elements with it?
This is why, it is recommended to use a dedicated WordPress shortcode plugin. That way, you can keep changing your theme but it will not affect the elements embedded using the plugin. All you need to do is simply copy and paste the shortcode to your WordPress post editor and it will reflect onto your WordPress post or page.
So, with that being said, here is our list of the seven best free WordPress shortcode plugins.
Top 7 WordPress shortcode plugins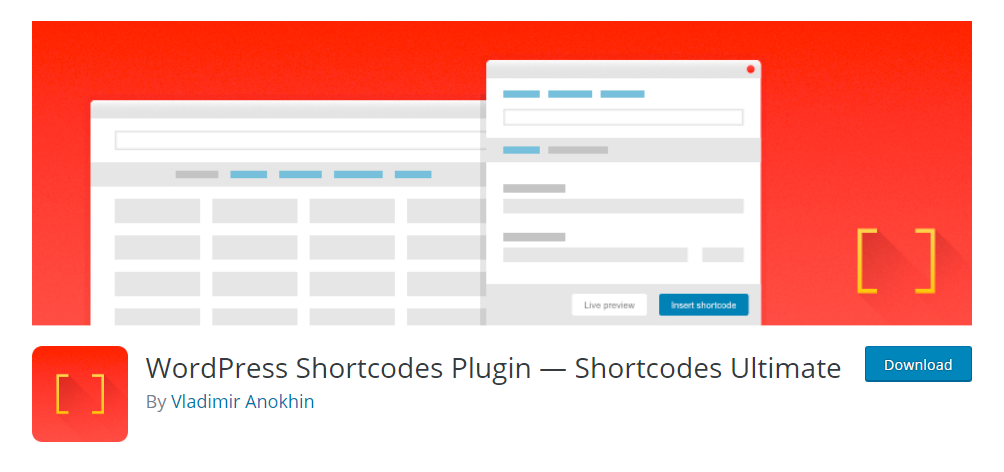 Starting off our list, we have the most popular WordPress shortcode plugin – Shortcodes Ultimate. It offers a comprehensive collection of shortcodes that can help you embed both visual and functional elements through your post editor, text widgets, and directly into the template files.
Some notable elements include responsive sliders & carousels, videos, buttons, tabs, boxes, and much more. You can also install premium add-ons that will give you access to additional shortcodes as well as skins.
Key features worth mentioning:
Over 50 awesome shortcodes bundled within
Option to embed shortcodes with a single click
Live preview option
Custom CSS editor included
Access to custom widgets
Compatible with any WordPress themes
And much more.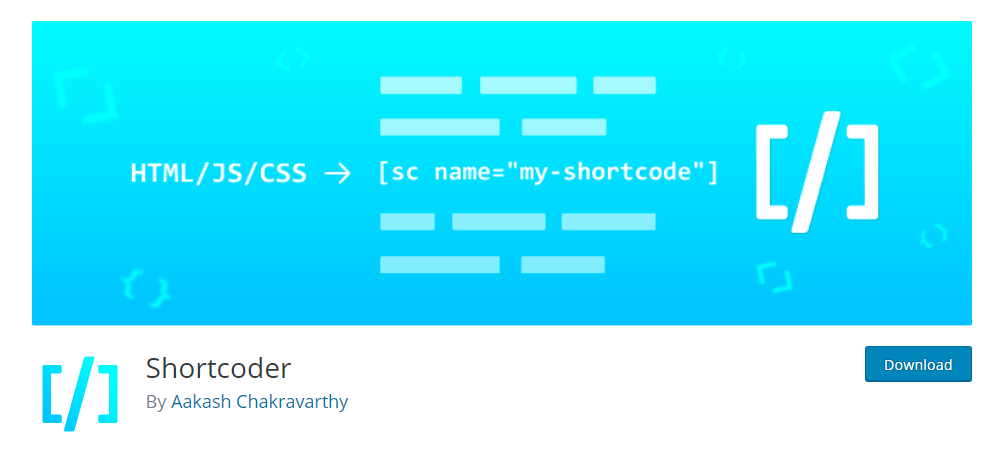 With Shortcoder, you can create custom shortcodes in HTML as well as JS. You can then use these code snippets and add them to your posts and pages.
The plugin will give you a post editor like interface where you can write your shortcode. Once done, you can give it a name, save it, and start embedding them to your WordPress website like any other shortcode.
Key features worth mentioning:
Helps you create custom shortcodes
Supports HTML and JavaScript to help you create your shortcodes
Option to add WordPress parameters as well as custom parameters
Multiple editors for visual, code, and text-based editing
You can globally disable a Shortcode when not needed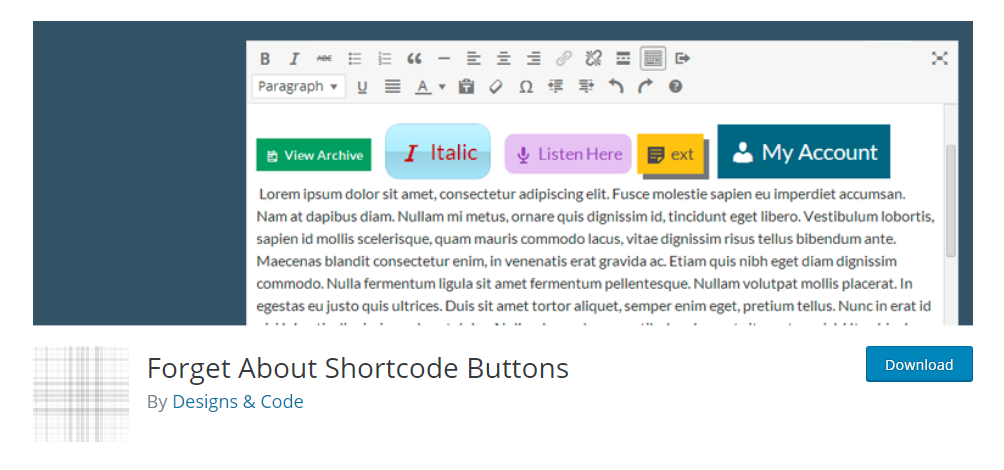 Forget About Shortcode Buttons gives you a visual means for adding CSS buttons from a rich text editor. Instead of adding the code version of your shortcode and wondering what it looks like, the plugin will help you add real stylized buttons directly.
It uses basic HTML and only necessary attributes to make sure the buttons use the same classes as your website so that no extra markups are implemented weighing down your website.
Key features worth mentioning:
Allows you to add the visual version of your shortcode directly to your post editor
Option to edit the shortcodes with your own custom codes
Uses the latest CSS styles and properties
Lightweight with no extra/unnecessary markups and attributes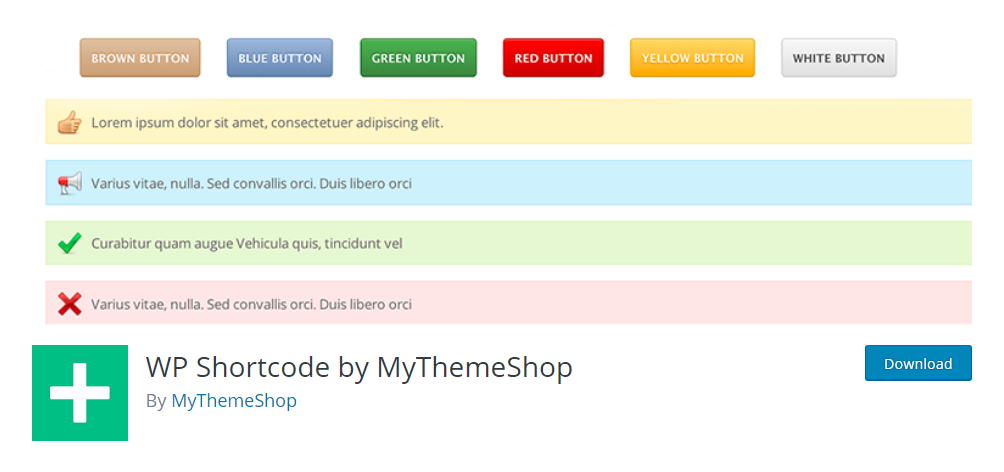 WP Shortcode was previously available as a premium plugin from MyThemeShop but has now been made free to use. It comes with 24 premium shortcodes compatible with any WordPress themes.
You can use the shortcodes to add Google Maps, Videos, Dividers, Column, and not to mention the simple buttons and alerts. Everything comes inside an intuitive interface which makes working with the plugins super easy and simple.
Key features worth mentioning:
Access to 24 premium shortcodes.
Bundled inside an easy to use interface.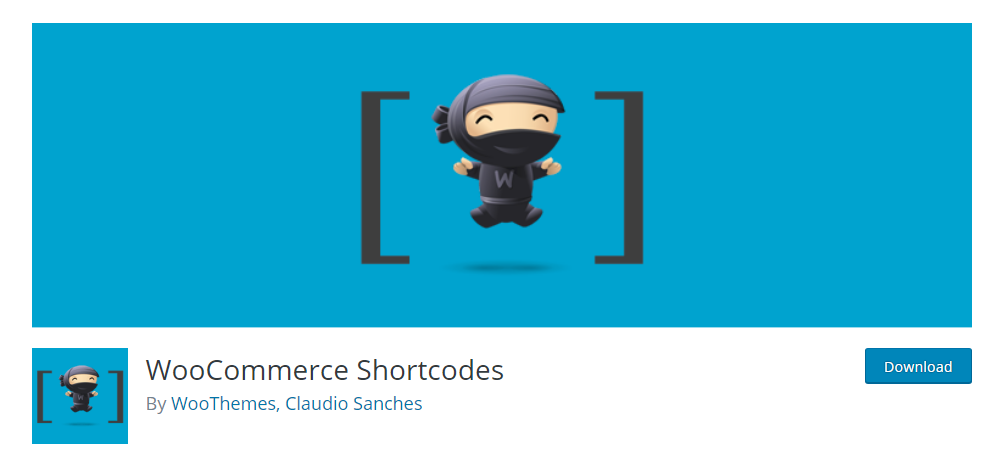 WooCommerce Shortcodes, as the name suggests, helps you embed WooCommerce related shortcodes into your posts and pages. It is compatible with all first-party WooCommerce shortcodes and allows you to embed them directly from the TinyMCE using a dropdown button.
Key features worth mentioning:
Adds a shortcode button to TinyMCE
Allows you to embed all first-party shortcodes from the post editor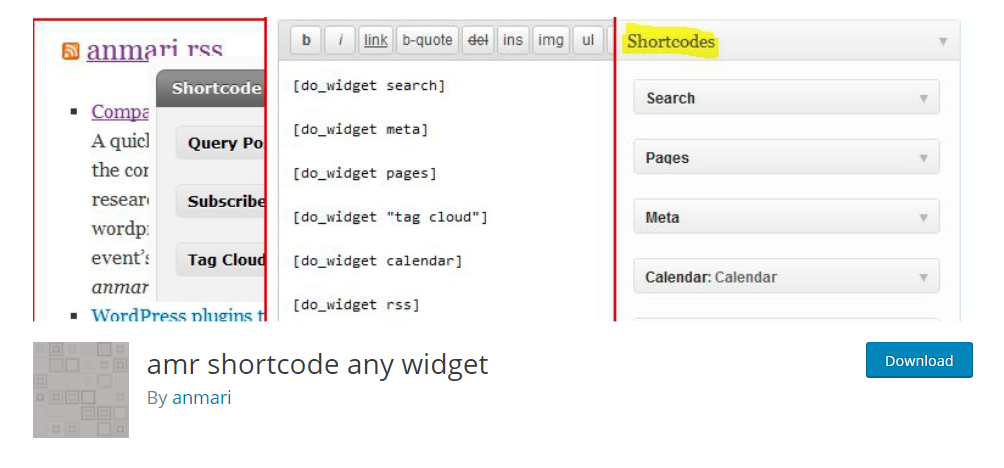 AMR Shortcode Any Widget is a WordPress shortcode plugin that allows you to embed multiple widgets as well as an entire widget area or sidebar to any WordPress page using a shortcode.
All you need to do is set up your widget in a normal sidebar to see if it is working. Then drag it to the sidebar called "widgets for shortcode." After that, all you need to do is add the do_widget shortcode or do_widget_area shortcode to any page and it will automatically embed it.
Key features worth mentioning:
Allows you to add any widget or an entire widget area to your WordPress pages using shortcodes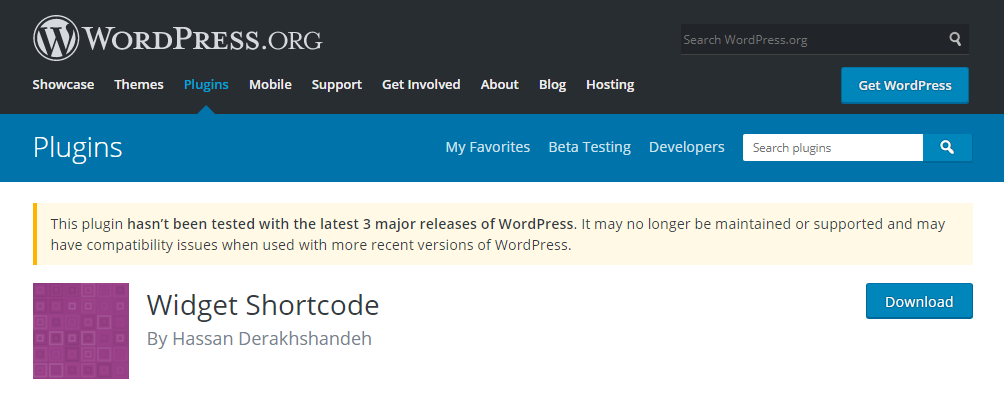 Widget Shortcode is a handy shortcode plugin that allows you to embed widgets using a drop-down, without having to copy-paste any shortcodes. The plugin will generate the code for you. However, it gives you the option to override the widget title if you want.
Note: The plugin has not been tested for the last three major releases of WordPress.
Key features worth mentioning:
Allows you to add widgets using a dropdown button without having to copy-paste shortcodes.
Conclusion
So these were our picks for the best free WordPress shortcode plugins. Do let us know if you found the read to be useful and whether it helped you in finding a good WordPress shortcode plugin for your website.
As you can see, we have included a diverse range of plugins that not only helps you add ready to use design elements using shortcodes, but also includes shortcode generators, and the option to control widgets using shortcodes. All in all, these plugins will surely make handling your WordPress website much simpler and streamlined.
I hope this article helped you choose the perfect WordPress shortcode plugin. You may also want to see our handpicked list of best WordPress podcast plugins.