Are you looking for the best WordPress SMTP plugin? Then, you have come to the right place. As a WordPress site owner, you need to have an SMTP plugin that will ensure that all your emails reach your audience without any difficulties.
So, why do you need an SMTP server to send emails? First of all, WordPress doesn't come equipped with a proper email solution. It does come with the PHP mail() function. But, it is not good enough as it fails to deliver every email. On top of that, not all hosting has the PHP mail() function configured correctly.
Emails are must-have for any website. They are required to recover lost passwords, get notifications, register new accounts, or to send newsletters.
By using an SMTP powered plugin, you will ensure that your users get proper email service when it comes to executing WordPress website functions.
Understanding SMTP
Before we go and list the plugins, let's understand SMTP.
SMTP stands for Simple Mail Transfer Protocol. It is a standard when it comes to sending emails. You can find both free and paid service when it comes to SMTP. But for the most part, a free SMTP service can serve you well.
SMTP is very useful in sending automated emails. The traditional email services have a limit when it comes to emails. That means you send a certain amount of emails.
In short, you need an SMTP service. And, using an SMTP plugin will help you to manage the services better.
So, what are the best SMTP plugins? Let's find out.
Top 5 free WordPress SMTP plugins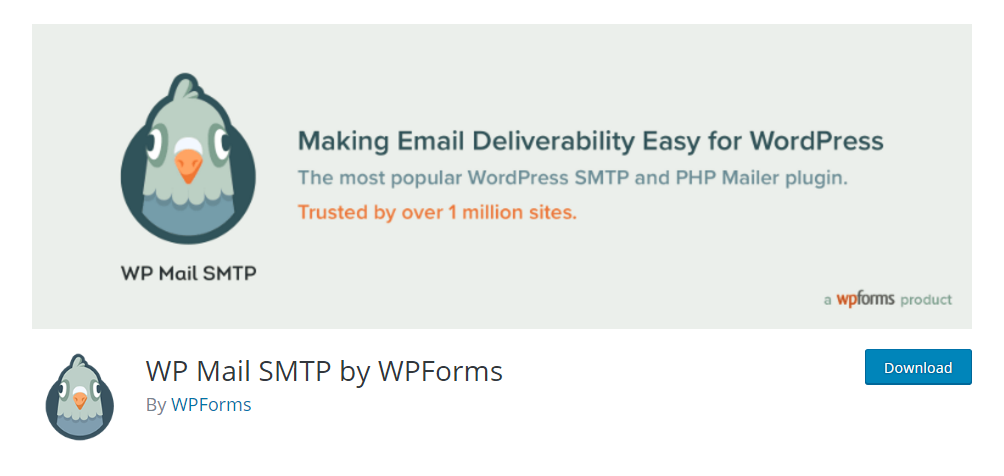 WP Mail SMTP is the number one SMTP plugin you can get for your WordPress site. It has over 1 million active installations. It helps you to make email deliveries easier.
The plugin fixes the email delivery configurability and ensures that WordPress uses a proper SMTP provider to handle email delivery.
It works by reconfiguring the wp_mail() function and uses the mail provider SMTP integration. It also comes with multiple SMTP setup, including Mailgun, SendGrid, Amazon SES SMTP, Microsoft SMTP, and so on.
Key features worth mentioning:
Easy to set up
Automatically configures the wp_mail function
Supports multiple SMTP setup
It also comes in a pro version, which includes features such as email log, expert support, and so on.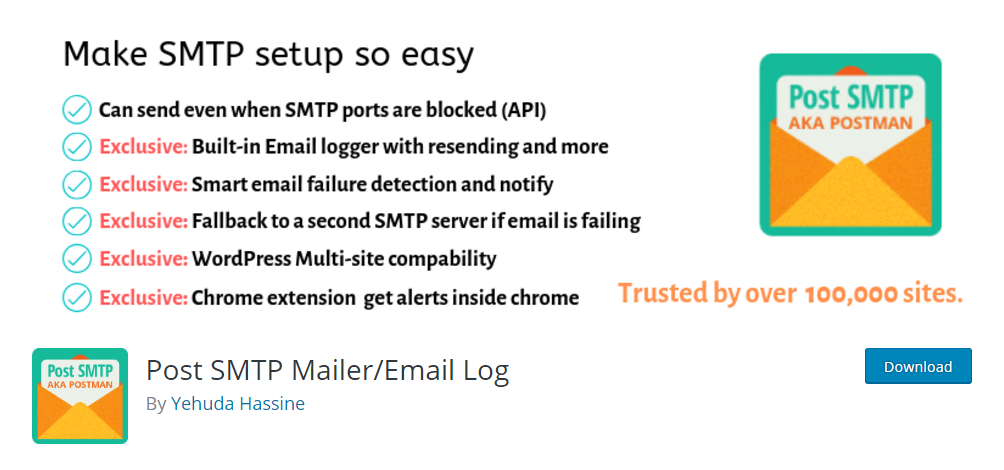 If you are looking for an SMTP plugin with the ability to notify about fail emails through chrome, then Post SMTP Mailer/Email Log is for you. Just like the SMTP plugin, it also helps you to improve WordPress site email delivery. It supports the latest security standards with OAuth 2.0.
The setup wizard also ensures that it does proper connectivity test and provide a solution right away. If your hosting doesn't let you use SMTP, then the plugin also lets you send emails through HTTPS.
Key features worth mentioning:
Easy to set up
Comes with the setup wizard
Proper firewall and configuration check
Great connectivity-tester
All emails can be logged
Supports HTML Mail
SASL Support
Security Support: STARTTLS and SMTPS
API HTTPS email support
It is also compatible with popular plugins and themes.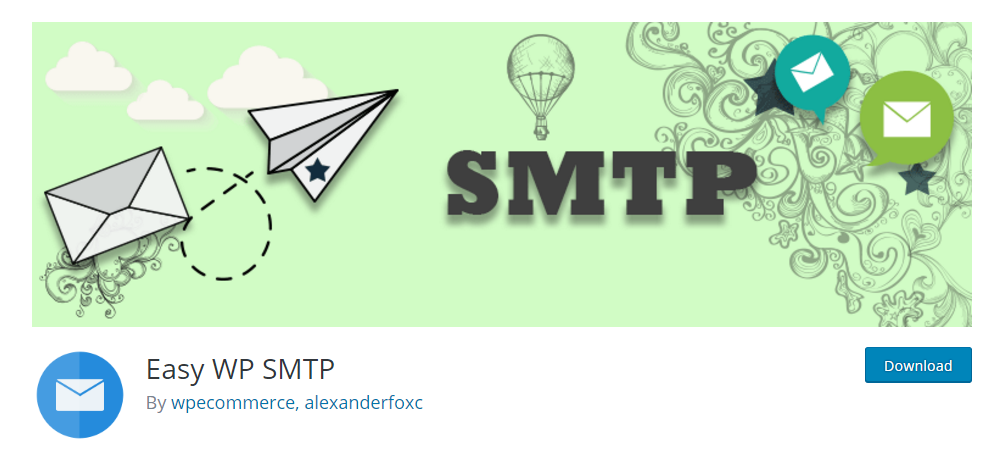 Easy WP SMTP lets you use the SMTP server for sending emails. By using the plugin, you can be sure that all your emails reach your audience.
Key features worth mentioning:
Easy to set up
Use SMTP servers including Yahoo, Gmail, and Hotmail
Secure email delivery
Connects well with WordPress blog
Supports Reply-to email address
It supports Import/Export SMTP settings.
The plugin has over 400,000+ active installations and only comes in the free version.

Another popular SMTP plugin is WP SMTP. It has over 70,000 active installations. Just like other plugins, it also helps you to configure the SMTP and discard the unpopular PHP mail() function.
Once installed, all you need to do is go to the settings of WP SMTP and configure the email settings. It also comes with a built-in importer for easy WP SMTP settings. It also comes with Universal SMTP for easy setup.
Key features worth mentioning:
Universal SMTP
Solve SMTP ports blocking with API support
Can send emails through HTTP for Mailgun, Gmail, Sendgrid, and Mandrill
Built-in mail logger
Built-in alter function
Ports checker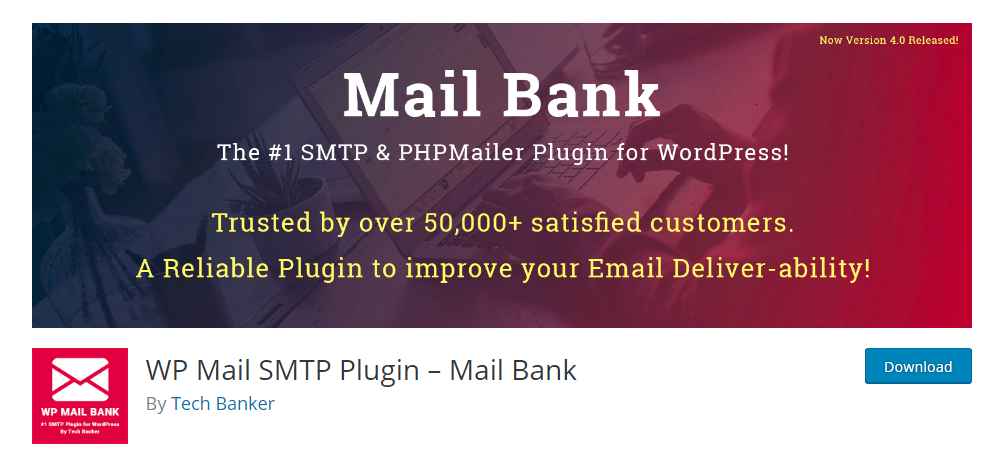 WP Mail SMTP Plugin is a free-to-use plugin. The plugins aim to solve your email delivery problems. It offers proper installation and makes sure that you configure it correctly. It also provides all the SMTP security and flexibility.
Key features worth mentioning:
Offers you a great list of the free email service providers
You can also use paid SMTP service
It comes with support for 10,000 free emails per month Mailgun
Comes with email logger
Ability to do bulk actions
Multisite and teamwork supported
Comes with proper SMTP security
Supports multiple languages
Offers authentication options
It also comes with a pro version which offers additional features.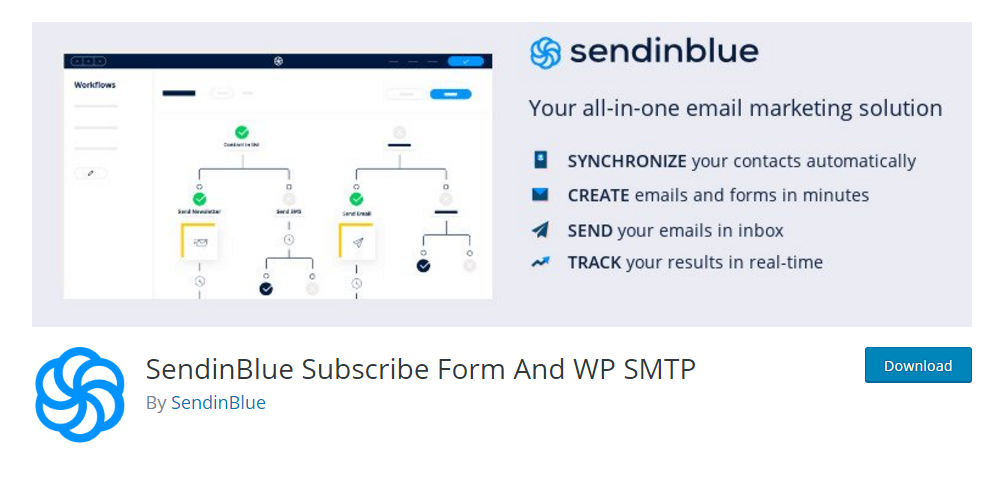 If you are looking for an all-in-one email marketing plugin, then check out what SendinBlue has to offer. It comes pre-loaded with the ability to create subscription forms, manage contact list, and run marketing campaigns.
You also get access to SendinBlue's SMTP, which gives you better tracking and enhanced deliverability.
Key features worth mentioning:
WYSIWYG Form Design
Forms can be edited in direct HTML/CSS
Proper SMTP configuration
It automatically replaces default SMTP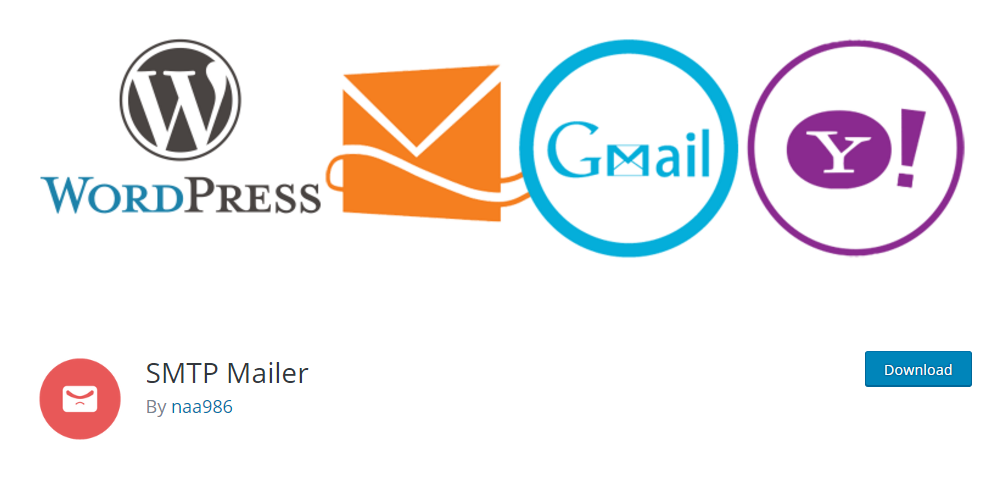 SMTP Mailer is our last plugin in the list. It is lightweight and highly configurable. With it, you can set up the mail server by replacing the default mp_mail function. To get started, you need to install it in a self-hosted WordPress site.
It is also compatible with popular contact form plugins, including Contact Form 7, Visual Form Builder, Formidable forms, and so on.
Key features worth mentioning:
Easy to set up
Highly configurable
Comes with SMTP Mailer test email
Conclusion
This leads us to the end of our seven best WordPress SMTP plugins. So, which plugin you are picking up for your WordPress site? Comment below and let us know.
We hope this article helped you choose the perfect SMTP plugin for your WordPress site. You may also want to see our handpicked list of best business directory plugins for WordPress.