All website owners crave for organic traffic, don't they? However, once their website starts gaining traction, they are also targeted to one of the most unpleasant things you never intended to face, which is spam.
The moment your website starts generating organic traffic, a crowd of unwelcomed spammers follows the trend. These spammers, most of the time, come in the form of automatic bots. They will garbage your posts with irrelevant comments and promotional ads which will affect your search engine ranking negatively.
All of these irrelevant contents will not only harm your SEO but also make your website insipid for your regular audience and repel the new users.
If you will try to edit or delete that content manually, it is going to be a grueling task for you. If you want to get rid of these unwanted comments and other garbage without making significant efforts, WordPress anti-spam plugin can be your best friend. Don't only get rid of these garbage content but prevent it from the beginning.
Here, we have listed the six best WordPress anti-spam plugins you can use.
Top 6 best anti-spam plugins for WordPress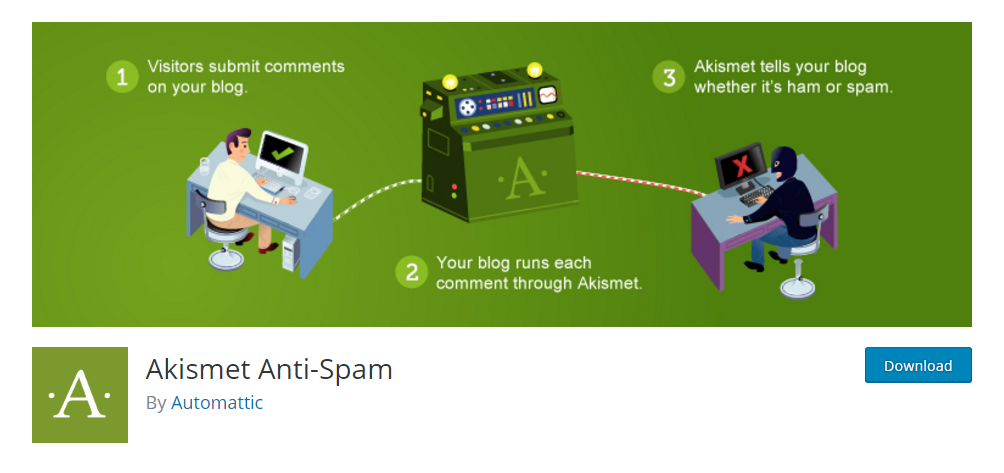 This simple WordPress anti-spam plugin developed by team Automattic checks your comments and contact form submissions against their global database of spam and malicious content to prevent your site from publishing malicious and irrelevant content. You can review the comment spam it catches on your blog's "Comments" admin screen.
Key features worth mentioning:
Automatically checks all comments and filters out the ones that look like spam
A discard feature that outright blocks the worst spam, saving you disk space and speeding up your site
You can easily see which comments were caught or cleared by Akismet and which were spammed or unspammed by a moderator
URLs are shown in the comment body to reveal hidden or misleading links
Moderators can see the number of approved comments for each user
Akismet is free for personal and noncommercial use, with a limit of 50,000 comment checks a month. The paid plans start from $5 a month, which is a pretty sweet deal for spam.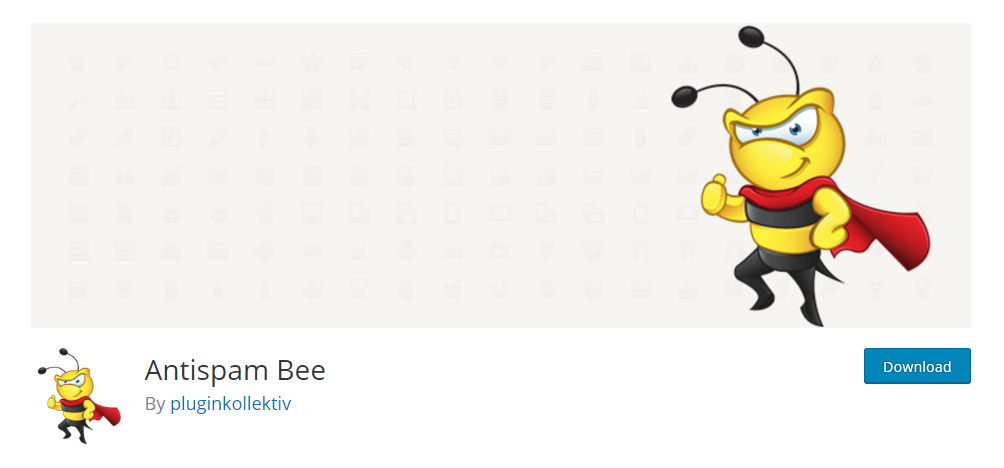 One of the simplest and powerful WordPress anti-spam plugins will eliminate all the irrelevant content from your page and posts. Antispam bee blocks spam comments and trackbacks effectively, without captchas and without sending personal information to third party services.
The plugin is free and completely ad-free. It also supports Europe's GDRP.
Key features worth mentioning:
Block or allow commenters from certain countries
Search local spam database for commenters previously marked as spammers
Trust approved commenters with a Gravatar
Allow comments only in a certain language
Search local spam database for commenters previously marked as spammers
Display spam statistics on the dashboard, including daily updates of spam detection rate and a total of blocked spam comments
And much more.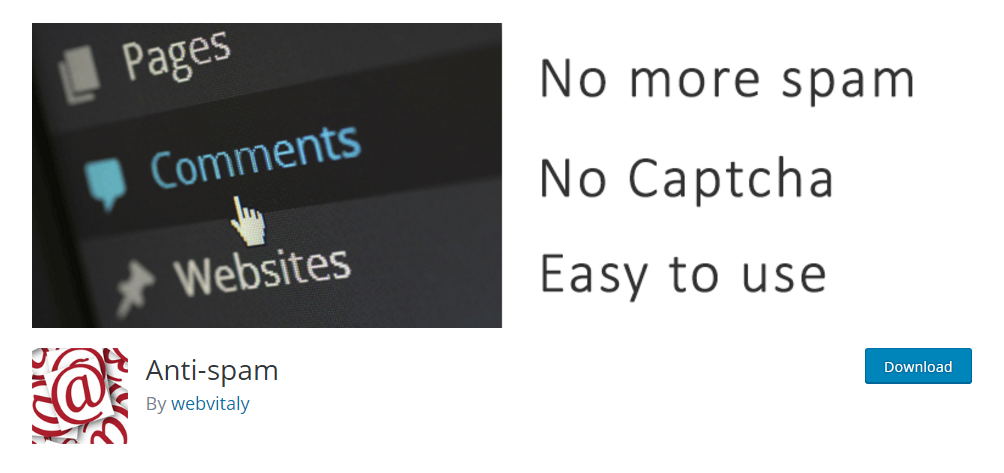 This easy to install and activate WordPress anti-spam plugin blocks automatically spam in the comments section along with Captcha. Blocked spam comments can be easily converted to regular comments if needed.
The anti-spam plugin is GDPR compliant and does not store any other user data except for the behavior mentioned above. It blocks 100% of automatic spam messages sent by spam-bots via post requests. However, the plugin doesn't support blocking spammers manually via the browser.
This all-in-one WordPress anti-spam plugin not only eliminates and prevents malicious content but also prevents spam comment by blocking them. This plugin is a one-stop solution for all your anti-spam requirements.
The plugin supports no CAPTCHA, no questions, no animal counting, no puzzles, no math and no spam bots which makes it one of the best plugins without fuss.
Key features worth mentioning:
Antispam protection for comments
Spambot registrations filter
Protection from contact form spam
WooCommerce spam, newsletters antispam filter
Compatible with W3 Total Cache, Quick Cache, WP Fastest Cache, Hyper Cache, WP Super Cache, WP-Rocket, and any other cache plugins
Blocking users by country
Blocking comments by 'stop words'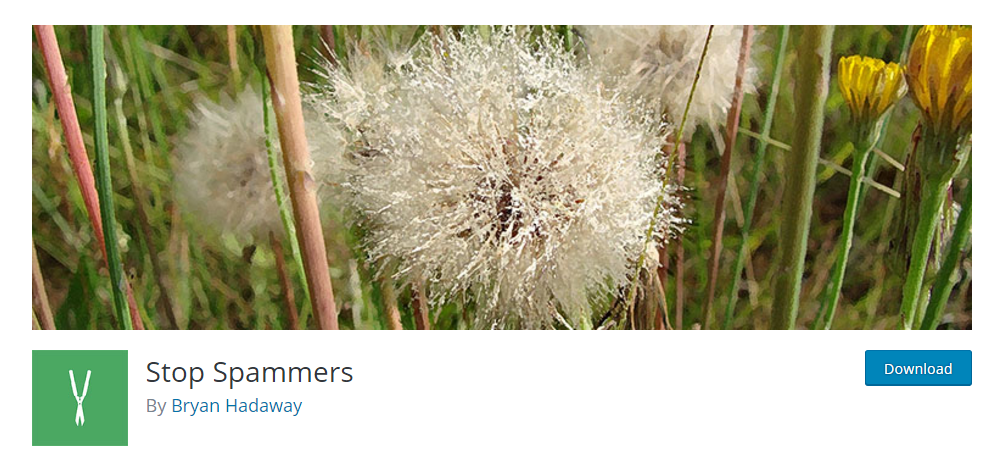 Stop Spammers does exactly what its name says. The WordPress anti-spam plugin stops spammers, spam emails, spam comments, spam registration and spam bots in general.
Key features worth mentioning:
Super-fast and lightweight, making sure it has no impact on your website's performance and load speed
Custom blocking
Blocks spam comments, spam bot signups
If you are in search of the free, simple and feature-rich WordPress anti-spam plugin, then it is the most relevant to your requirements.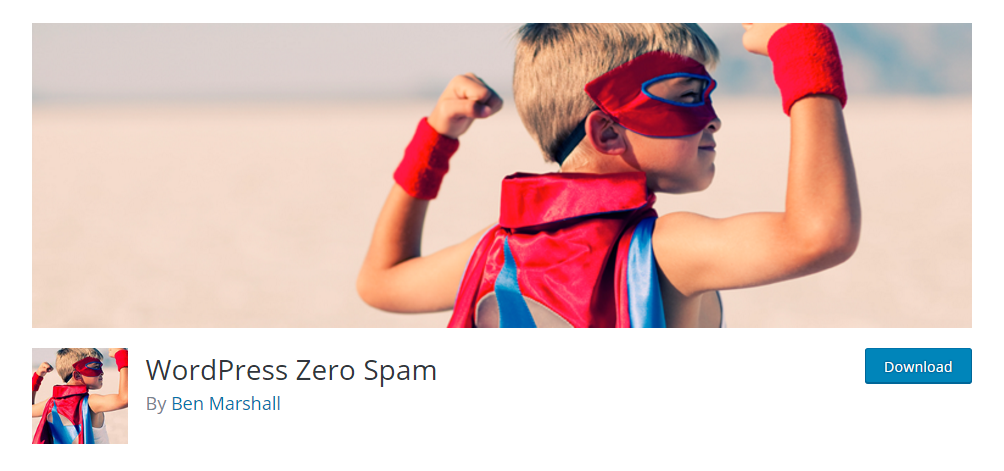 WordPress Zero Spam blocks registration spam and spam in comments automatically without any additional configuration or setup. The plugin is easy to install and set up.
It also supports several other plugins and third-party extensions including Contact Form 7, Gravity Form, Ninja Forms, BuddyPress and WPForms.
Key features worth mentioning:
No captcha, spam isn't a users' problem
Blocks 99.9% of spam registrations & comments
Advanced settings for complete control
Theme & plugin integration for any form on your site
Extend the plugin with action hooks
Supports caching plugins to help provide great performance
No moderation queues, spam isn't an administrators' problem
Conclusion
Several factors might help you to decide the WordPress anti-spam plugin that suits your requirements best. For instance, the type of traffic you are receiving targeted users' locations, etc.
Make sure you try them all and go along with the one that matches your needs the most. You may also want to see our handpicked list of best social share plugins for WordPress site.