Are you looking for the best free WordPress import export plugin? Then, you have come to the right place.
Today, we are going to list seven free WordPress import export plugins. The import export plugins are very useful for a webmaster. They help the webmaster to move websites if they need to.
Also, if you are a developer, you might need to use the import export plugins to do basic WordPress setup.
Overall, the import export plugins provide you a great utility for a webmaster as well as a developer.
Let's get started with the list below.
Top 7 import export plugins for WordPress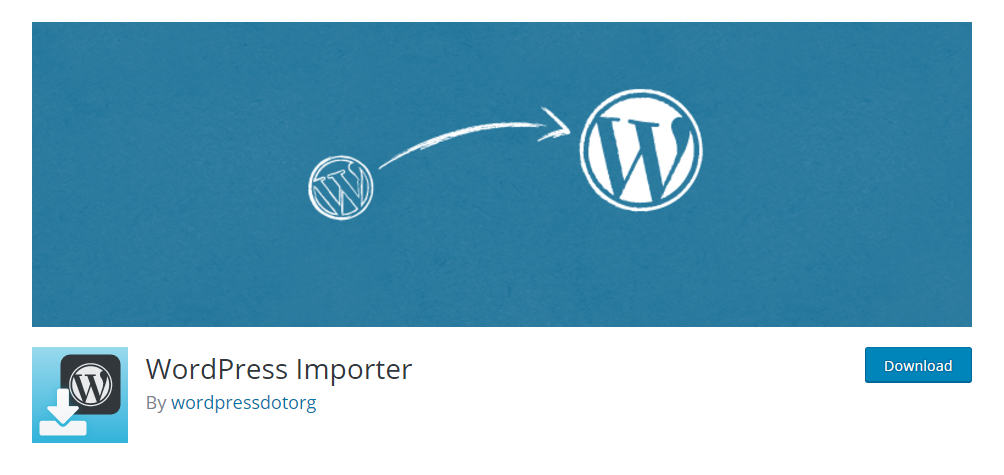 WordPress Importer is the most popular WordPress plugin for import/export functionality. It has over 4+ million active installations! The plugin is compatible with the latest WordPress and is frequently maintained by their developers.
With it, you can import/export pages and posts. You can also use it on custom post types. Furthermore, it also works with comments, post meta, custom fields, authors, and other contents on your site.
The most amazing feature of the plugin is its filters. The filters can let you enable/disable the features of the plugin.
Key features worth mentioning:
Import-export pages and posts
Support filters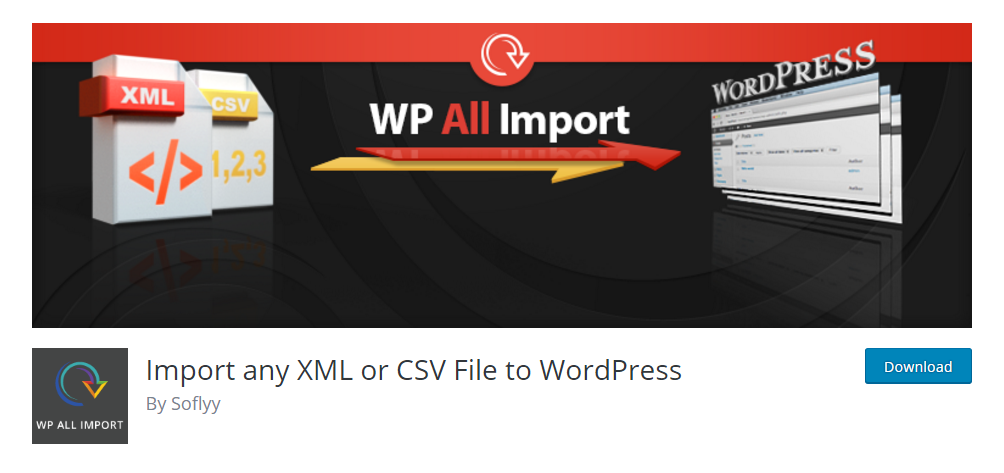 WP All Import is also a popular plugin with active installations of 100K+. It is a simple plugin that lets you do the import/export in XML/CSV format.
The plugin offers an intuitive drag-and-drop feature that makes things simpler. As a user, you need to follow a four-step process to complete the import/export process.
The plugin is ideal for those who want to mitigate their website. In simple words, you get the tool to import-export everything you want.
Key features worth mentioning:
XML/CSV format
Drag and drop feature
A four-step process for importing/exporting
Can be used on any WordPress site
Supports all content type
It also comes with the pro version that offers additional features, including import data to custom fields, Cron job, import files from a URL, and so on!
Pro version also offers add-ons that expand the features, including advanced custom fields add-on, Link clock add-on, etc.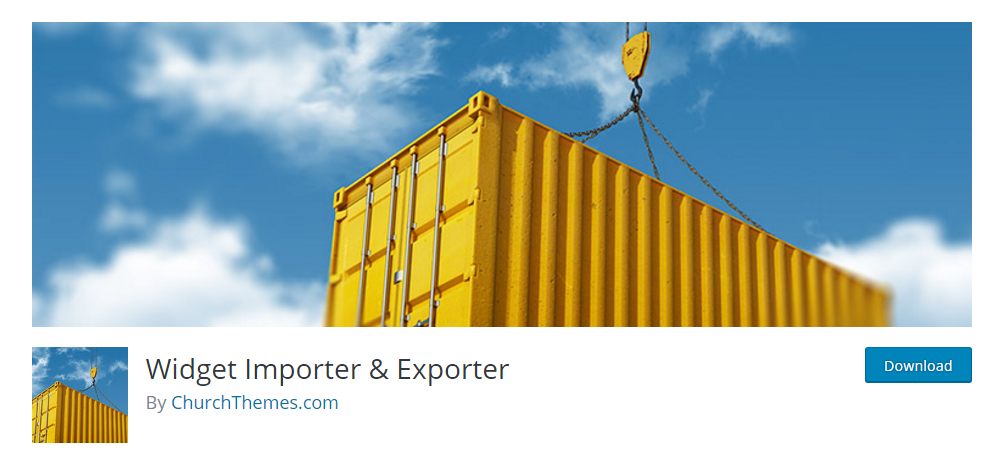 If you are looking for a plugin that lets you move widgets from one site to another, then Widget Importer & Exporter is for you. It is a very useful plugin that makes it easy for developers or webmasters to manage their site.
You can import widgets by using a file that is created by the plugin itself. So, to do, you need to install it to your other site and then use it to generate the file. While exporting, you have the option to save the file in either JSON format.
Key features worth mentioning:
Let's you import/export widgets
Easy to use
Only files generated by the plugin can be used for importing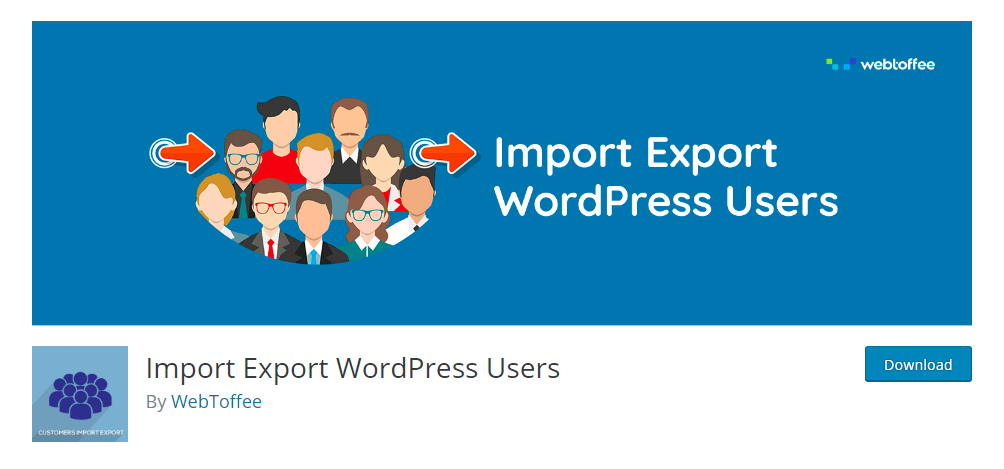 Users are at the core of any WordPress site. That's why it is always a good idea to back them up. For that, you can import all your users using the Import Export WordPress users.
You can also use the plugin for shifting your users to a new site. It works with both WordPress and WooCommerce websites.
The plugin supports CSV files when it comes to user import export.
Key features worth mentioning:
To use the plugin, you need to click on the export option. For importing, you need a CSV file.
It also has a premium version that offers additional features such as other customer detail export/import, various filters, and so on.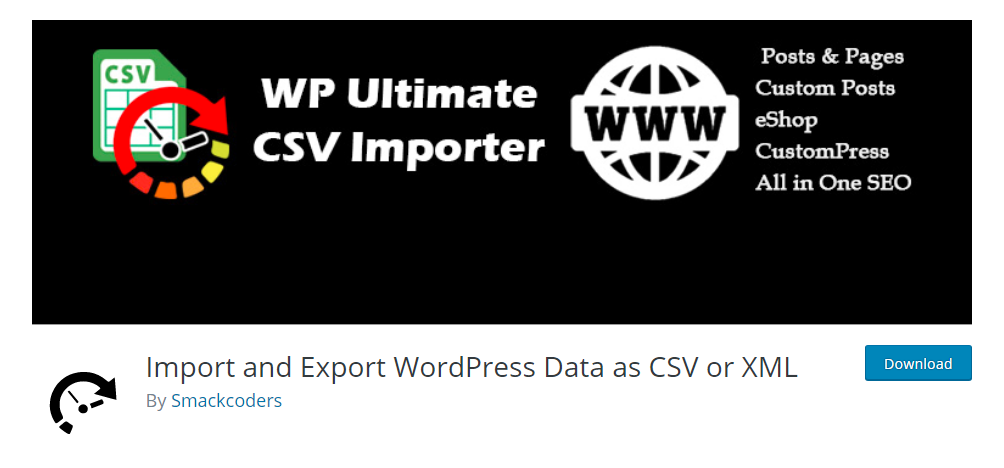 Our next plugin is WP Ultimate CSV Importer. It lets you import export your WordPress site; then, the plugin is a perfect fit. It lets you use both XML and CSV formats for data import and export.
By using the plugin, you will have full control over your site's data, and you can import/export anything that you want. The basic plugin is easy to use.
However, if you want advanced features, then you have to get add-ons, which is a paid feature of the plugin. The paid add-ons include WooCommerce and users import/export.
Key features worth mentioning:
Supports drag and drop method
One-click import
Supports diverse content import
High performance
Supports 1000s of records
WordPress multisite import supported

If you are looking for a simple WordPress plugin that lets you export your library files, then the Export Media Library is for you. All you need to do is install the plugin and then go to the plugin dashboard and start the export process.
You can download the library in zip format, saving precious space.
Key features worth mentioning:
Easy to use interface
Zip format download
One-click download
Lightweight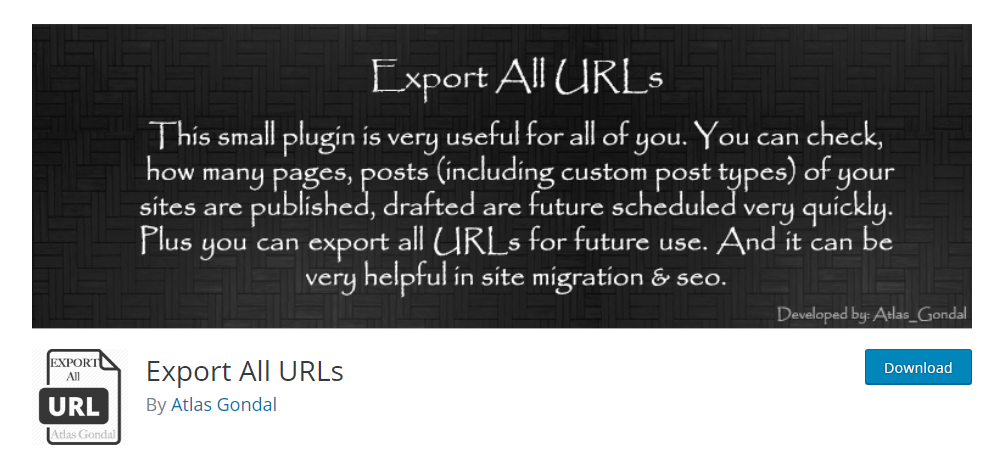 The plugin lets you export posts data, including URLs, categories, and Titles. It is very useful if you want to extract posts information, including the URLs. This means that you can check your website URLs using the site. The URLs can then be exported and share with someone else.
You can also transfer the URLs to your other website or use the data to set up the 301 redirects.
Key features worth mentioning:
Author/Data range filter
Supports CSV file format
Easy to use
Offers multiple use-cases
Conclusion
This leads us to the end of our best free WordPress import export plugins. So which plugin are you going to pick up? Comment below and let us know.
I hope this article helped you choose the perfect WordPress import export plugin. You may also want to see our handpicked list of best WooCommerce import export plugins.