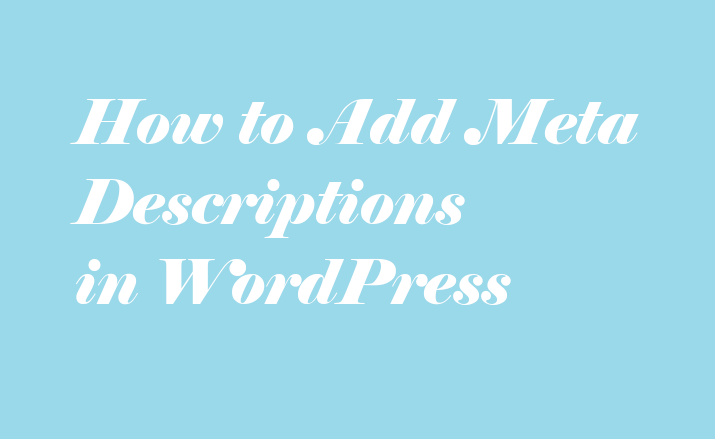 We all know that to add meta description in WordPress site is helpful to improve website SEO. The short description tells search engines and searchers what is your website or post is about.
In this tutorial, I will explain what is a meta description, why it is important, how to add it in WordPress, and how to write a good meta description.
What is a meta description?
Meta description is a snippet which is a brief introduction of your post, also is a HTML meta tag located at your website's header.
In most cases, search engines show the meta description under your page's URL in search result while you are searching for a specific word or phrase in browser.


Why is the meta description so important?
While you are searching with browser, Google displays tons of the relevant results. In most cases, which one you click depends on the meta description.
Apart from the summarization of page content, the goal of meta description is to persuade and entice someone to click your link and come to your website. In other words, it is to generate Click-through rate (CTR) from search engines.
If more people click on your link, Google considers your link is a good result and ranks your post higher than your competitors. This is why the meta description is such importance. 
How to write a good meta description?
A good and eye-catching meta description attracts searcher's attention, and it convinces searcher to click and visit your website. Personally, a good meta description needs to include the following characteristics:
Keep it under 155 characters
Meta description is a short paragraph and you make sure that your content summrization is under 155 characters. If it is more than that, Google will cut off your meta description.
Provide a benefit to searchers
Tell searchers what they can benefit from this page if they click your link. Search engines show a lot of relevant results, searchers look for results that are worth to reading.
Thus, please keep your mind: let searchers benefit from accessing your page. If they don't get any benefit from your webpage, they will immdiately abondon your page.
So, give them what they expect, which will bring continuous traffic to your site.
Be matching to the content of your webpage
The meta description must match the content of your page. Otherwise, the website faces a risk of being punished by Google becuase of misleading meta descriptions. Google believes that your meta description entices visitors to click and drives traffic to your site.
Include your keywords
Make sure your keywords show up in your meta description. While you are searching for a specific word or phrase in Google, Google highlights the matching words in bold in your snippet.
It's likes Google tells searchers what they are looking for is here. At this case, most searchers will never hesitate to click on your link.
How to add a meta description in WordPress
Yoast SEO plugin makes add meta description super easy. It comes with an functionality for adding meta descriptions in WordPress. 
First, you need to install Yoast SEO plugin on your WordPress site. For more details, you can see our step by step guide on how to install WordPress site.
Next, you can add meta description in Yoast SEO snippet editor. Furthermore, you can see immediately how it is looks in search result in Snippet preview.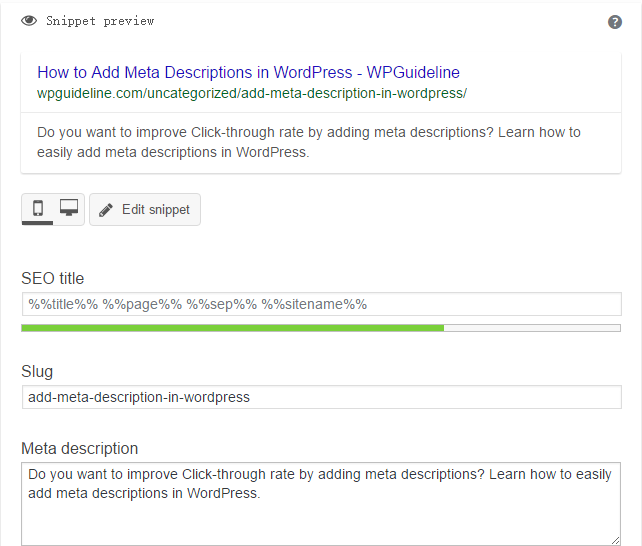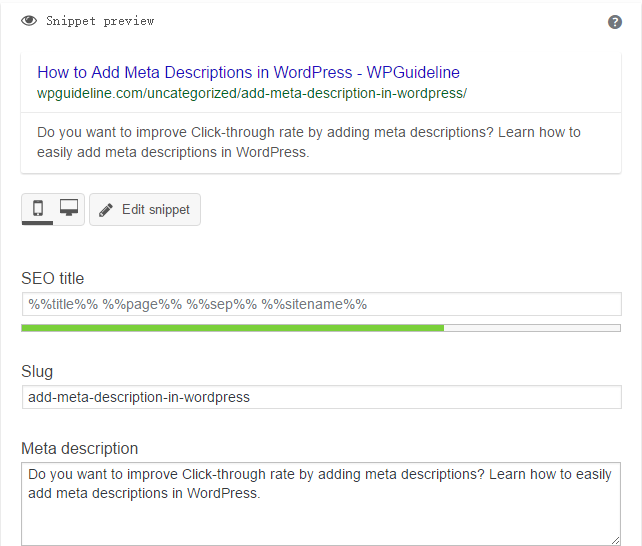 Conclusion
I hope this post helped you learn what is meta descriptions, why it is so important, how to write a good meta description, and how to add it in WordPress. You may also want to see our guide on XML Sitemap guide: what is it and how to create it in WordPress.
How do you easily add meta descriptions in WordPress except using Yoast SEO plugin? Please share it with us in the comments.