WordPress doesn't come with any built-in features to help you set up an online store. However, that doesn't mean there aren't plugins to help you achieve the task. In fact, you can turn a WordPress site into an online store with WordPress eCommerce plugin. Plus, there are actually a handful of eCommerce WordPress plugins that can help you set up a fully functional online store in a matter of minutes.
But are they all the same? And which one should you use to set up your online store?
Well, to answer your questions, we have put together a shortlist going over the 5 best WordPress eCommerce plugins. By the end, you should find a plugin that meets your specific requirements and helps you set up the ideal e-store.
So without further ado, let's get started.
Top 5 WordPress eCommerce Plugins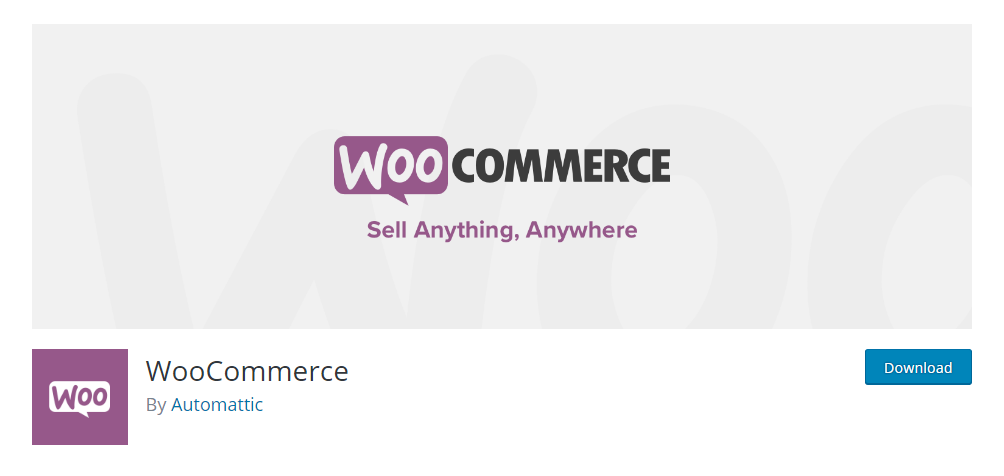 Starting off our list, we have the super popular and feature-rich WooCommerce WordPress eCommerce plugin. With over 5 million active installations, it is by far the most popular eCommerce plugin for the platform.
Once installed, it will instantly turn your WordPress blog into a full-fledged e-store complete with a product page, cart page, and checkout page.
Many eCommerce centric features are also bundled-in, but you can expand that courtesy of the hundreds of WooCommerce extension plugins and add-ons available in the market.
Features:
Get access to a product page, cart page, and checkout page upon installation.
Tons of customization options to help you configure the layout, color schemes, and so on.
Option to sell physical goods as well as digital goods.
Loads of payment options including support for all major credit cards, bank transfers, and cash on delivery.
Comprehensive settings to allow for local as well as global shipping.
Automated tax calculator built-in.
Google Analytics, MailChimp, and Facebook integration.
Offers a dedicated mobile app to help you manage your WooCommerce store.
Tons of plugin extensions and add-ons to help integrate additional features.
And much more.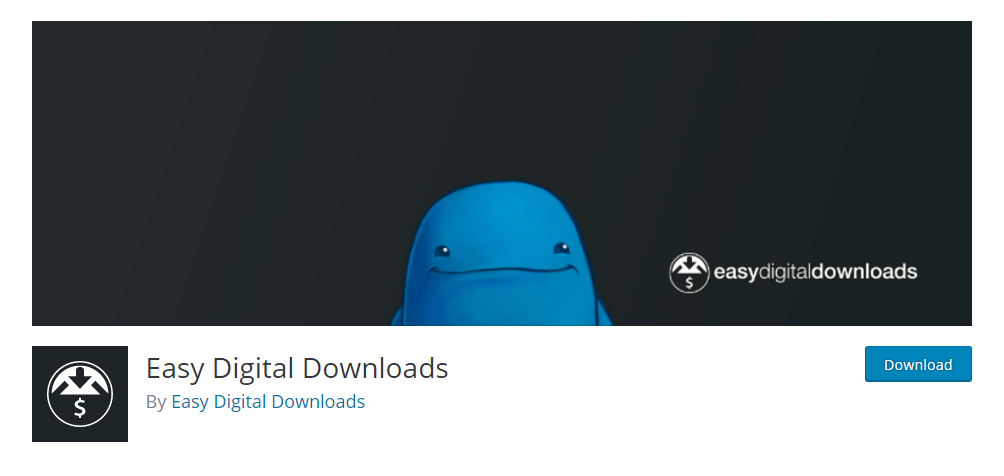 Next up, we have Easy Digital Downloads WordPress eCommerce plugin, or EDD for short. As you can guess by the name, the plugin helps you sell digital products on your WordPress website or blog.
Now yes, WooCommerce does allow users to sell digital products. But with EDD, you get many more focused options paired with a cleaner UI.
Once installed, you will get access to a full shopping cart and customer management system. On top of that, the plugin adds support for data reporting, refund tracking, discount codes, an affiliate system, and much more.
Also, thanks to its open-source nature and rich community of developers, you will also get access to tons of free and paid extensions to further incorporate powerful features and functionalities into the mix.
Features:
It provides a dedicated system to help you sell digital goods like media files, software, documents, ebooks, and so on.
Completely Open-Source software with developers in mind.
Access to RESTfull API for full control over customization.
Support for PayPal and Amazon Payments out of the box. Option to add support for additional payment gateways using extensions and add-ons.
It offers a rich extension catalog that adds tons of advanced eCommerce functionalities and integrations.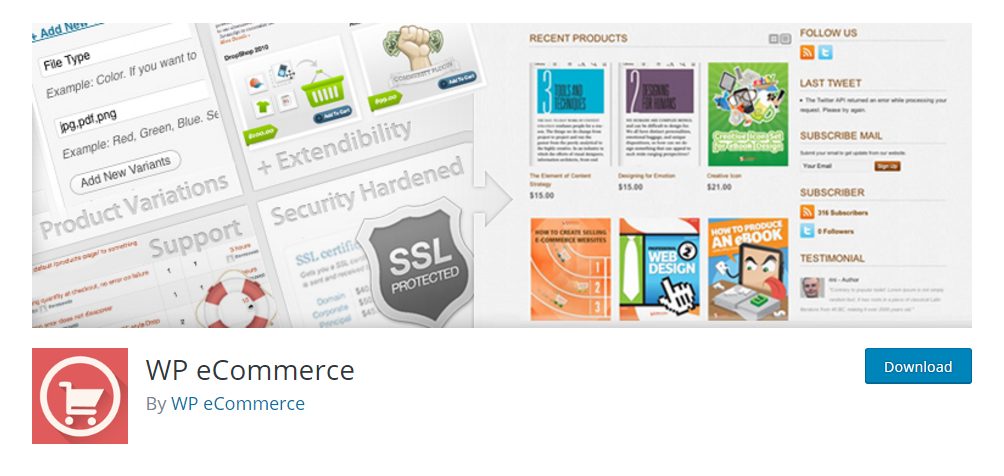 WP eCommerce WordPress eCommerce plugin is a lot similar to WooCommerce when it comes to the user interface and feature availability.
However, as you would expect, there are a few caveats present here and there which makes both cater to different markets. For example, WP eCommerce offers premium support for $49/month which is a godsend for beginners.
On the other hand, WooCommerce lacks any such premium support options, and all you have is its community forum and support thread.
In terms of functionality, WooCommerce supports product reviews out of the box, but WP eCommerce requires you to purchase an add-on. Alternatively, WP eCommerce offers built-in advanced shipping options but WooCommerce relies on paid extensions for that functionality.
Features:
Freemium plugin. Option to upgrade to the Gold Cart for $99 which brings live search, premium payment gateways, and grid view for your product galleries.
Tons of marketing tools built-in.
Built-in advanced shipping options with support for popular couriers.
Get premium support for $49/month or $499/year.
Tons of extensions and add-ons available to integrate additional functionalities.
Developer-friendly with access to hundreds of hooks.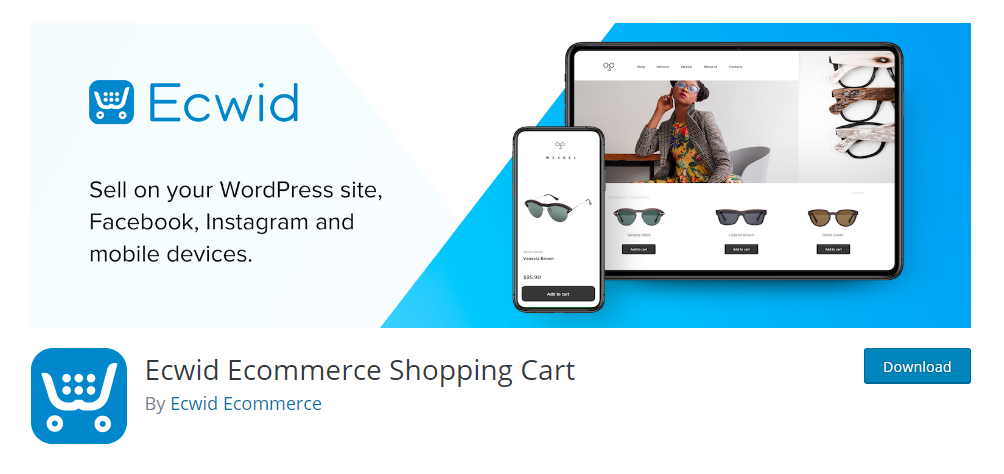 Ecwid WordPress eCommerce plugin is a simple, easy to use, yet feature-packed freemium e-commerce plugin. Unlike some of the other plugins on the list, here you won't have to browse through different extension libraries in order to find any necessary features. All necessary and advanced e-commerce functionalities are bundled in with the core plugin.
However, the base free plugin will only allow you to set up an online store with a maximum of 10 products. You can upgrade that to 100 products with the $15/month plan or unlimited products for the $99/month plan. At first, this might seem expensive, but then again you should consider how the other plugins require access to premium add-ons for many of the features that are bundled in with Ecwid.
Features:
Super easy to use with a beautiful interface.
Tons of premium features directly integrated inside the plugin.
Offers PCI-DCC certification out of the box.
The base plan limits the use of up to 10 products. If you want to add more products, then you will have to use their premium plans.
Get over-the-phone as well as chat support.
Supports almost all website builders and content management systems, including WordPress.
And much more.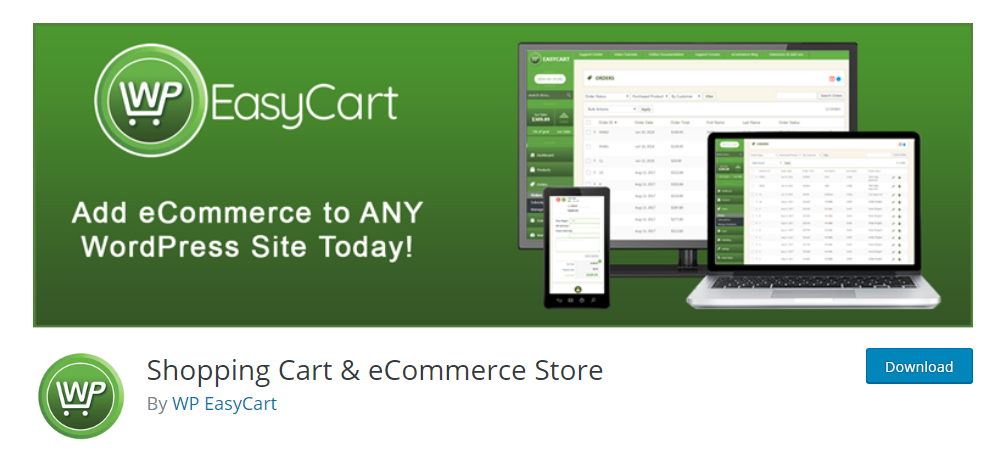 And now for the final WordPress eCommerce plugin on our list, we have WP EasyCart. With just over 5000 active installations, it isn't as popular as the other plugins, but it is slowly gaining traction. Catered towards small businesses and non-tech savvy users, the plugin offers an irresistible blend of an intuitive UI, advanced features, and affordable pricing, helping it slowly gain a footing in the market.
The base plugin is free to use, packs in all necessary features, and supports unlimited products, but charges a small transaction fee for each sale. You can avoid that by hoping on their $69/year plan. Then there is also their $99/year plan which gives you option to sell subscription plans and even offers integration with many popular third-party e-commerce services.
Features:
One of the simplest user interfaces.
It comes with a free base plan that covers almost all the features you might need.
Paid plans priced at $69/year and $99/year bundles in extra extensions and add-ons to provide additional features.
In-built option to sell unique products like eBooks, donations, video content, and so on.
Offers the best free customer support including over the phone support and email support.
Tons of extensions to help your content and integrate with third-party options like AffiliateWP, MailChimp, Quickbooks, Stamps.com, and even a Groupon Importer.
Wrapping up
If you plan to create an online store with WordPress, the above mentioned WordPress eCommerce plugins are worth trying. These popular and feature-rich plugins will meet your any expectations for a WordPress eCommerce site.
We hope this article helped you choose the perfect WordPress eCommerce plugin. You may also want to see our handpicked list of best WordPress booking plugins.