Do you want to allow your audience to book an appointment directly from your WordPress site? Do you want to manage and modify your booked appointments from your WordPress site? WordPress allows you to do so with WordPress booking plugin.
WordPress booking and appointment plugin allows the customers to book an appointment directly from your website which in result can prove to be quite convenient for your customers.
Why do you need a WordPress booking plugin?
If you are operating a business that requires the clients to book an appointment first, it is must to have fully-fledged and error-free booking and reservation plugin.
With the right WordPress booking plugin, you can transform your WordPress site into a fully-functional online appointment and reservation booking system and fulfill all your booking needs.
However, there are hundreds of helpful WordPress booking plugins available in the market. Choosing the right one becomes crucial when it comes turning your WordPress site into scheduler and appointment booking system which may help you to improve your business.
Here is the list of six best WordPress booking plugins which you can rely on and get your booking and scheduling done.
Top 6 WordPress booking plugins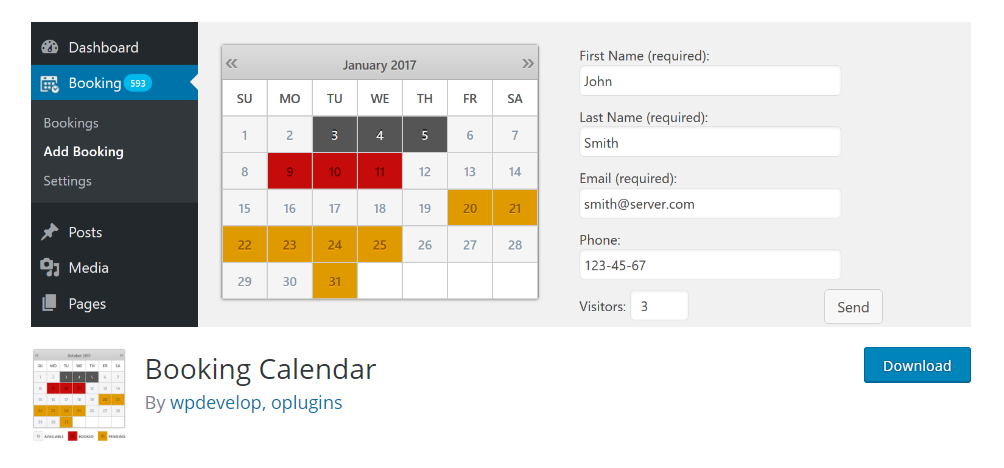 Booking Calendar, one of the best WordPress booking plugins, allows you to create easy to use and convenient booking system which can help your client to check availability, book appointment for a full day(s) or specific timeslot.
With Booking Calendar, you can accept and decline the appointment request, show availability, prevent double booking, allow multiple booking on the same day, import and export booking from Google Calendar, HomeAway, TripAdvisor, VRBO, FlipKey or any other calendar that uses .ics format.
Features:
Manage all your booking at one place
Time slot booking to receive simple bookings for specific time-slots
Prevent or allow multiple booking on the same day
Receive email notification on booking
Search and sort the booking
Native integration with the Booking Manager plugin for the ability to import/export .ics feeds or files
Import your Google Calendar events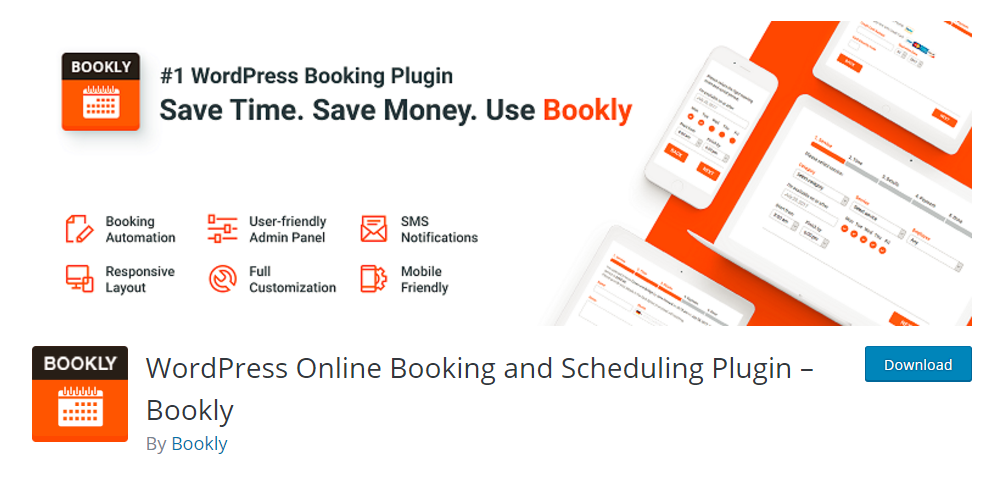 Automate your reservation system, accept bookings online and schedule your appointments with bookly. This simple WordPress booking plugin allows you to automate your booking system with its ability to manage your booking calendar, services, client base, save time and money – all in one place.
Bookly helps you to boost your sales as it provides an easy and convenient way to accept booking online from your clients. Whether its hair salons, photography, wealth management, real estate, transportation or any other business you can think of, Bookly manages it all.
Features:
Fast online booking with intuitively manageable forms
Unlimited number of booking forms on your site
Google Calendar integration  
Importable and exportable customer list
Monthly/weekly/daily calendar view for the service provider
Customizable SMS and email notifications settings right from the Bookly backend
Filterable, sortable and searchable booking list of your customers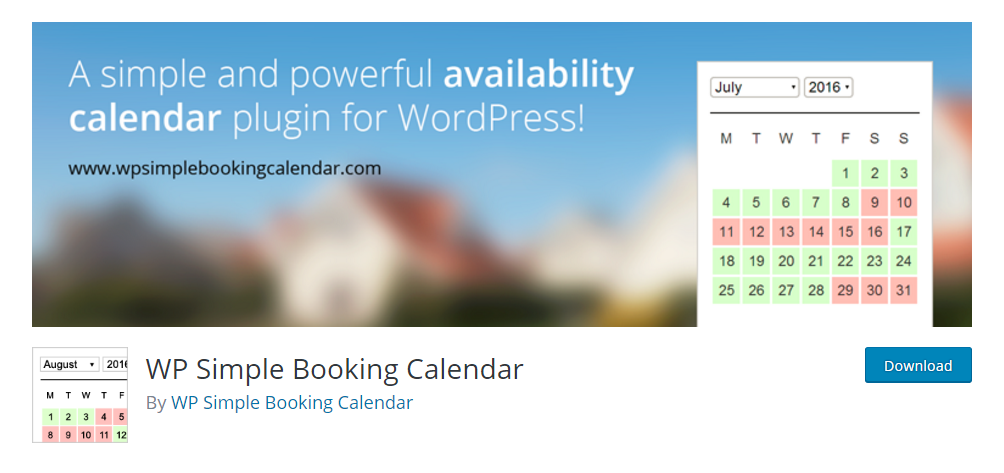 WP Simple Booking Calendar is one of the simplest yet very powerful WordPress booking and scheduling tool that you can put on work to manage all your appointments and schedule your day.
This simple WordPress booking plugin is a one-stop solution for all your booking requirements. It displays available dates, the availability for a room, office or piece of equipment, accepts an online booking, and schedules your day and much more.
Additionally, the plugin also has a premium version which has extended feature helps you to have more control on your reservation system.
Features:
Create an unlimited number of booking calendars
Add and save booking information for each day on each of your booking calendars
Generate a shortcode to display the booking calendar on a page or post
WP Simple Booking Calendar Widget
Sync (export) your calendars to Airbnb, FlipKey and other calendar sites (using iCal feeds)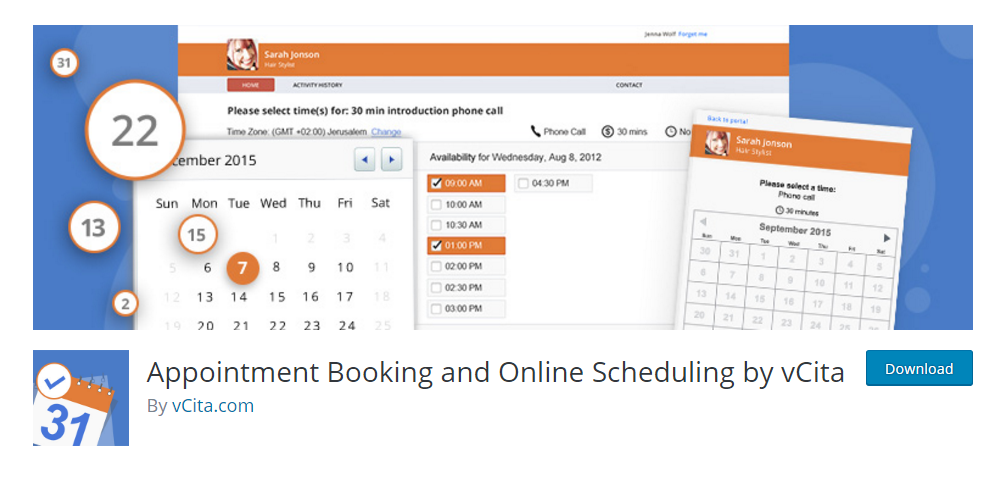 This WordPress booking plugin by vCita turns your WordPress website into fully functional appointment booking and online scheduling. The plugin eliminates the back-and-forth communications in appointment booking and hassle of visiting the site for registering.
Moreover, the system sends automatic reminders, confirmations, and follow-ups. With vCita, you can manage all sort of businesses from salons and spas to health and fitness, real estate business to consultants, etc.
Features:
Schedule appointments & meetings, book services with specific staff members
Send automatic reminders for future appointments, for due payments
Confirm or reschedule appointments & services via your branded client portal
Accept credit card payment and PayPal payments
Fast online booking with intuitively manageable forms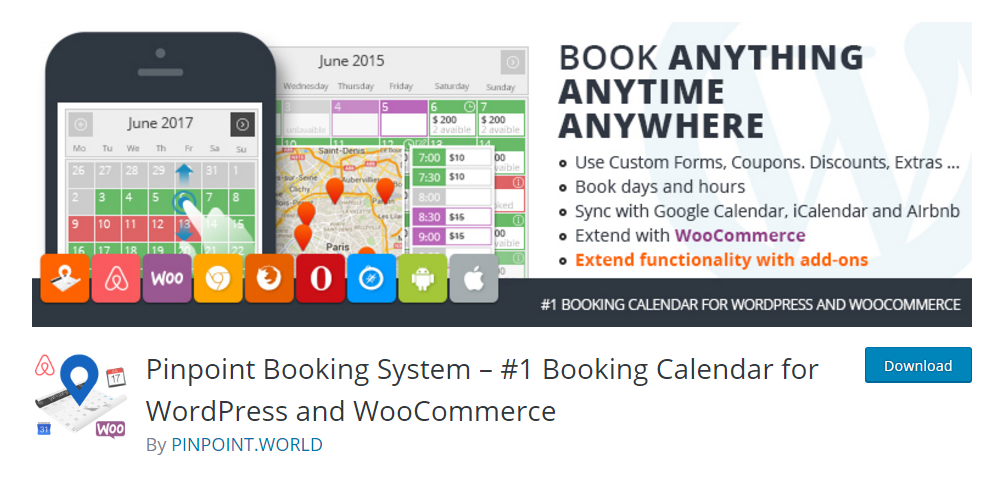 The fifth contender in this list is Pinpoint booking system. A simple WordPress appointment booking plugin lets your clients rent accommodations, schedule services, book events or receive online reservations and appointments of any kind with your WordPress site.
Apart from creating an automatic booking system for general businesses, this plugin also allows you to create WooCommerce booking system along with the advantage of the shopping cart, all payment methods and other features that come with WooCommerce. It also supports the most popular WordPress eCommerce toolkit.
Features:
Allows the clients to check availability, make reservation and appointment online
Highly customizable booking form
Booking calendars display the data depending on users' time zones
Highly compatible with WooCommerce
Add price, promo price, number of items available and information for each day/hour in the front-end booking calendar  
Sync with Google Calendar, iCalendar, and Airbnb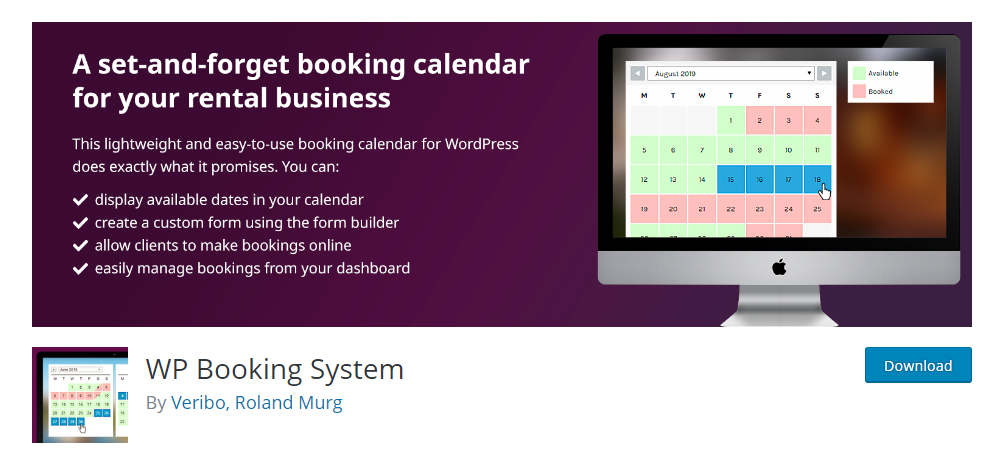 The simplest yet feature-rich WordPress booking plugin does what its name says. The plugin allows you to create an interactive booking form which updates automatically as your clients make appointments. You can manage all your booking and receive booking online directly from your clients.
Furthermore, you can also either deny or accept the booking depending on your schedule. The plugin also has a premium version which ultimately allows you to do more with itself.
Features:
A set-and-forget booking calendar for your rental business
Display available dates in your calendar
Create a form and enable clients to make bookings online
Receive and manage bookings
Create your legend: apply your colors and text
Automatically block-booked days directly
Wrapping up
If you are planning to turn your website into fully-fledged WordPress booking and reservation system, the above-mentioned WordPress booking plugins are must.
These plugins not only allow you to accept and manage your bookings but also help you to manage your schedule and provide your clients with an easy and convenient reservation system.
I hope this article helped you find the perfect WordPress booking plugin. You may also want to see our list of best WordPress LMS plugins.