If you are an affiliate marketer, then you have come to the right place. In this article, we will be exploring the best WordPress affiliate link plugin.
There is no doubt that affiliate marketing lets you improve your potential to earn more. If you are new to affiliate marketing and WordPress, you will find how hard is it to manage the affiliate links. But, with affiliate link plugin, you can improve link management, and focus on improving your business.
So, which plugins are worth your time? Let's list the best affiliate link plugins below.
Top 6 WordPress affiliate link plugins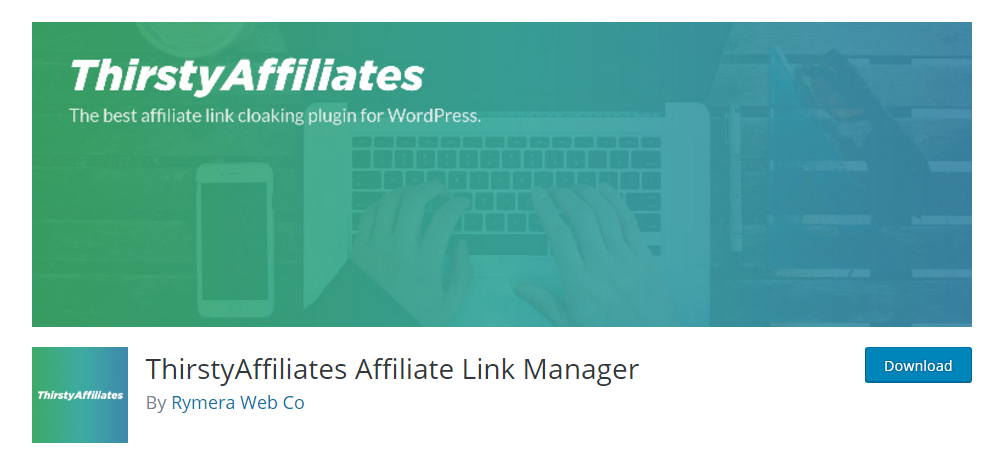 If you are looking for the best affiliate link plugin, then you need to check out ThirstyAffiliates. It is a proper link management tool that can be fully integrated with WordPress.
With it, you can quickly integrate links and also ensure that you cloak them. Moreover, you can also enable auto-insert links for maximizing profits.
Apart from link inserting, you can follow how each link is performing and tweak them for better results.
Key features worth mentioning:
Smart uncloaking
Safe redirection including 301, 302, and 307 redirects.
Support images with links
Proper reports and statistics
Works with standard WordPress editor
Support shortcodes
It also comes with Pro version which has additional features including automatic keyword linking, advanced statistics reports, Google Click Events, and more!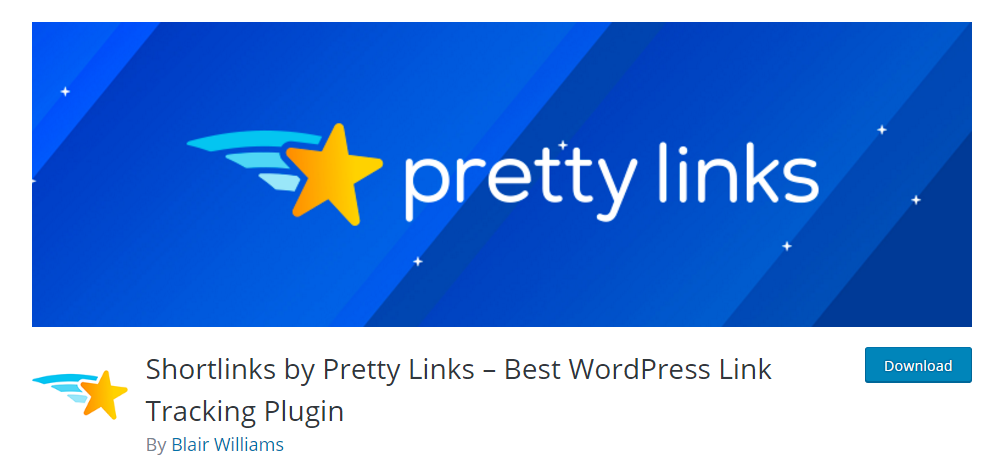 Pretty Links lets you shorten links according to your domain name. This is an important step when it comes to creating clean links. If you use other link shortening services, you will notice that it put the site URL in front — for example, bit.ly or tinyurl.com.
So, why would you use it? To clean up your links and have proper symmetry in all of them. This will help you improve your domain outreach as well.
Key features worth mentioning:
Emphasize on clean links
Offers proper URL redirect: 301, 302, and 307
Track link performance with the number of clicks
Offers reporting interface with chart creation ability
Pretty links bookmarklet
A cookie-based visitor tracking system
Tracking can be turned off and on
And much more.
Just like other plugins, it also comes with Pro version which offers additional features including redirection types, automatic pretty links creations, keyword replacement, and so on.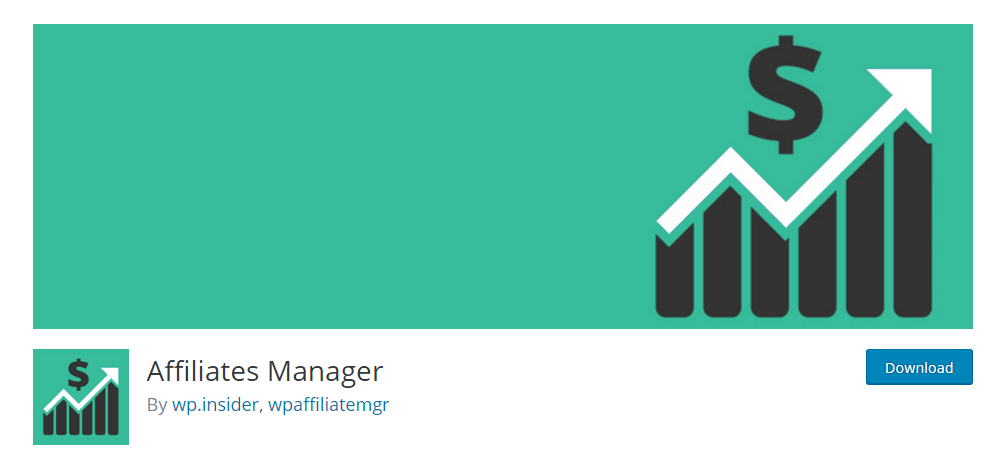 Affiliates Manager is a complete package that lets you manage your affiliate marketing. It is ideal for both eCommerce and blogs who are employing affiliate marketing. With it, you can implement the affiliates' on-boarding process.
This means you can recruit them. The interested people can also register and login through the plugin itself.
The Affiliate Manager plugin also integrates with popular e-Commerce solutions, including WooCommerce, JigoShop, WP estore, etc. It offers support for real-time reporting. On top of that, there is no limitation on the number of affiliates on your website.
Key features worth mentioningt:
Percentage or flat rate based payouts
Offer set payout rates per affiliates
Paypal payment supported
Ability to create unlimited ads for affiliates
Customizable affiliate registration
Autoresponder integration
Customized messages for affiliates
Translation ready
It also comes with a premium version at $39 for single-site and $97 for developer option.
Additionally, they also offer add-ons. You can find the list of both free and premium add-ons here.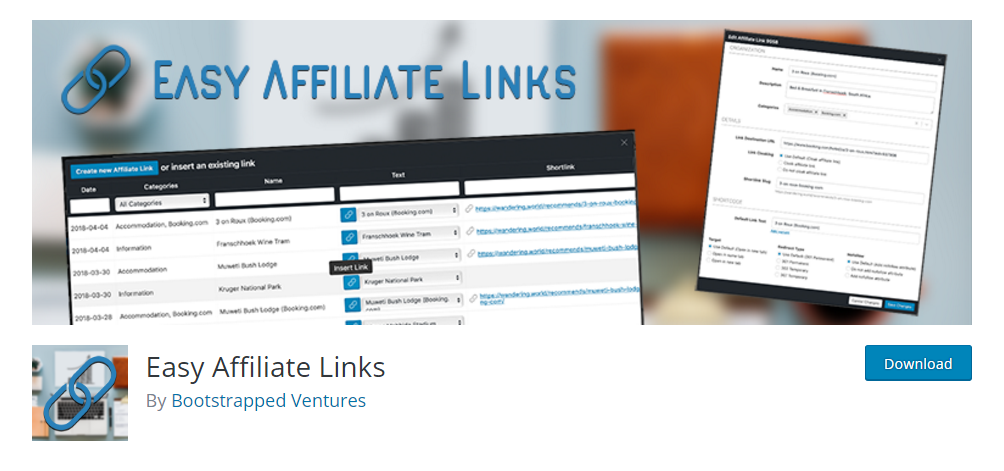 Easy Affiliate Links is yet another affiliate link plugin for WordPress. It lets you manage all affiliate links on your site. The links are automatically tracked.
It is simple to use a link management plugin that provides you basic functionalities. To get a better understanding, let's go through its key features below.
Supports Gutenberg Block editor and classic editor
Supports short links for affiliate link cloaking
Links categorization
Lifetime and monthly clicks tracking
XML links export
Import affiliate links
Additionally, they also offer premium add-ons, including the Easy Affiliate Links – Statistics. Plus, they are also in the process of releasing more add-ons in the future including A/B testing for link text, broken links checker, and geo-specific links.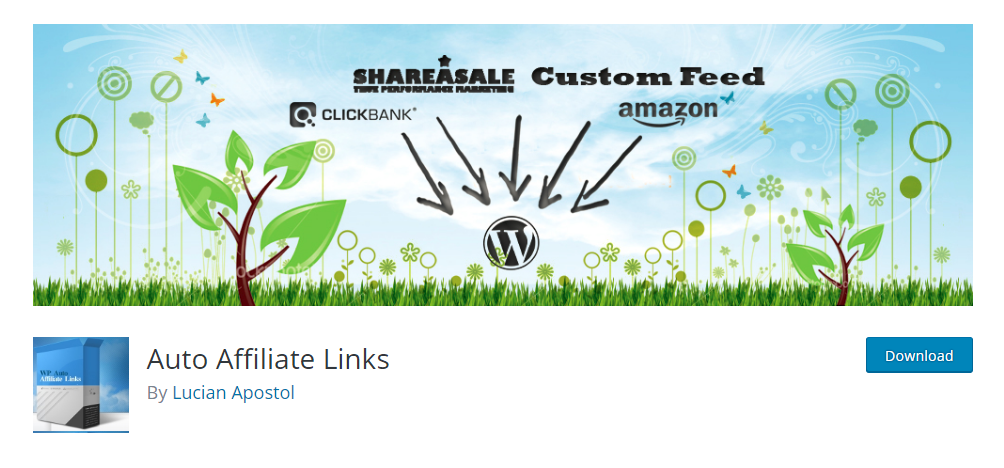 If you are looking for a plugin that can automatically connect links to your content, then check out Auto Affiliate Links. Custom linking is always not possible, and this is where the Auto Affiliate Links comes in.
The plugin supports extracting and linking from sites including Clickbank, Shareasale, Amazon, Walmart, BestBuy, Commission Junction, and Envato Marketplace. If you are looking for auto-linking from other platforms, then this plugin is not for you.
Also, the plugin doesn't modify the content in any way. It simply adds the links. It also supports manual linking if you need it. Other key features include link cloaking, dofollow, or nofollow.
Lastly, it supports link addition at both "Very Low" and "Very High" settings. At Very Low settings, it ads one link, whereas in Very High settings mean five links.
Key features worth mentioningks:
Automatically add links to your content
No content change whatsoever
Can manually add keywords with links
Set links frequency from Very Low to Very High
API key required to automate the process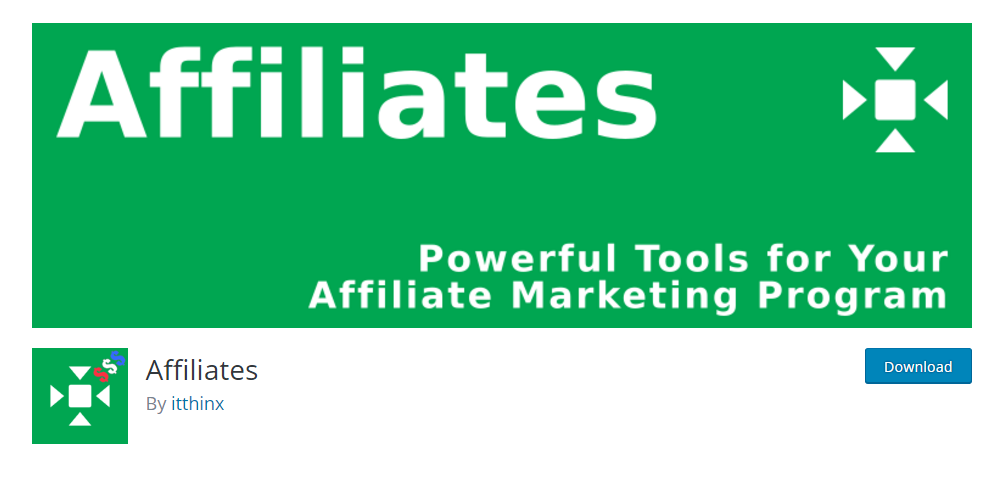 Affiliates is a WordPress affiliate link plugin that lets you successfully run Affiliate Marketing Programs.
The Affiliates plugin is designed for growth as it comes with growth-oriented tools. It also offers an intuitive experience out of the box. Moreover, it also provides a flexible template-based dashboard, which gives you the ability to facilitate and design your affiliates.
It also offers affiliate systems for shops, blogs, sellers, microsites, membership sites, and so on.
Key features worth mentioningize:
Lead generation
Lead tracking
e-Commerce memberships
Forms
Affiliate system
With Affiliates, you get a robust framework to build a custom-based solution. The tools are available in the completely customizable backend, including shortcodes, blocks, and more!
Additionally, it comes with free integrations and extensions to improve its features furthermore.
Just like other plugins, it also comes with Pro version with additional features.
Conclusion
These above mentioned WordPress affiliate link plugins are must if you want to improve affiliate links management and earn more money.
We hope this article helped you choose the best WordPress affiliate link plugin. You may also want to see our handpicked list of best WordPress calendar plugins.