Are you looking for a solution to help you showcase events on your WordPress site? Do you want to start selling tickets or accepting reservations? Or maybe you want to keep tracking of all of your meetings, organize online business, and label events to keep track of daily activities? WordPress calendar plugin is the one-stop solution for all your time tracking and event organizing problems.
Why do you need a WordPress calendar plugin?
WordPress calendar plugin plays an important role especially when you are running a business online which allows the clients to book time slots, tickets or appointments online. Date and time become crucial when it comes to running an organized business online and providing online booking services. The facility not only increases the convenience for your clients but also improves the conversation.
WordPress has already hundreds of time tracking calendar plugins available, but not all of them could be perfect. To save your time and efforts, we have created a list of six best WordPress calendar plugins, one of which might becomes your favorite.
Top 6 WordPress calender plugins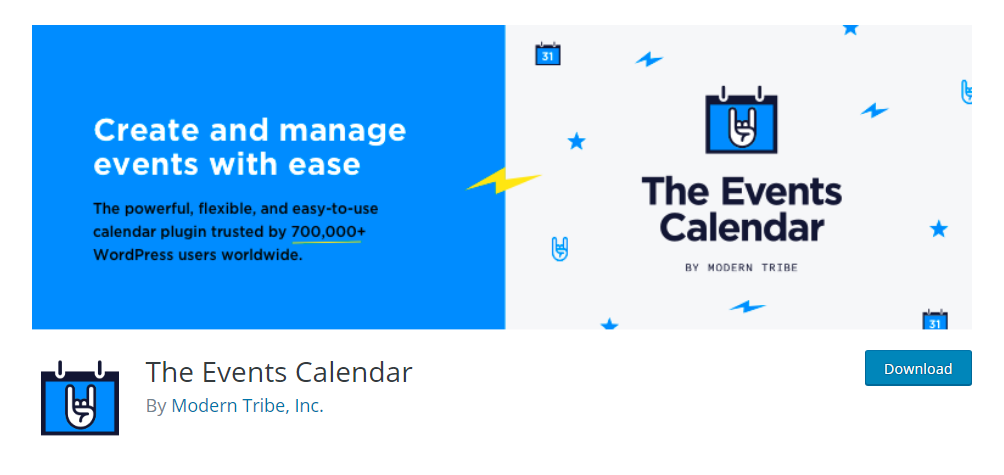 This powerful, lightweight and easy to use WordPress calendar plugin boasts its 700K+ active installations. The time tracking and even hosting plugin provides you professional-grade event creation and management facility at ease.
The number of churches, small businesses, eateries, venues, musicians and non-profits are hosting and booking events though Events Calendar. Whether you are listing thousands of events or have upcoming university class listings, the Events Calendar is right for you.
The key features of this plugin include:
Rapidly create and manage events
Day, week, month views
Events Taxonomies (Categories & Tags)
Google Calendar and iCal exporting
Supports major theme frameworks such as Avada, Genesis, Woo Themes, Thesis and many more
Increase your SEO with Microformats
Completely responsive from mobile to tablet to desktop
Google Calendar and iCal exporting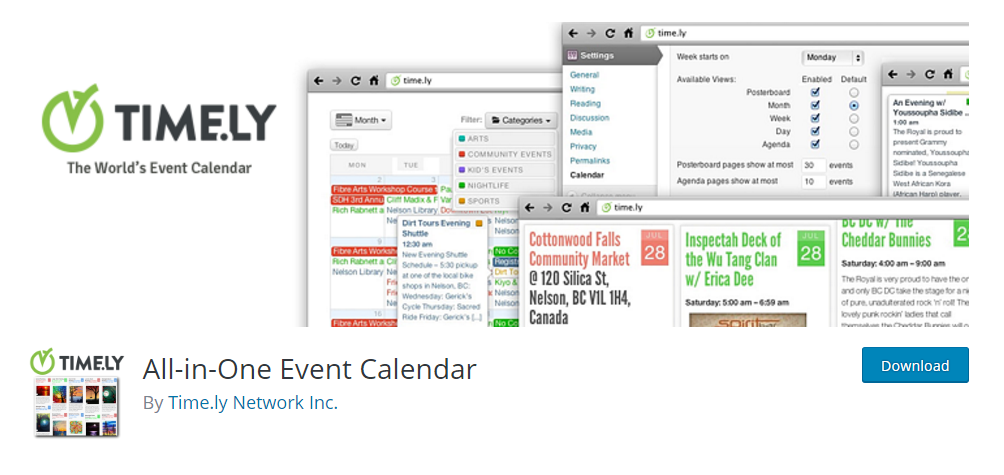 The second most popular WordPress calendar plugin, All-in-One Event Calendar, is the simplest yet powerful plugin that allows you to host hundreds of events at the same time. You can simply create to create and manage all of your events with this plugin.
The plugin comes with hundreds of other features including neat clean and interactive user interface. Along with the enticing design and feature, rich architecture creates one of the best WordPress website calendar system.
Additionally, the plugin also supports the number of other extensions that includes Extended Views, Frontend Submission form, Ticketing, Venues, Twitter integration, and many others.
Let's look at what make the plugin amazing:
Importing and exporting iCalendar (.ics)
Recurring events including complex patterns
Filtering by event category or tag
Easy sharing with Google Calendar, Apple iCal, MS Outlook and any other system that accepts iCalendar (.ics) feeds
Day, week, month, year, agenda views
Upcoming Events widget
Featured event images and category images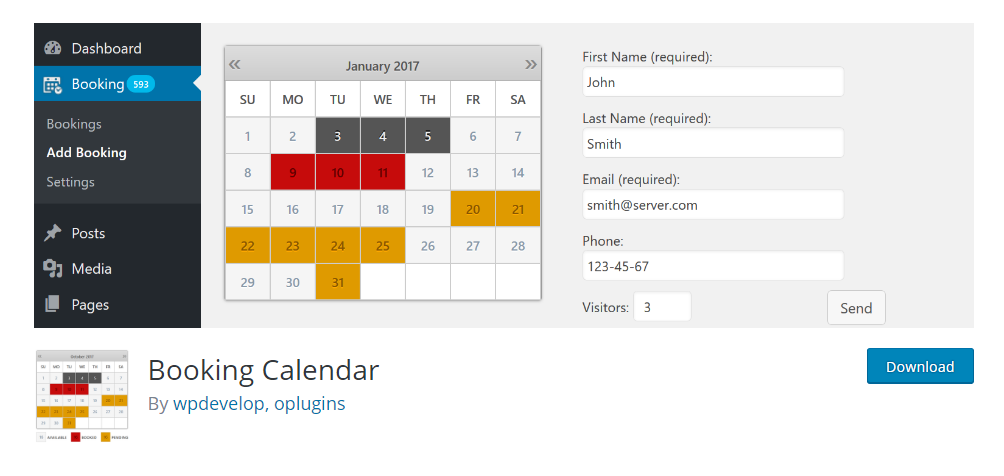 Booking Calendar, one of the best WordPress calendar plugins, allows you to create easy to use and convenient booking system which can help your client to check availability, book appointment for a full day(s) or specific timeslot.
With Booking Calendar, you can accept and decline the appointment request, show availability, prevent double booking, allow multiple booking on the same day, import and export booking from Google calendar, HomeAway, TripAdvisor, VRBO, FlipKey or any other calendar that uses .ics format.
The key features of Booking Calendar:
Manage all your booking at one place
Time slot booking to receive simple bookings for specific time-slots
Prevent or allow multiple booking on the same day
Receive email notification on booking
Search and sort the booking
Native integration with our Booking Manager plugin for the ability to import/export .ics feeds or files
Import your Google Calendar events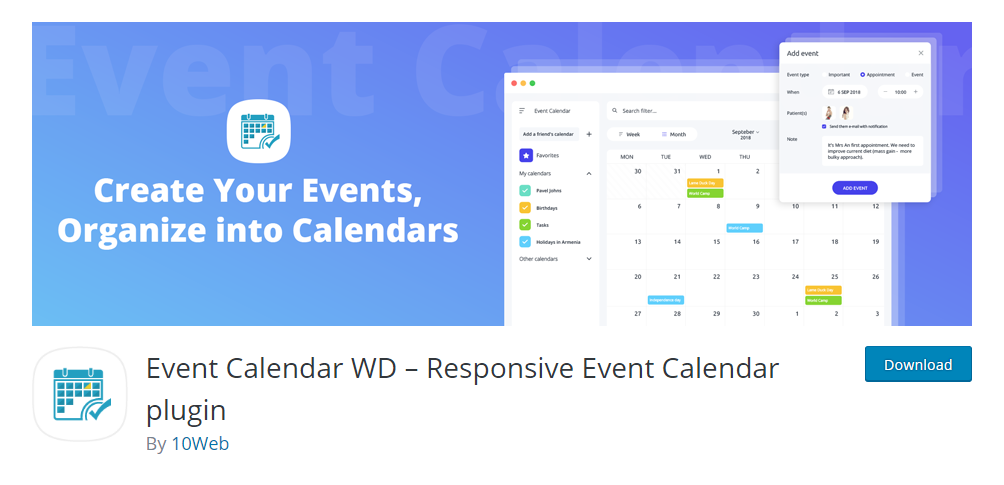 Event Calendar WD is responsive, designed to provide flawless online reservation system for your WordPress website. The WordPress calendar plugin is compatible with display across various devices and screen sizes.
This calendar plugin allows you to create and manage all your bookings, appointments, reservations and meeting at the same place in a convenient manner.
Moreover, it allows you to create one-time events or multiple and recurring events and can even send event invitations and selling tickets online. Plus, you can even assign details, categories, tags, and taxonomies.
The plugin also offers admin panel through which you can create and manage your events, add new themes, and customize your calendars.
Event Calendar WD includes:
Add an unlimited number of events and calendars to your website
Social sharing buttons option on the calendar
Provide event venue, mention the hosts and organizers, include images, relevant videos, event link, and mark up the event location on the Google Map
Full control over how you display the events and calendars on your site
Calendar widget, custom themes, and Google maps integration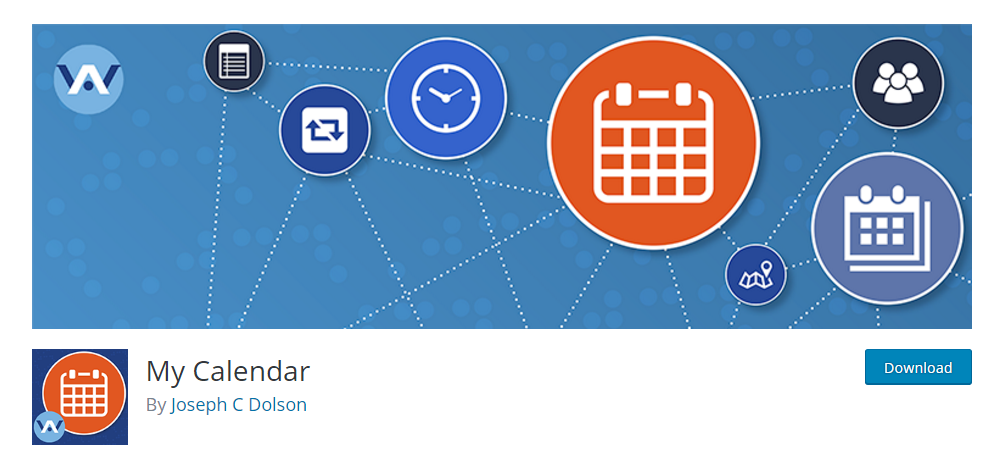 This WordPress calendar plugin does as it says. The plugin allows you to create and manage multiple events conveniently and reliably. It supports event import and export from other calendars such as Google calendar.
My calendar provides amazing flexibility and allows you to customize it according to your requirements. You can also display the events in various other manners.
Features:
Calendar grid and list views of events
Monthly, weekly, or daily view
Editable CSS styles and JavaScript behaviors
Email notification to administrator when events are scheduled or reserved
Shortcode Generator to create customized views of My Calendar
Limit views by categories, location, author, or host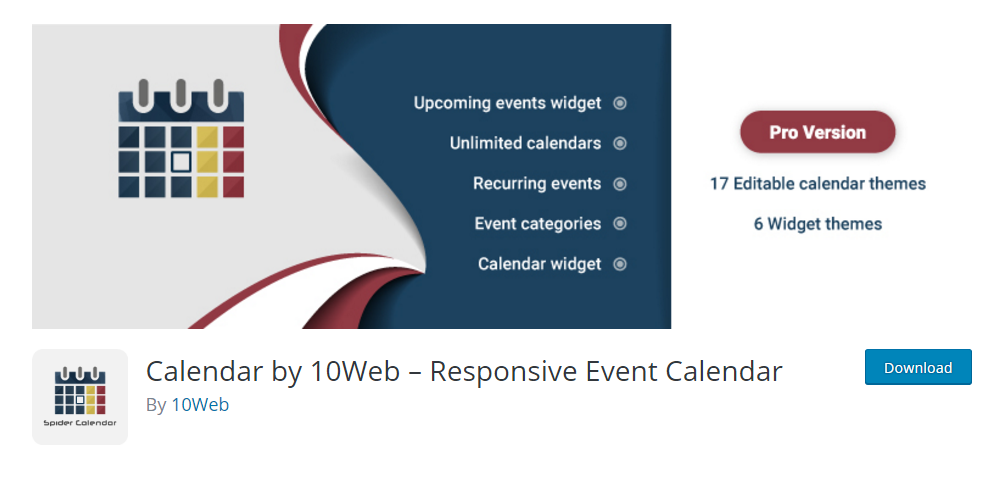 The WordPress calendar plugin, Calendar by 10Web, allows you to create and manage single, multiple and recurring events and display it in the most interactive ways that your clients would be amazed by it.
This lightweight and flexible plugin makes event registration and events management easy and convenient with beautiful responsive calendars, upcoming events and more. It is perfect for websites organizing seminars, summits, conferences, concerts, meetings, and more.
The key features of Calendar by 10Web you have to know:
17 standard themes included in extension package for the plugin and 6 themes for the widget
Change date color, font size, and font family in the event popup
Set many events to be displayed within a single day
Provide detailed information about the upcoming events
Upload an image or a video for a particular event
Final thoughts
WordPress calendar plugin is must if you are planning to have fully-fledged WordPress reservation and even organization system.
We hope this article helped you choose the perfect WordPress calendar plugin. You may also want to see our handpicked list of best FTP clients to easily manage your files.