Are you looking for the best WordPress nofollow link plugin? If you do, then you have come to the right place.
In this article, we will be exploring the WordPress nofollow link plugins.
But, before we get started, we need to understand why there is a need for a nofollow tag.
Why do you need a nofollow tag in external links?
When it comes to SEO, one of the most important terms that you learn include nofollow. It holds vital significance when it comes to SEO management.
The nofollow tag means the links that use it won't be followed by Google search engine. It is important to know that you cannot allow the search engines to follow every link to other sites. It can diminish the SEO value of your site.
That's where the nofollow tag comes in. It is especially useful for other sites those who want to become part of your page authority. But, for you, repeatedly doing it can lead to issues later on.
Nofollow link structure
The nofollow link attribute looks like below:
<a href="www.example.com" rel="nofollow"> Nofollow Example</a>
For trusted links, you might want to use dofollow link. This will encourage other sites to link you back.
Also, sponsored content sometimes is required to put dofollow links. But, most of the time, it is a good idea to use nofollow to ensure the site's SEO health.
To manually add a nofollow link, you need first to select the keyword on which you want to put the tag.
Once selected, then click on the "Insert/Edit" link option in the WordPress editor's Text tab.

You can also take a look at the code by changing the display type from Visual to Text.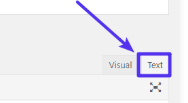 If a link does not have nofollow attribute, then you need to add rel="nofollow".
Let's check out the nofollow link plugins for WordPress below.
Top 5 WordPress nofollow link plugins
Not that we have understood the importance of nofollow attribute, let's look at the five best WordPress nofollow link plugins.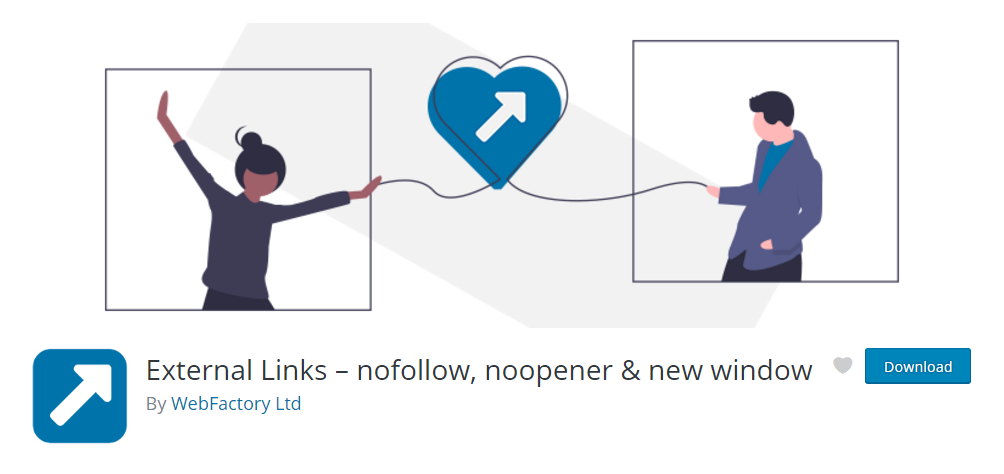 External Links by WebFactory is one of the most feature-rich plugins when it comes to managing links on your site. With it, you can manage both internal and external site links.
They have released their new version two, which comes with new features, including the "noopener", WPMU support, font icons, and internal link options.
The plugin is easy to use. All you need to do is install and activate the plugin. Moreover, you can change the plugin filters on the fly.
Key features worth mentioning:
Manage internal and external links
Add follow or nofollow
Add link icons
SEO friendly
Add other attributes
There is no PRO version for the plugin.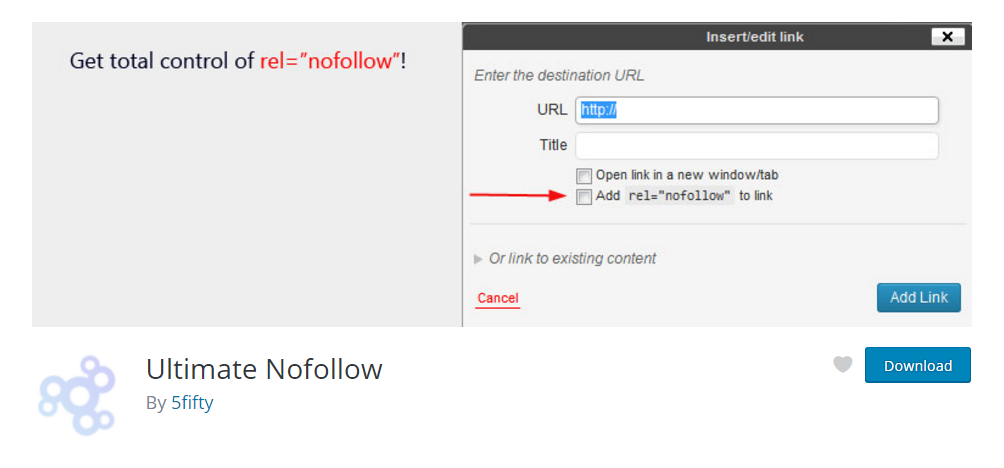 If you are looking for a nofollow plugin tool for the classic editor, then you can check out the Ultimate Nofollow. It is a free-to-use plugin and works with the latest version of WordPress and also has over 50,000+ active installations.
The Ultimate Nofollow plugin lets you take full control of the nofollow tags on your website. You can control the tags both categorically and individually. The finer control will help you to bring better SEO results.
Key features worth mentioning:
You can click on the nofollow checkbox during link insertion
Supports nofollow shortcodes
Individual blogroll links nofollow options
Remove/add nofollow tag site-wide
Put nofollow on all blogroll links option
Additionally, it has a simple interface from which you can add the nofollow tag. Moreover, it also supports shortcode including [relnofollow], [nofol], [nofollow],[nofo] or [nf].

With over 10,000+ active installations, Ultimate NoIndex NoFollow Tool II is yet another popular WordPress nofollow link plugin.
With it, you can improve blog SEO optimization by using nonindexing pages. Furthermore, you can also do noindex robots meta tags on different pages, including login, author pages, search pages, tags, and any other page of your choice.
Simply install the plugin and go to the settings under the WordPress admin interface and Ultimate noindex.
Key features worth mentioning:
Do complete noindexing pages
Different types of pages can be nonindex, including login, admin, etc.
Meet another easy-to-use and straightforward WordPress nofollow link plugin, "Nofollow Links." It lets you add the nofollow tag to the rel attributes. The append function can be done on any blogroll selected links.
The Nofollow Links also doesn't conflict with the XFN link relationships. In simple words, the nofollow tag is appended to the end of the link.

If you want a simple nofollow plugin that lets you put nofollow attribute to any external link, then you need to check out the Rel Nofollow plugin.
The plugin has only one basic functionality, i.e., add nofollow to all the external links. But, if you add a dofollow link, then it will not override it.
Conclusion
This leads us to the end of our WordPress nofollow link plugins list. We discussed both basic and advanced plugin for nofollow. Most of the plugins are basic, which lets you control how each link works.
By using the plugins, you can manage your site's SEO. Clearly, you do not want every link to be dofollow. Nofollow links are necessary to strike a balance and ensure good SEO health.
So, which nofollow WordPress plugin are you going to use? Comment below and let us know.
We hope this article helps you choose the perfect nofollow link plugin for your WordPress site. You may also want to see our list of best WordPress search plugins.