Are you looking for a testimonial plugin to boost your concersion? Testimonial is a kind of social proof for your website that defines the quality of the content and ultimately attract the readers. In this article, we are going to share the best testimonial plugins for WordPress site.
Why do you need a testimonial plugin in WordPress site?
WordPress Testimonial plugin allows your audience to submit their reviews and display them on your website or product. Readers normally prefer to go with the website which has rated well or at least rated by some users. These audience can often be converted into your website's loyal readers, even customers, and hence, improve the conversion.
Moreover, testimonials also develop the trust among your users making them spend more time on your website and sharing your posts on social media. Putting it simply, testimonials are essential if you are looking for a way to develop user trust and generate traffic to your website.
So, whenever you want to share your customer's feedback publicly on your website for all to see, what could be better than WordPress testimonial plugin that allows you to do so.
Since there are hundreds of testimonial plugins available, it might become difficult to choose one. To make your search easy, we have listed six best WordPress testimonial plugins based on installation, features, compatibility, and convenience.
Top 6 WordPress testimonial plugins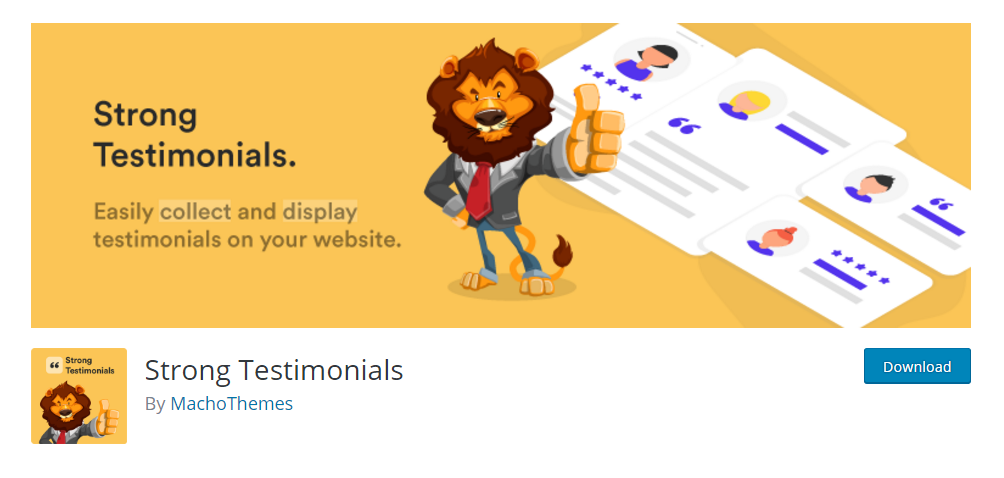 Strong Testimonials stands first in our list for several reasons. With 90K+ active downloads and all positive ratings from users, Strong Testimonials has become one of the top contenders when it comes to best WordPress testimonial plugin.
This single yet powerful plugin lets you collect, publish and display the testimonials and reviews. It allows you to create, edit, and manage the testimonials fields as per your desire.
Star fields to display the rating, several navigation options, custom fields, pagination, etc. are some of the other features Strong Testimonials is packed with.
Furthermore, the plugin also has the premium version of itself that increases its capabilities to a certain extent.
Here are some of the key features of Strong Testimonials:
No shortcodes are required
Create custom fields and front-end forms
Multiple submission forms
Testimonial assignments
Custom proprieties
SEO friendly testimonials
You can pair certain other WordPress plugins developed by the same team to enhance your WordPress site even further.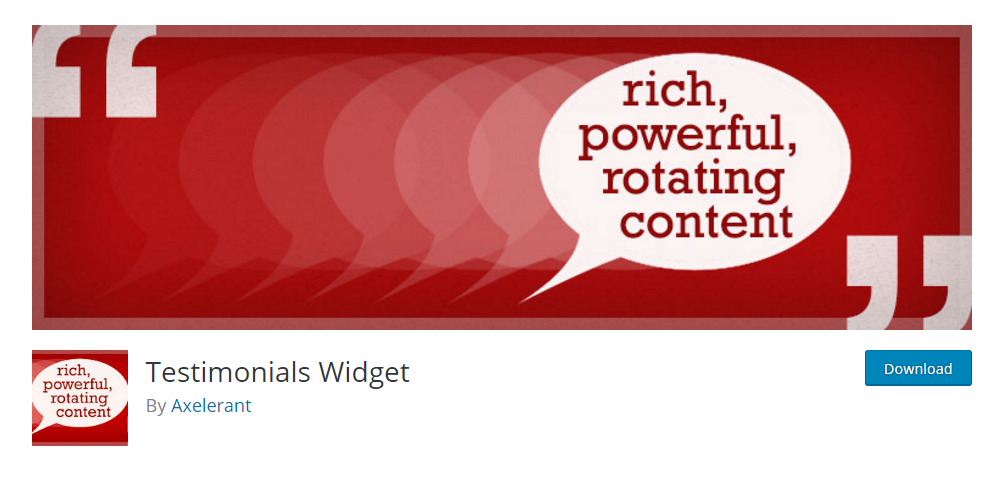 Testimonials Widget is an easy solution for all your testimonial requirements. This WordPress testimonial plugin allows you to display the testimonials or reviews using the widget.
Also, the plugin comes with several websites enhancing features and testimonials tools.
Testimonials Widget lets you randomly slide or list selected portfolios, quotes, reviews, or text with images or videos on your WordPress site. The main setting area has tons of option available features which can be turned on and off with a simple checkbox.
In addition, the plugins let you do almost everything using widget but the shortcodes are also facilitated which allow you to add custom fields and insert testimonials in posts and pages.
Moreover, you can also categorize the testimonials, add tags, post IDs and many other things.
Some of the key features of the Testimonials Widget:
User-friendly interface to add, edit and manage testimonials
Fields for author, testimonial, image, title, location, email, company and URL details
5-star ratings, caching, excerpts, RSS feeds, and any post type support
Shortcodes and theme functions for testimonials count, form, and links summary
Capable of handling multiple widgets per page or post
Custom CSS in footer for HTML validation
Performance optimizations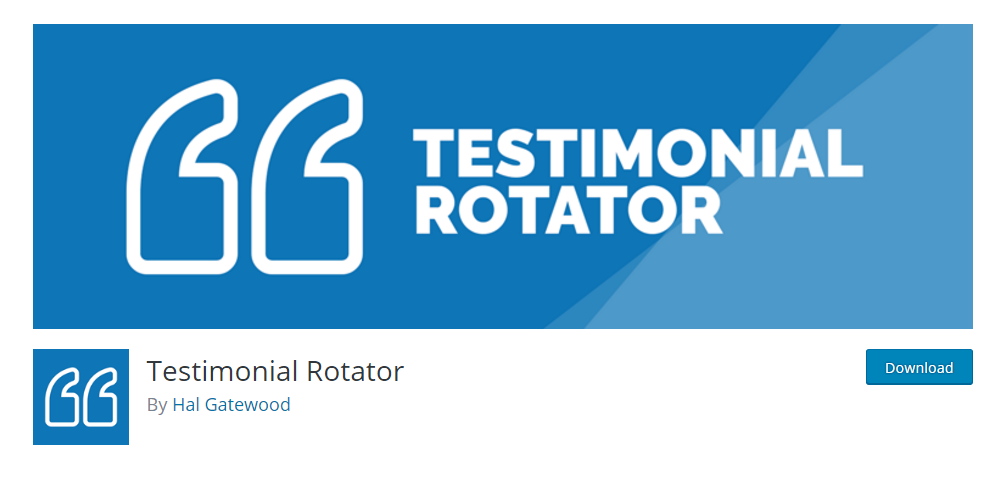 One of the simplest testimonial tools, Testimonial Rotator, allows you to create, manage and edit testimonials on your website. This one-stop solution for all your testimonial requirements with WordPress admin fields for adding testimonials and assigning them to rotators for display. You can even collect and display the testimonials using Widgets and Shortcodes.
The key features you need to know:
Change all rotator settings in the admin
Create custom templates
Add testimonials to multiple rotators
Star rating, author, excerpt, and many other fields
hReview Support
Pagination in list format
New hooks and filters
And many more.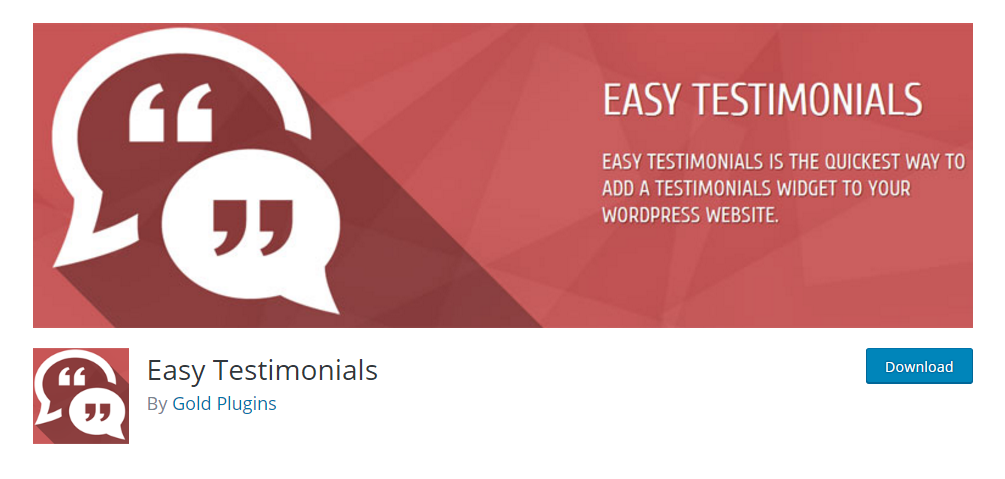 Easy Testimonials is easy to use WordPress testimonial plugin that allows you to add testimonials to the sidebar or as Widget or you can even embed them in any posts and pages using the shortcodes. The new version supports Gutenberg blocks and Gutenberg editor.
Easy Testimonial is a quite advanced plugin which can add, output and display testimonials on your pages and posts. It also supports images or thumbnails which you can embed in your posts and pages.
Here are some of the key features of Easy Testimonials:
Collect testimonials: Front-end testimonial form allows customers to submit testimonials on your website
Displaying a testimonial with a rating
Multiple testimonial forms: use our Testimonial Form Builder to create multiple, custom collection forms
100+ professionally designed themes for front end display
Advanced navigation options including scrolling, flipping, and tiling testimonials
Choose from a huge selection of fonts, colors, and sizes
Import/Export wizard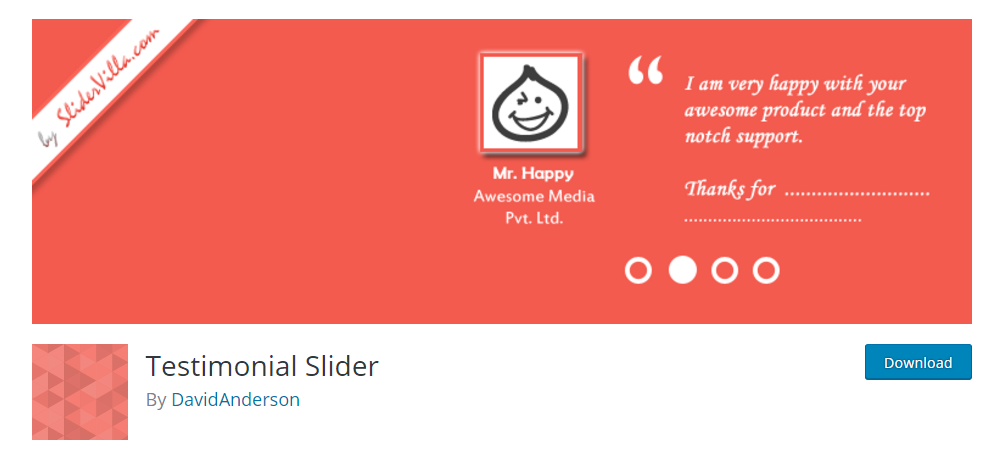 Testimonial Slider is an easy-to-use WordPress testimonial plugin that allows you to add, modify, and remove the testimonials. Besides these, you can enter the customer's image/avatar, name, company, website in the custom fields for the testimonial.
Moreover, you can add testimonials using either widgets or manual insertion of shortcodes.
Key features of Testimonial Slider:
Create unlimited testimonials slider settings
Show categorize, recent, tags and any other custom testimonials
5 stylish templates
Shortcodes and widgets are available
Show the testimonial list using template tags and shortcode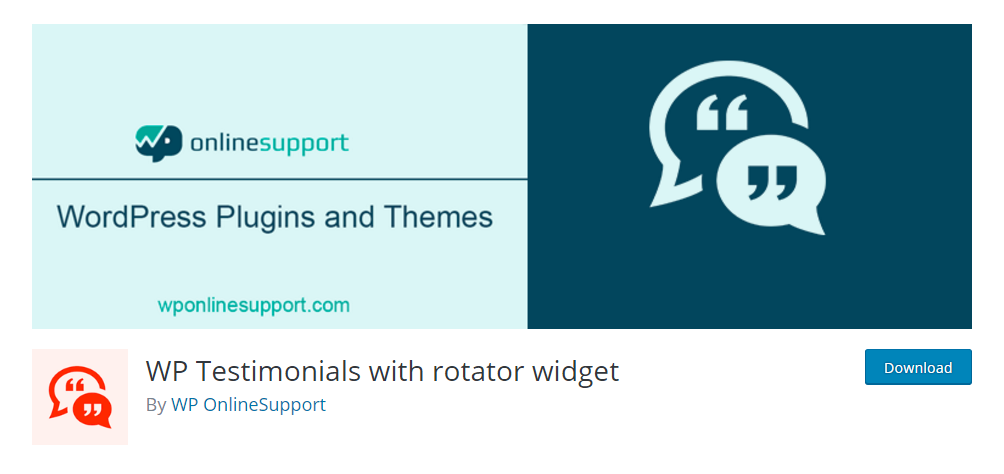 This WordPress testimonial plugin creates a testimonial and a testimonial rotator/testimonial slider custom post type, featuring admin fields for adding testimonials, star rating, author and other custom fields. Also, it includes a Widget and Shortcode to display the testimonials.
WP Testimonial with rotator widget enables you to add and display multiple testimonials on your website along with posting the author info, images, pictures, jobs, URL, position, etc.
Feature spotlight:
Work with Gutenberg shortcode block
Testimonial front-end form
Add client image
Available fields: title, job title, company, website URL, testimonials content, etc.
4 new added designs (15 designs for pro version)
Display testimonials using an easy testimonial widget
Wrapping up
All of these plugins have their advantages and disadvantages. but trying them by yourself will give you a better idea about each one. There might be other plenty of them, but these six are the best ones.
We hope that this article will help you to find the best WordPress testimonials plugin. You may also want to see our list of best WordPress image optimization plugins.