In order to increase the pageviews and reduce the bounce rate, webmasters will try any effective methods to make the visitors stay longer on their websites. WordPress popular posts plugin can help you display the popular posts to let your readers easily find your best content and boost your pageviews. In this article, I will show you the best popular posts plugins for WordPress site.
Why you should display popular posts in your WordPress site
Isn't it obvious that we want our audience to consume as much of our content as possible? Since, the benefits of having regular readers are clear: the more content the audience consumer, the more engaged and active with your website they become. It ultimately leads to regular loyal readers, greater recognition on social media, higher reputation and lastly more conversation.
So, why don't you make your readers' job easy by giving them helping hand by highlighting your most popular articles? WordPress popular posts plugins can be extremely helpful when it comes to guiding your audience to your masterpiece which will ultimately help you to get them engaged with your website and this also encourages them to stay longer on your website.
In this article, we will help you to guide your readers towards the best of your work and give you deep insight into how WordPress popular posts plugins can be your conversion drivers.
Here is the list of top 5 WordPress popular plugins you shall be used to get the most out of your best content.
5 best WordPress popular post plugin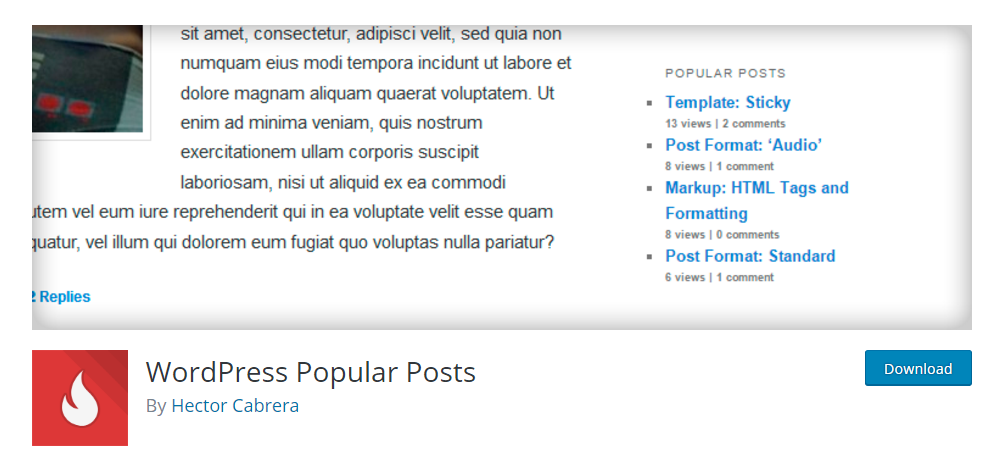 WordPress popular posts is the most popular option available on WordPress of free. With 300,000 plus active installation, this WordPress plugin boasts its simple to use yet highly customizable and powerful widget to display your most popular posts.
Furthermore, WordPress popular post plugin also offers a variety of filters and controls over how you want to display your popular posts.
Additionally, you can choose a custom time range for your popular posts, create multiple separate lists and create custom sorting options. With custom sorting option you can rank your posts with the greatest number of comments, views and average views per day. WordPress Popular Posts does this by tracking the traffic to each post on your site.
You can also add thumbnails and excerpts in your posts. This may lead to heavy load on your site but this plugin also features some of the best performance tweaks to keep your website swift and stable.
Compatibility with multiple widgets, setting up time range, custom post-type support, statistic dashboard, custom sorting options, advanced caching feature, WordPress multiple site support, etc. are some of the most noticeable features of this plugin.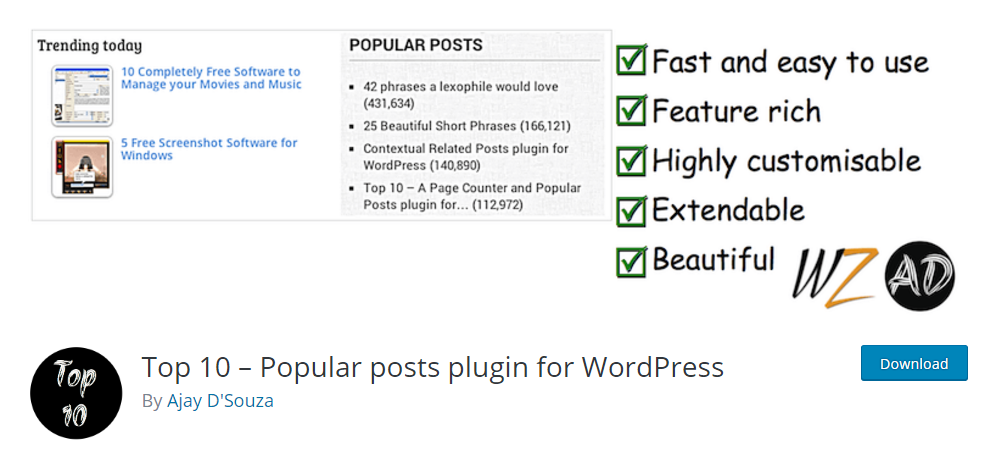 Top 10 is one of the most popular WordPress popular post plugins that allows you to display your most popular posts by monitoring daily traffic or overall traffic on your website.
This plugin is a complete package that will count the number of views on your pages, posts and any other custom posts and will let you display your pages or posts according to that.
With Top 10 you will have greater control over your popular posts and pages with several options of displaying it. You can even decide whether you want to include thumbnails, page views counts, publishing date, excerpts, and many others.
This feature-rich WordPress popular post plugin comes with several built-in performance features, for instance, its built-in ability to caching your popular posts output. It let you display popular post anywhere on your site using either a widget or shortcode.
Other features of this simple yet powerful plugin include page counter, popular posts, shortcodes, thumbnail supports, highly interactive API, works with caching plugins, exclusions and custom CSS styles.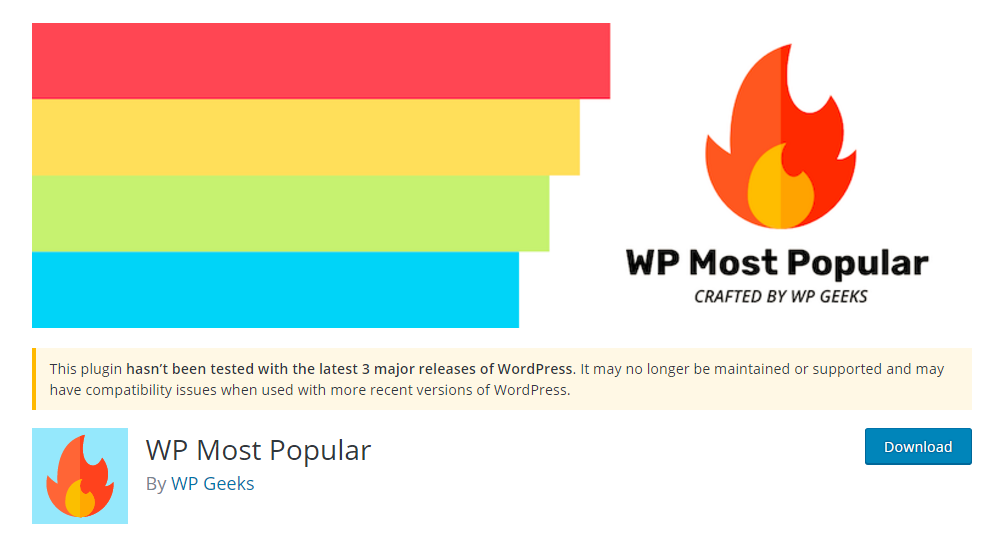 WP most popular is the simplest WordPress popular post plugins available for WP sites. However, at the time of writing this article, it hasn't been tested with the latest three major releases of WordPress.
It is specifically designed to do one single task and that is to rank your most popular blog post by a number of visitors and display them anywhere on your website. you can also display the popular post from the previous day, last 7 days, 30 days, or all time.
WP most popular also provides the advance option of integrating the plugin with your WP theme which allows you to have maximum control over your post. Another way to use it by simply adding sidebar widget.
It is the most preferable and easiest way to use this plugin if you aren't into coding. If you are into coding and want to add the list of popular posts somewhere else, apart from the sidebar, we recommend you to go with form option of integrating the plugin with your WordPress theme.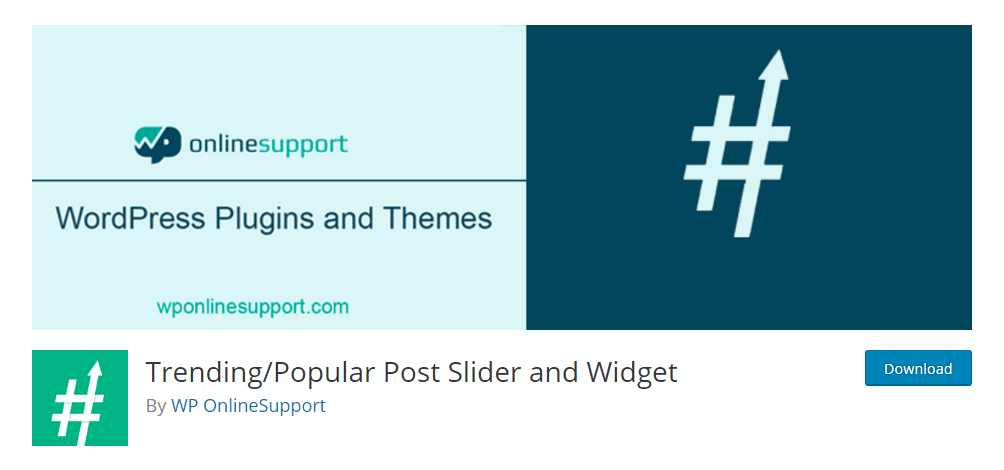 The fourth most popular WordPress popular posts plugin is trending/Popular Post Slider and Widget. It is simple yet elegant and does exactly what it says. It doesn't only allow you to rank the popular posts by views but also list them in many other ways.
Trending/Popular Post Slider and Widget allows you to rank the most popular blog by post views or post comments. You can customize the sorting option for your trending post as well and even display them with a time range.
Additionally, you can display your popular blog post by adding the widget in a sidebar or anywhere else in your page by using shortcode. It is compatible with any custom post-type as well. Lastly, you can display all your trending post as a grid block, slider, carousel, and widget.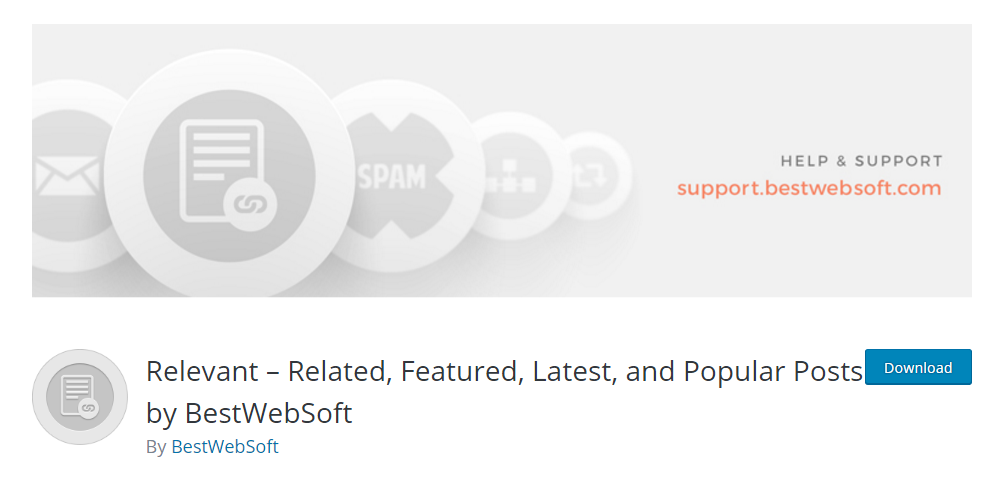 The fifth and the last one in our list is Relevant by Best Web Soft. Relevant is simple yet versatile WordPress popular posts plugin that not only allows you to rank the most popular and trending posts by a number of views but also allows you to change the appearance, change the widget and control the number of posts you want to display.
Talking about features of this WordPress popular post plugin, it allows you to add popular, relevant, featured and latest post before and after the particular content.
You can even use shortcodes to add popular pages, posts, and custom post types. When it comes to displaying the post, it allows you to filter them and display them categories, tags, titles and meta keyword wise which makes it convenient for the website owner to display the content in his desired way.
All sort of styling, featured images, displaying additional info, read time, sorting popular posts by views and comments, etc. are the additional features it comes with.
Wrapping up
Displaying trending/popular content of your website is a great way to engage your reader with your website and above listed WordPress popular plugins are the best way to serve your audience with your best content.
You can rely on them when it comes you have a reader who doesn't have time to dig deep to find your masterpiece. Moreover, you can simply showcase your popular post anywhere on your site which makes it highly convenient for your regular users to get engaged with cool stuff of your website.
With the above-listed WordPress popular plugins, you can do that in the number of ways.
Next, you may want to display the popular posts in your WordPress site.