Are you looking for the best recent posts plugin for your WordPress site? If you do, then you have come to the right place. In this article, we will go through the best recent posts plugins in WordPress plugin repository.
Why do you need a recent posts plugin?
If you are running a website, you should know how important is the bounce rate. It determines how often a user bounces off your site without clicking another click.
As a website owner, your goal is to keep the user as much on your site and make them click on another link. To do so, you need recent posts attached to your article.
The good news is that you do not have to add recent posts to your site manually. Some plugins let you do so. So, without any delay, let's get started with the best recent posts plugins for WordPress site.
Top 6 recent posts plugins for WordPress site
WordPress does come with an in-built recent posts widget. But, it is very minimal when it comes to functionality. All you can do is put the widget in your sidebar and forget about it. You can set the widget name, a number of posts you want to show, and the date. That's it. To overcome the limitation, you can use a recent posts plugin.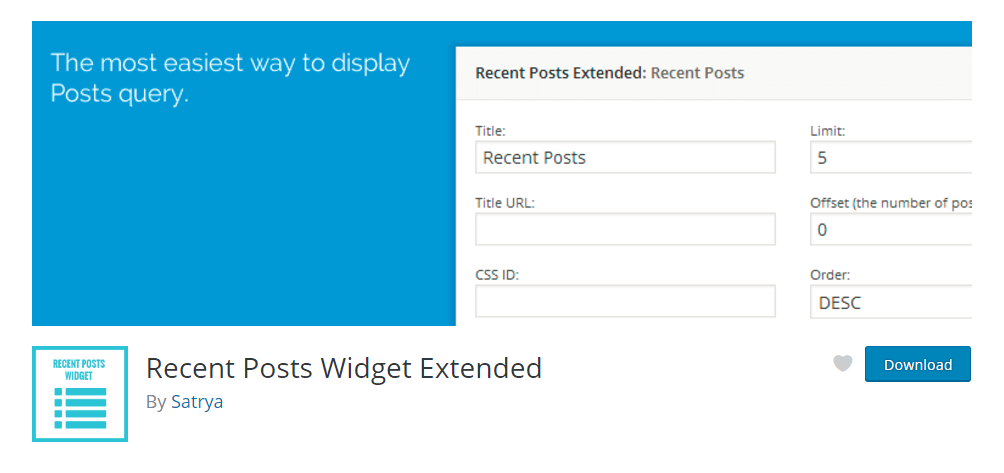 The Recent Posts Widget Extended is one of the most popular "recent" posts plugins. It has an active installation of 200k+ and also supports the latest WordPress version. With the plugin, you can create a custom recent posts section that is flexible and advanced. It can be displayed using either a widget or shortcode.
The recent posts can be shown with an expert, a thumbnail, or the post date. They can also be filtered based on different filters, including multiple taxonomies, post types, and so on!
Key features worth mentioning:
Support taxonomy
Let you customize HTML
Offers image cropping
Display comment count, random, and date
Display comment, modification date
Custom CSS
Multiple widgets
Support shortcodes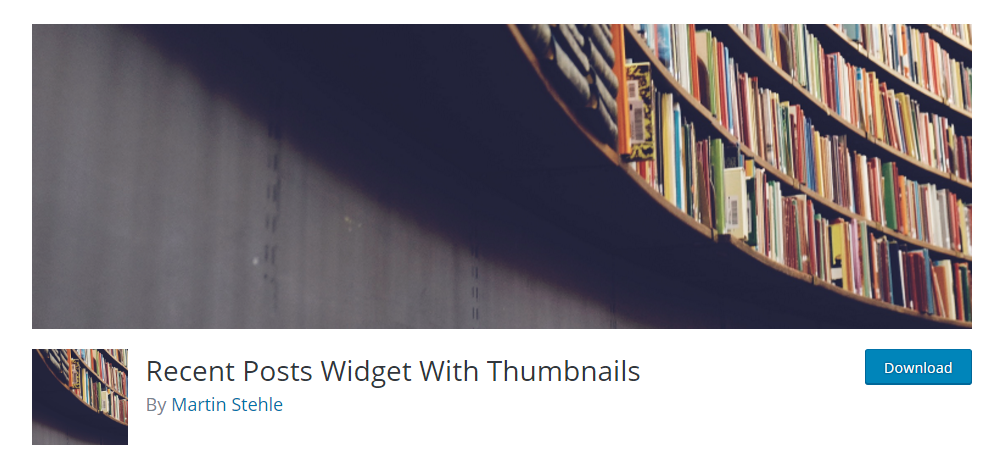 Recent Posts Widget With Thumbnails is a simple, effective, and lightweight plugin to show your recent posts. To ensure optimal performance, it offers minimal options. That means it doesn't come with hundreds of options. The plugin is also GDPR compliance.
It offers basic features, including showing recent posts with excerpts, thumbnails, post tiles, categories, and so on!
Many users have also reported it to work with page builders, including Elementor. However, the plugin is only made for widget areas, and its functionality is questionable when it comes to page builders.
Key features worth mentioning:
Lightweight
Thumbnails support and customizability
Plenty of options to set, but not overwhelming
Set post date, expert, categories, author, and much more
Default thumbnail URL
Label for categories
Random posts order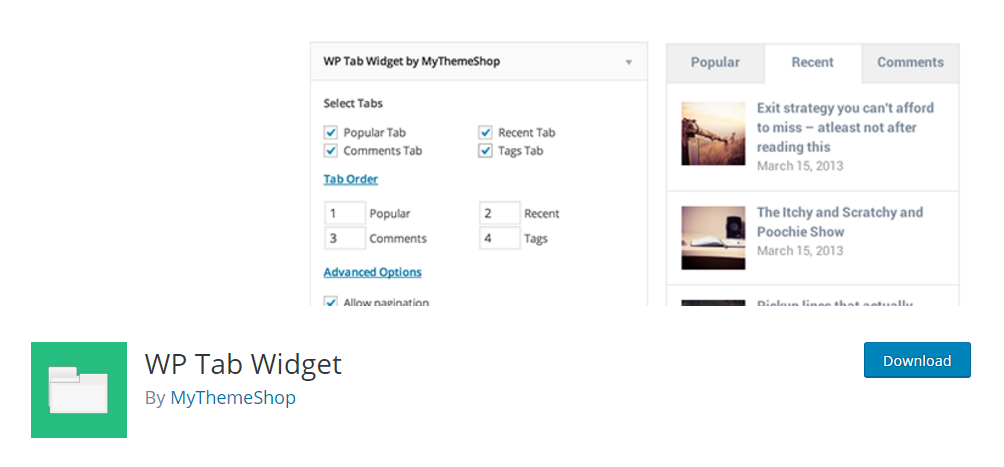 MyThemeShop's WP Tab Widget is a feature-rich recent posts plugin for WordPress. The Tab Widget plugin offers tabs to show recent posts. It does it by using AJAX so that the page doesn't need to reload for showing new content.
The premium tab plugin is lightweight and functions well on a busy website. It loads pretty quick, and anyone using it won't notice any delay. Also, the plugin has transited from a paid plugin to a free one.
Key features worth mentioning:
Let you load content by demand
Fully responsive plugin
You can choose between tags, comments, recent and popular tab
Can set to control tabs order, number of them and posts
Modify CSS to fit it into any theme
Toggle post date, expert, number of comments
It is super lightweight
It can be placed anywhere on the theme.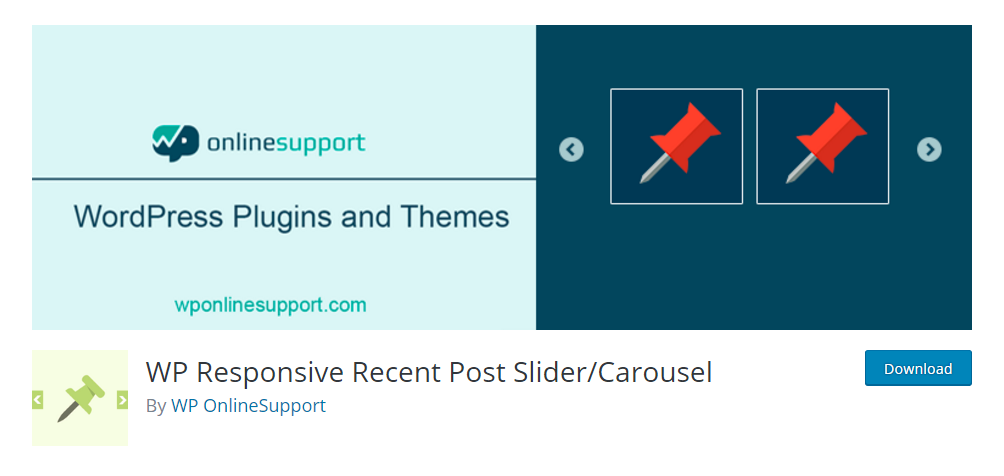 If you are looking for a recent post slider or carousel, then you need to check out the WP Responsive plugin by the WP OnlineSupport. It is an eye-catching and attractive WP Responsive Post Slider for showing recent posts.
Out of the box, you get four posts slider and one design carousel.
It is not similar to the other recent posts plugins we are discussed until now as it lets you create a slider. It is responsive and works well with all the themes out there. By using it, you can easily attract visitors' attention.
Key features worth mentioning:
Supports unlimited WordPress posts slider
Completely responsive
Show recent posts using shortcodes
The plugin does come with a Pro version that offers more features, including 25 post slider, 30 post carousel, and eight post grid box slider. You also get three widgets with the Pro version.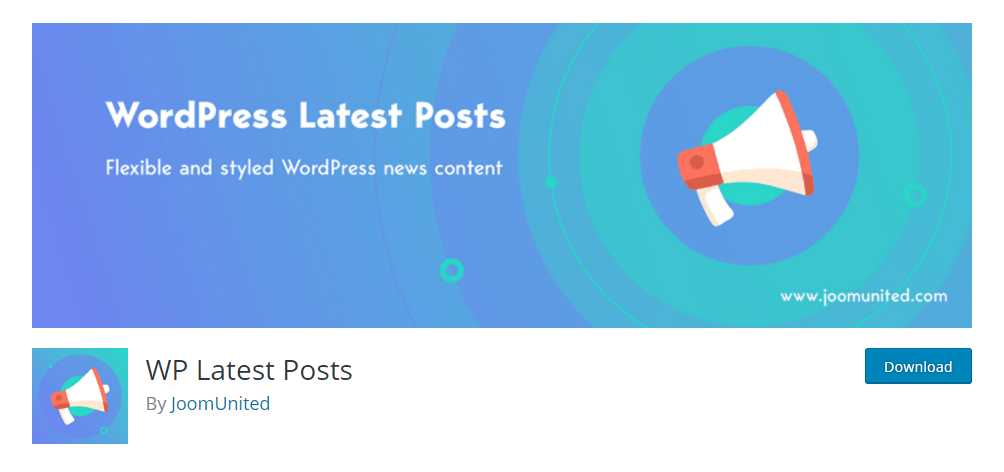 WP Latest Posts also let you show recent posts using a slider. You can choose the recent slider using pages, posts, custom post types, and tagged content. It is also responsive and works with most of the themes out there.
The plugin is aimed at those who want to showcase recent posts without the need to touch any code. It also supports page builders, including WooCommerce, Gutenberg, and also offers custom page layouts with the help of PHP snippet.
Key features of the free version are as below:
Show content based on posts, pages, custom type and so on
Supports Gunteberg dedicated block
Offers rows, text, crop, display options
Unlimited latest posts instances
The premium options offer more premium themes, masonry type, portfolio themes, and more!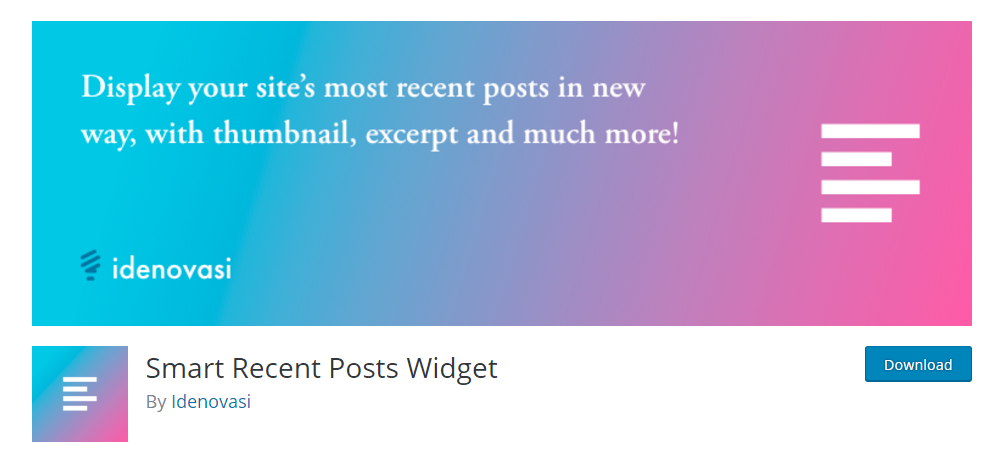 Our last plugin of the list is Smart Recent Posts Widget. It is a widget type plugin that lets you offer a highly recent post widget. To get started, you need to install and get started simply.
You can show recent posts based on author, date, expert, thumbnail, and so on. It is also supported by Elementor Page Builder and Page Builder By Siteorigin.
Key features worth mentioning:
Three different post list style
Open link in new tab
Exclude or include category
Display multiple fields including current post, post author
Conclusion
So, what do you think about the six best recent posts plugin? Comment below and let us know. We are listening.
We hope this article helped you choose the perfect recent posts plugin for your WordPress sites. You may also want to see our list of best related posts plugins for WordPress.