Are you looking for the best FTP client software? If you do, then you have come to the right place. FTP client is required by web administrator or anyone who wants to interact with a host remotely.
What is an FTP client?
FTP stands for File Transfer Protocol. On the web, computers, servers, and other services utilize FTP protocol to transfer files from one machine to another.
FTP client lets you work with FTP protocol and ensure that you do not have to login into your hosting background every time you need to update something.
There are plenty of free and paid FTP clients. In this article, we will be exploring the best six of them.
A good FTP client offers essential features, including the ability to upload, rename, delete, or edit files remotely. It also provides an excellent graphical interface for the best possible user experience.
So, without any delay, let's get started with the best FTP clients out there.
Top 6 FTP Client Software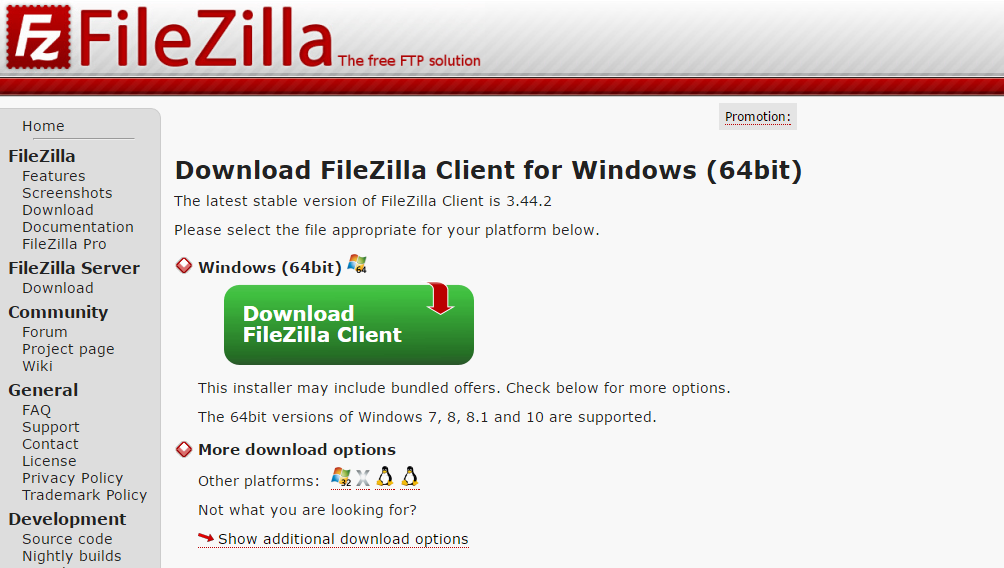 FileZilla is a very popular FTP solution for Windows, Mac, and Linux. It is an open-source software which you can use without paying anything. It comes with the support of FTP, SFTP, and FTPS(FTP over TLS).
So, what makes FileZilla so amazing? First of all, you get access to the pretty amazing GUI. It enables anyone to make use of FTP. Other than it has the following features:
Supports popular protocols such as FTP, FTPS, SFTP
IPv6 support
Supports large file transfer
Drag and drop support
Supports bookmarks
Remote file search
Filename filters
Additionally, FileZilla also offers a pro version which lets users to interact with popular storage solutions including Amazon S3, Microsoft OneDrive, Microsoft Azure Blob, etc.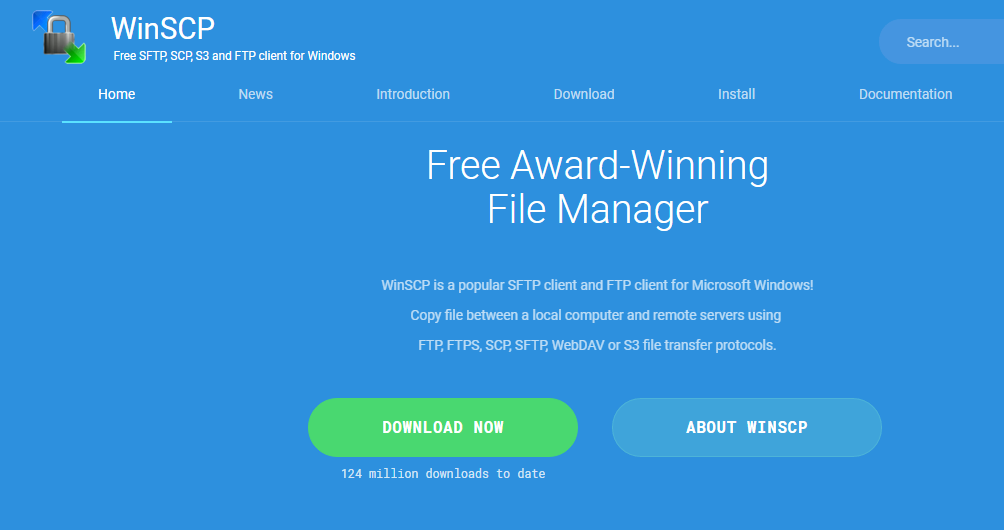 If you are using Windows, then you can check out WinSCP. It is a free, award-winning file manager. It supports protocols such as SFTP, FTP, SCP, WebDAV, S3, and FTPS.
Until now, it has been downloaded more than 124 million times, which can tells you how popular it is.
Let's look at its key features below:
Offers graphical user interface
Easy to use
Comes with an integrated text editor
Supports multiple languages
Can be used for task automation and scripting
Furthermore, it also offers some other unique features including file encryption, workspaces, integration with other applications such as PuTTy, selectable user interface, and more. You can also use custom commands on it.

If you are looking for a complete package, then you need to check out Cyberduck. It is a libre server which also comes with the support for cloud storage browsing. Plus, it works with both Windows and Mac.
Moreover, Cyberduck supports key protocols, including FTP, WebDAV, and SFTP. When it comes to cloud storage, it supports the likes of Microsoft Azure, OneDrive, Dropbox, OpenStack Swift, Amazon S3, and Backblaze B2.
They also offer client-side encryption known as Cryptomator. It can be used in conjunction with Cyberduck.
The other things that make Cyberduck a good FTP client include the following:
Seamless file editing using your own preferred editor
Share files using a web URL
Cloud content distribution supported
Supports bookmarking features including history, files, spotlight, and import
You can browse easily with its accessibility features including a quick look
All file formats supported
Proper synchronization
Supports system technologies integration, including Windows, Finder, Keychain, and so on.
Cyberduck is open source and is licensed under GPL.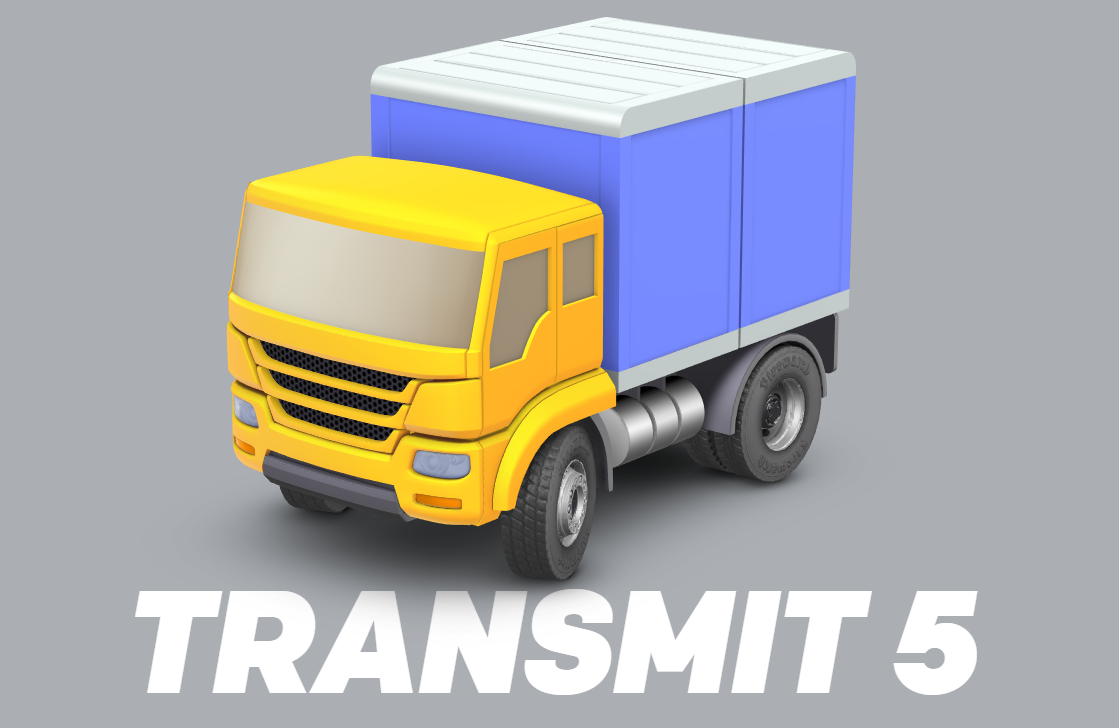 Transmit is a macOS gold standard when it comes to transferring files. It lets you do all the necessary operations, including download, upload, edit, or manage. It also comes with an intuitive UI that enables you to work smoothly without any learning curve whatsoever.
Transmit supports a wide range of cloud servers, including the likes of Microsoft Azure, Rackspace, Google Drive, and others. In total, it supports 11 cloud services.
Additionally, it also comes with a Panic Sync features which lets you secure your files during transfer. Plus, it supports both local-to-local or remote sync. Also, it is designed to support better speeds when it comes to multithreading and complex folders.
The other key features that make Transmit 5 amazing include:
Info sidebar for more information
Batch rename
Places bar
Keys management
Open in terminal
Local-local sync
Improved file sync progress bar
Support for 11 cloud services
Brand new AI
NFC filename support
Transmit is not open source or free to use. You need to pay a one-time price of $45. You can also try it out for seven days before you decide to buy it.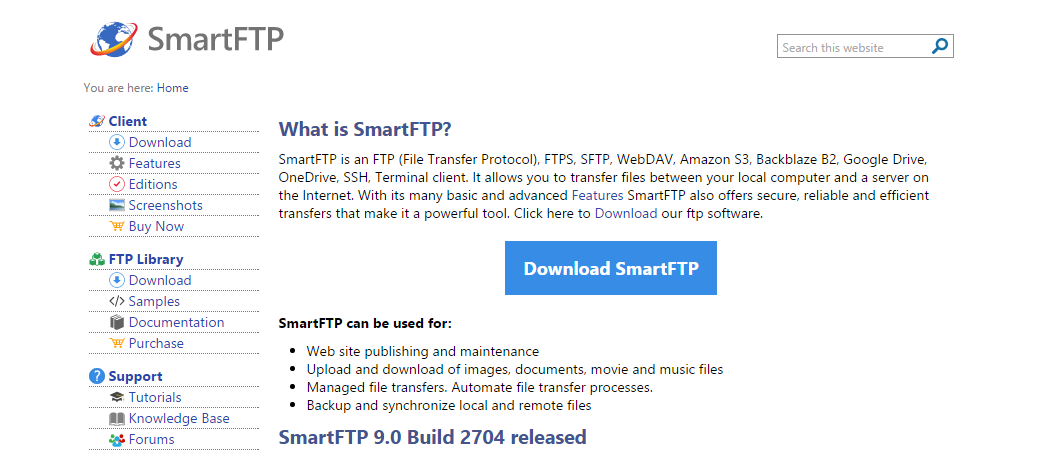 If you are looking for a functional yet straightforward FTP client, then you need to check out SmartFTP. It is a feature-rich FTP client that can be used professional, even at the enterprise level.
This FTP client software supports SFTP, FTP, Backblaze B2, Google Drive, Amazon S3, WebDAV, SSH, OneDrive, and Terminal client. It comes with both basic and advanced features. Their new build has also included support for Windows 10, Microsoft OneDrive, and a text editor.
The key features supported by SmartFTP include:
Support of a wide range of protocols including FTP and SFTP
Comes with integrated editor
Supports high DPI through its modern graphical user interface
It is HIPAA 5010, FIPS 140-2, and 186-4 compliant
IPv6
Visual Compare
Comes with local browser and bulk rename
Supports transfer queue
It comes in three editions each with varying features – Professional($79.95), Ultimate($139.95) and Enterprise($299.95). They are a one-time payment. You can also buy it on a subscription basis. For more information, check out the editions and buy now page.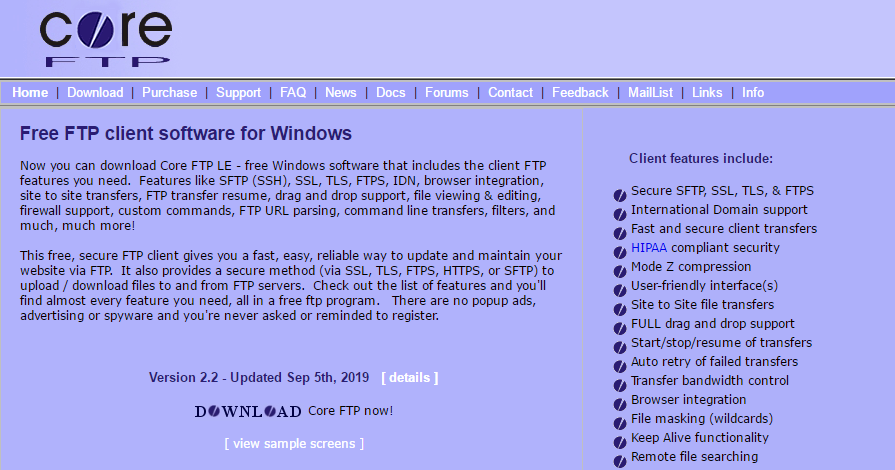 CoreFTP is a free Windows software that lets you transfer files using different protocols, including SFTP, FTP, SSL, TLS, IDN, and FTPS. The FTP client offers a secure and fast way to update your website or remote server with new files and configuration.
The key features of CoreFTP include:
International domain support
Full drag and drop support
Browser integration
One-click transfers
Keep alive functionality
.htaccess & .htpasswd editing
Command-line support
They also offer the PRO version which offers more features, including encryption/decryption, scheduling, IBM Information Exchange support, email notification, zip support, etc. The PRO version prices start from $39.95 per license.
Conclusion
This leads us to the end of our six best FTP client software. We hope that you found what you are looking for. So, which FTP client you want to use? Comment below and let us know.
You may also want to see our handpicked list of best WordPress review plugins.