WordPress is known for the different kinds of things that it can do. It is a versatile content management system that lets you do almost everything. In this article, we will be exploring the best WordPress LMS plugin in WordPress plugin repository.
LMS stands for a learning management system that lets you create a fully functional website. With it, you can not only design and manage online courses but also sell them. Before we move on and list the best WordPress LMS plugins, let's understand the underlying concept behind LMS.
What is LMS?
A learning management system is a software program that lets you manage every aspect of an eLearning platform.
In WordPress, an LMS plugin gives you the ability to create a fully capable platform where you can handle the different tasks, including tracking, administration, documentation, etc., directly from the WordPress dashboard.
By using WordPress, you get the best possible solution — as it lets you create an attractive looking site with all the needed functionality.
Top 6 WordPress LMS plugins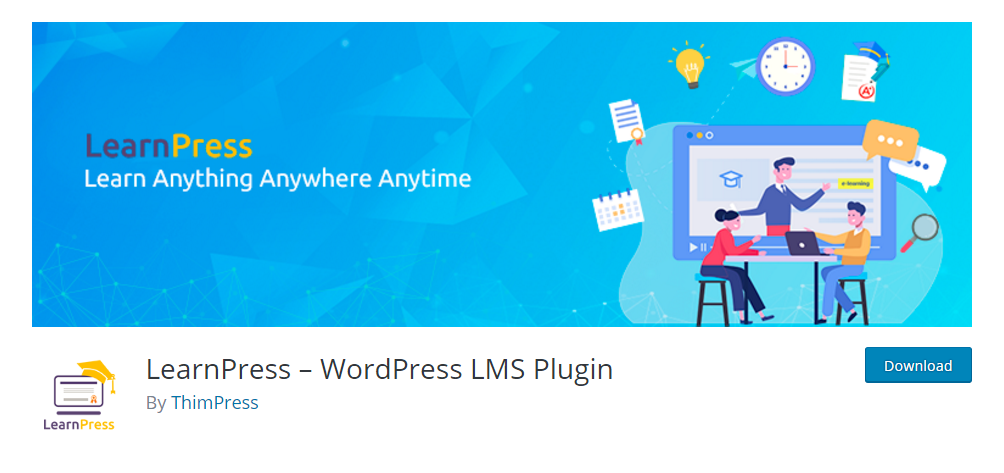 If you are looking for a comprehensive WordPress LMS plugin, then you cannot go wrong with LearnPress. It is a fully-packed learning management system that lets you change your WordPress site completely.
By using the plugin, you can create and sell courses all through the online platform. The easy-to-use interface also enables you to work efficiently with the plugin. The best use-cases of the plugin include an online-courses website, school website, and so on.
When it comes to price, it is free to use. However, if you want more features, then you need to use their add-ons. Not all add-ons are free, and you need to pay for it.
Features:
Course creation
Manage and sell courses
Proper communication channels
Free to use
It is actively developed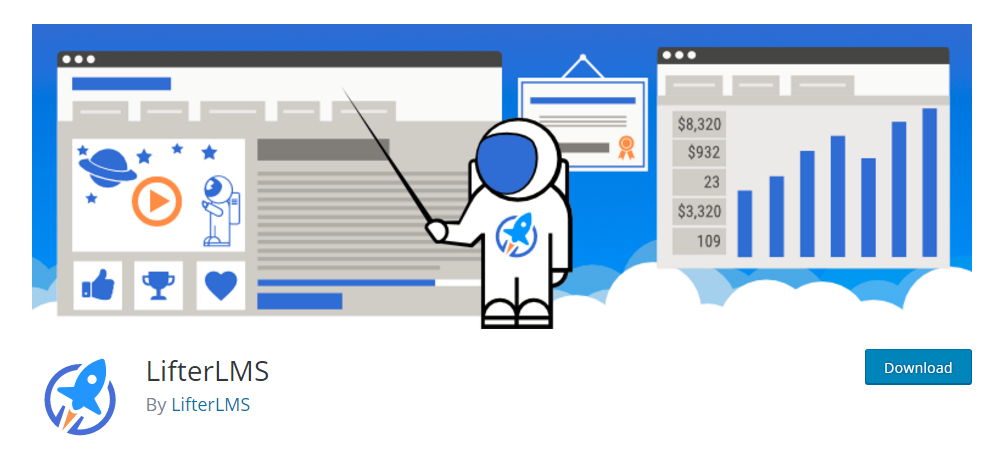 LifterLMS is another powerful WordPress LMS plugin. Just like other LMS plugins out there, you can also use LifterLMS to create, sell, and manage courses. It is also a perfect fit if you want to sell training based materials.
One of the LifterLMS features is its compatibility with all the major plugins, including page builders. By using it, you can install the membership related features.
Additionally, it also has an active community which means that you can get your problems resolved pretty fast.
You can try out their demo for 30 days for just $1.
The plugin is best aimed for entrepreneurs, freelancers, agencies, schools, and so on!
Features:
Supports one-time payments
Supports other types of payments including credit, recurring
Offers free courses and course bundle
Supports multimedia lessons, multi-instructor, course tracks
Offers proper engagement
Offers security and proper project management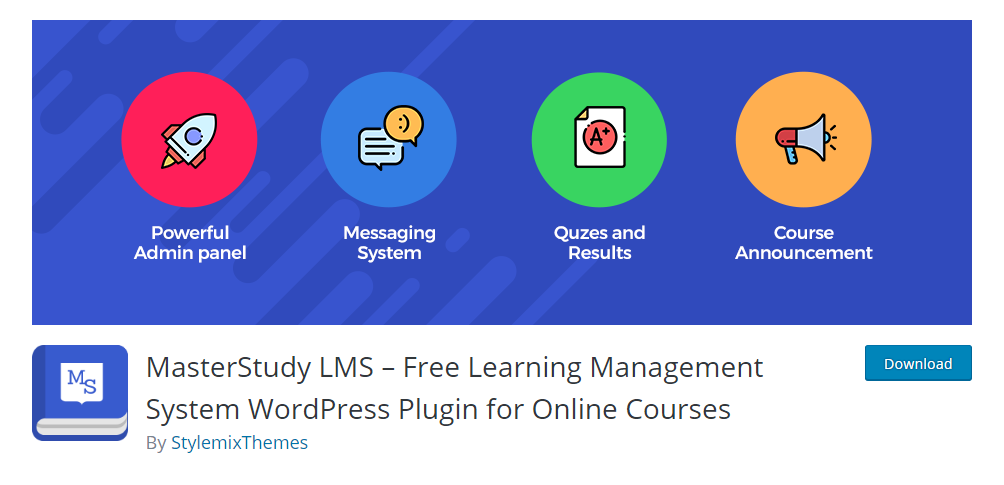 MasterStudy LMS is a free learning management system that works with WordPress. It is a rich plugin that lets you create an online education website.
It is easy-to-use, and you can use it to create a user-friendly lesson management tool. Furthermore, it also lets you customize and completely manage your site. If you want to utilize its feature fully, then you can check out their Masterstudy WordPress theme where it acts as a cornerstone.
When it comes to feature, you can setup flawless online payments, a messaging board, and the ability to upload diverse kinds of tutorials. Not only that it is also developer-friendly. If you know Vue.js, you are bound to learn the most out of the plugin.
Features:
Supports recurring payments
Offers Stripe and PayPal integration
Real-time Q/A available during lessons
Offers course ratings
Certificate generation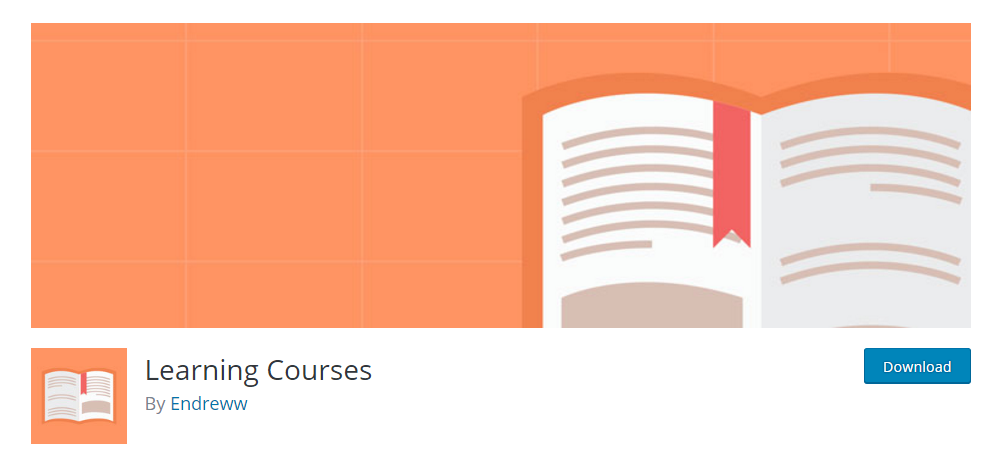 Learning Courses is an LMS plugin by Endreww. With it, you can create, manage, and sell your courses. It is open-source software and is free to use. It is a relatively new plugin and offers basic features. However, we found out that there are people complaining about support.
Installing the plugin is super easy. All you need to do is install via the dashboard or upload it to the backend.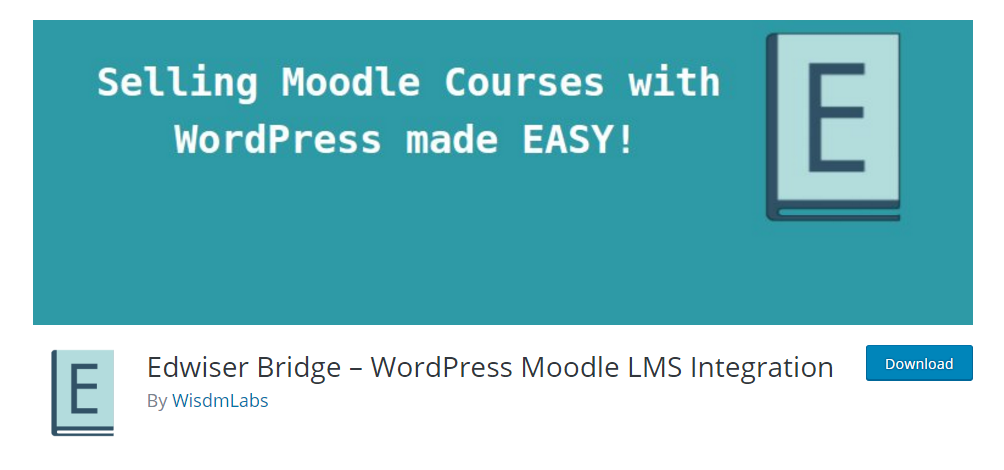 If you sell Moodle courses online, then you can check out the Edwiser Bridge LMS integration plugin. It is an integration plugin that lets you sell Moodle courses.
The purpose of the plugin is to integrate the Moodle platform with WooCommerce or WordPress — giving you the ability to expand your courses and sell them to more audiences around the world.
It also works effectively with default payment gateway Paypal and is needed if you want to sell Moodle courses.
You can also extend the plugin with the help of the useful plugins provided by Edwiser Bridge.
Features:
Proper integration with Moodle and WordPress site
Full course front management including import, synchronize, and payment integration
Comes with a fully-fledged course access control including the automation user registration, registrations, course time set, and so on!
Tons of other plugins to complement the setup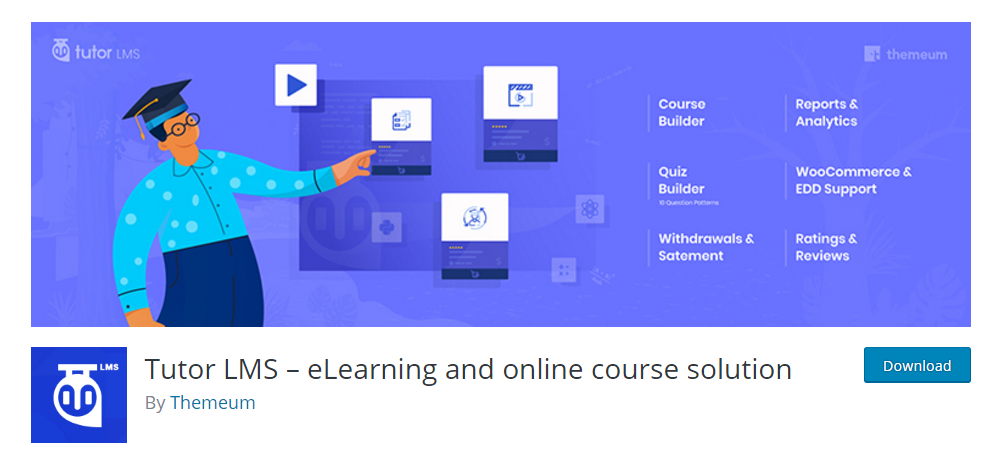 Tutor LMS is one of the feature-packed WordPress LMS solutions out there. It is a new plugin but boasts a great set of features that you could expect from a well-established plugin. With it, you can create, manage, and sell your courses.
The good news is that Tutor LMS is free to use and you do not have to pay anything for the basic functionality. But if you want to expand the features, then you need to use the high-quality add-ons out there.
In addition, it is lightweight at the core — thanks to the add-ons provided with it. You only need to add the add-on that is required to you.
Features:
Provides unlimited lessons and courses
Teacher panels and profiles
Withdrawal options
Multiple video sources hosting
RTL Ready
Page Builder Support
Intuitive course builder
Purchase history
And much more!
Conclusion
This leads us to the end of the five best WordPress LMS plugins. So, what do you think about the plugins listed here? Are you going to use it? Comment below and let us know.
You may also want to see our handpicked list of best WordPress AMP plugins.