Social media platforms are a major part of our lifestyle. And, that's why you need to utilize the best social media feed plugin for your WordPress site.
This will keep your site fresh and relevant to your users. So, without any delay, let's get started.
Top 7 best social media feed plugins for WordPress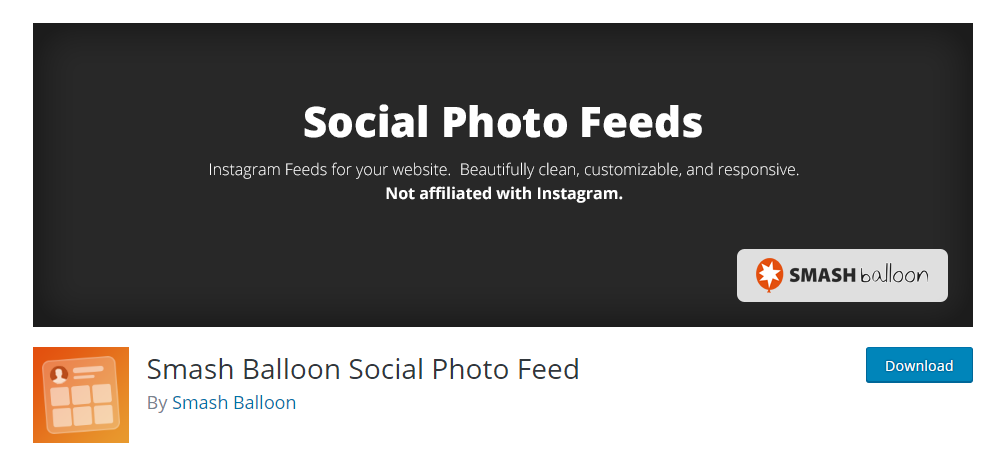 If you are an Instagram user, then you may want to check out the Smash Ballon Social Photo Feed. It lets you display posts directly from your Instagram account. You can use both single and multiple feeds to show your posts.
It is simple to set up, and you can get started with it in a matter of minutes. You can also opt to display posts from different Instagram accounts in a single feed as well as multiple feeds.
Also, it is completely responsive and customizable to the core. You can choose the height, width, image size, number of columns, number of photos, and so on.
Key features worth mentioning:
Supports responsive design
Supports single or multiple feeds
Posts can be shown from one or multiple accounts
Shortcode supported for proper customization
Infinitely load more
Offers beautiful header
Custom JavaScript and CSS
The free version of the plugin has over 900k+ active installations. It also comes with Pro version.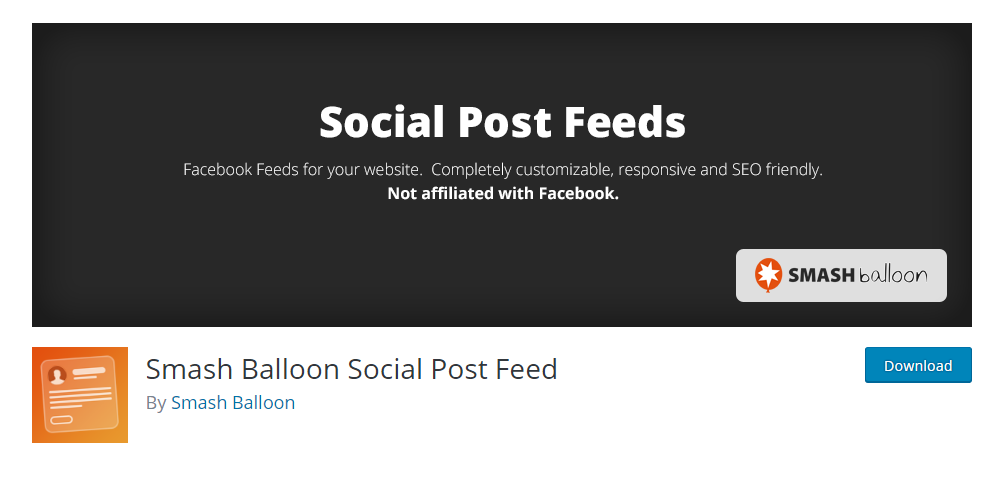 If you are looking for post facebook posts directly into your website, then you need to check out the Smash Ballon Social Post Feed. The plugin lets you feed the posts directly into your site. It is highly customizable, and the posts also search engine friendly. On top of that, the posts created using the plugin are responsive.
However, there is one big limitation that you need to know. It comes in two versions: the free version and the pro version. The free version only lets you share posts with display text and links. If you want to include videos, comments, photos, etc., then you need to get the Pro version.
Key features worth mentioning:
Easy to set up
Completely customizable
Add custom CSS
Support caching for fast loading time
Customize size, weight, text, and color
Responsive and mobile-optimized
Automate hashtags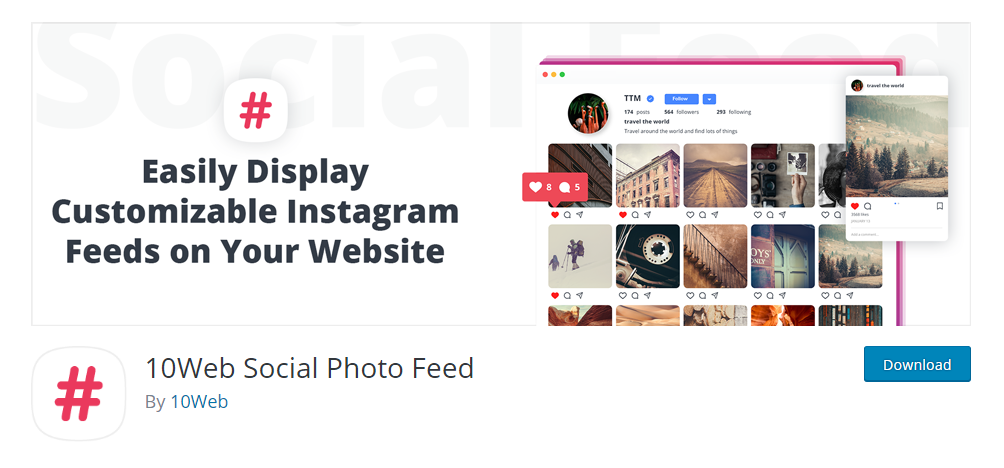 10Web Social Photo Feed is a friendly WordPress plugin that lets you feed Instagram photos to your website. All you need to do is set up the plugin and connect your Instagram account to get started.
The feed can be posted on both pages and posts. Also, you can customize the feed the way you like as it offers a feature-rich control panel for every possible customization.
The 10Web social media feed plugin is best for photography, food, travel, or bloggers who want to spice up their content with amazing photographs.
There are multiple benefits of using the plugin, including increased user engagement, increasing brand awareness, control, improve website appeal, and so on.
Key features worth mentioning:
Customizable layouts
Instagram Gallery
Filtered feeds
Instagram widgets
Mixed and individual feeds
Complete customization
It also comes with the premium version.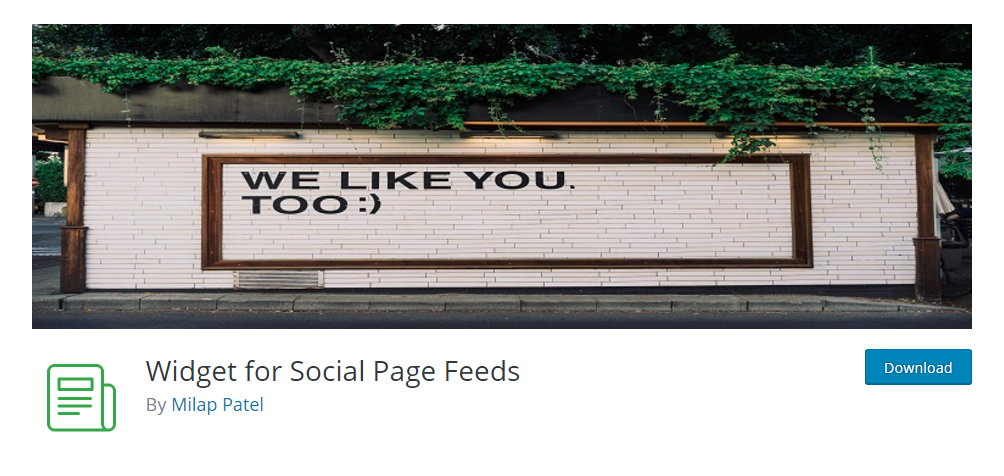 Do you want to showcase facebook page likes on your page? If you do, then you need to check out the Widget for social page feeds. It is easy to configure and also lightweight so that it doesn't impact the site loading time.
To make it functional, you need to add an application id that you can get by creating a facebook application. Once done, add to the Widget along with the Facebook page URL. There are tons of configurations available with it, including cover hiding, posts hiding, custom CSS, and more!
Key features worth mentioning:
Easy to configure
Lightweight
Shortcode support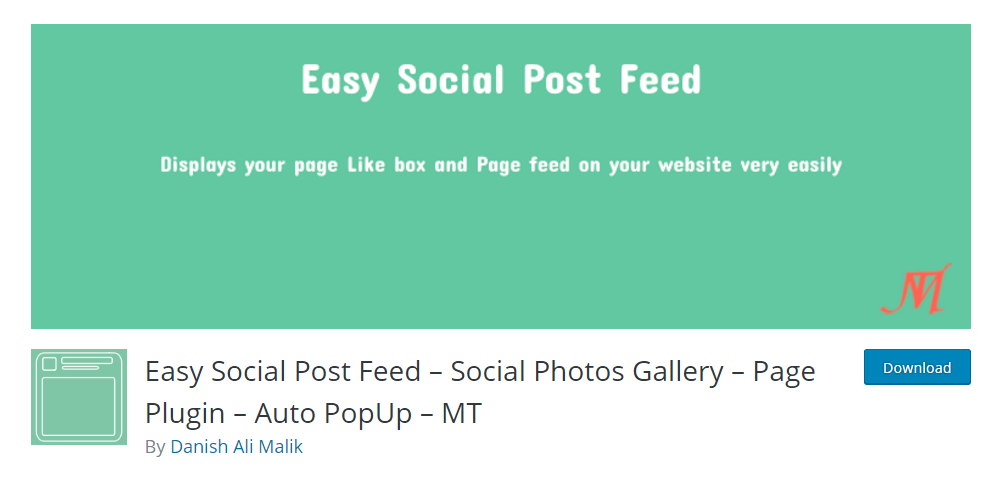 If you are looking for a plugin that lets you manage both Facebook and Instagram feed, then check out the Easy Social Post Feed. It also gives you the option to input Facebook Like Box, and Auto PopUp.
Key features worth mentioning:
Easy to set up
Completely customizable
Offers columns, borders, and colors
Use to create multiple skins
Follow the Instagram button
Powerful shortcode generator
Load photos dynamically
Offers auto popup with tons of features
Show facebook page and customize it completely.
It also comes with a Pro version for each of the Instagram, Facebook, facebook page plugin, and auto popup.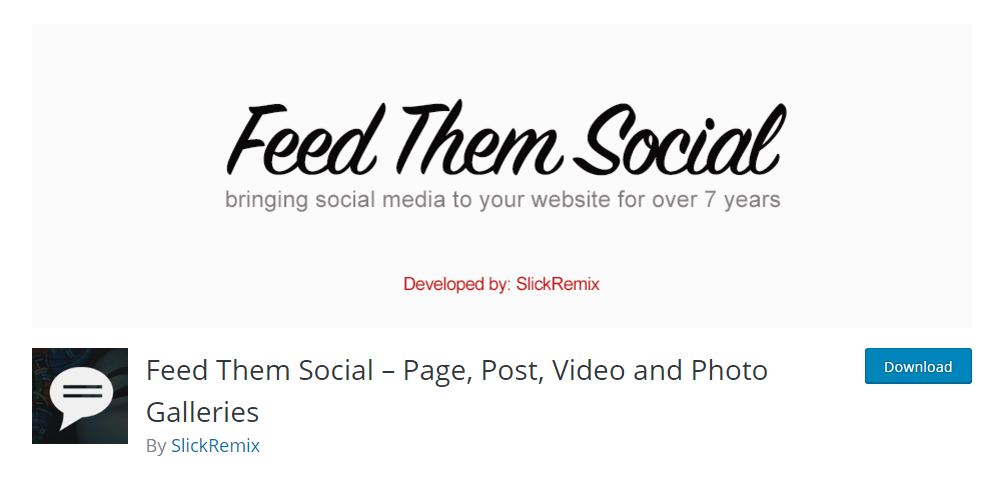 Feed Them Social is a universal social media feed plugin for WordPress. It lets you integrate popular social media networks, including Instagram, Twitter, Facebook, Pinterest, and YouTube.
It is a feature-rich plugin that is easy to install and setup. With the plugin, you can install as many social feeds as you like or need. The feed can be displayed on the sidebar, page, or post. It is also easy to embed the feed with the help of a simple shortcode generator. It also comes with other features. Let's list them below.
Key features worth mentioning:
Full customization
Support major options including Twitter, Youtube, Instagram and Facebook
The plugin has good support
Completely responsive social feeds
It also comes with premium extensions, which you can use to use certain features.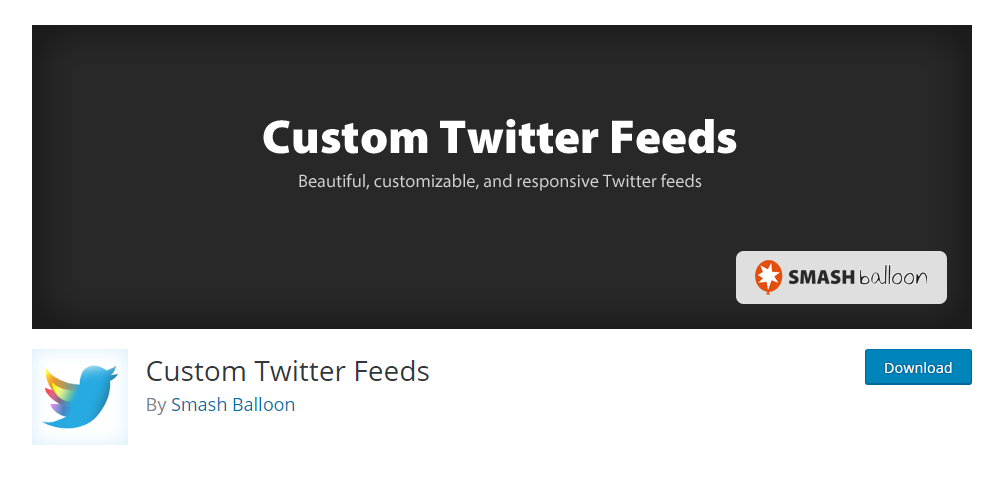 Twitter is one of the biggest social platforms, and if you are looking for a specific twitter feed, then check out the Custom Twitter Feeds plugin. It is a social media feed plugin that lets you create a crawlable version of Twitter feeds on your website.
You also get to customize the Twitter feeds as per your liking. It comes with tons of customization options.
Key features worth mentioning:
Responsive design
Customizable to match the theme style
Support multiple feeds
Infinitely load more option with Load More button
Header support at Twitter Feed
Custom CSS
Conclusion
This leads us to the end of our social media feed plugin article. So, which social feed plugin are you going to use? Comment below and let us know.
We hope this article helped you choose the perfect social media feed plugin for your site. You may also want to see our list of best social media auto publish plugins.