Information is valuable. And, that's why today, we are going to list the best snippet and schema plugin for WordPress.
As a website owner, you need to make sure that you provide as much valuable information to Google. This will enable your site to reach the right people and ensure that you rank high in the search engine rankings.
For example, if you provide a review, information such as ratings can help search engines to understand your valuable information.
To enable easy implementation, we need to use the snippets. Also, if you are a WordPress site owner, you can use the schema plugin to do so.
In this article, we will explore seven of those schema plugins. Let's get started.
Top 7 rich snippet and schema plugins for WordPress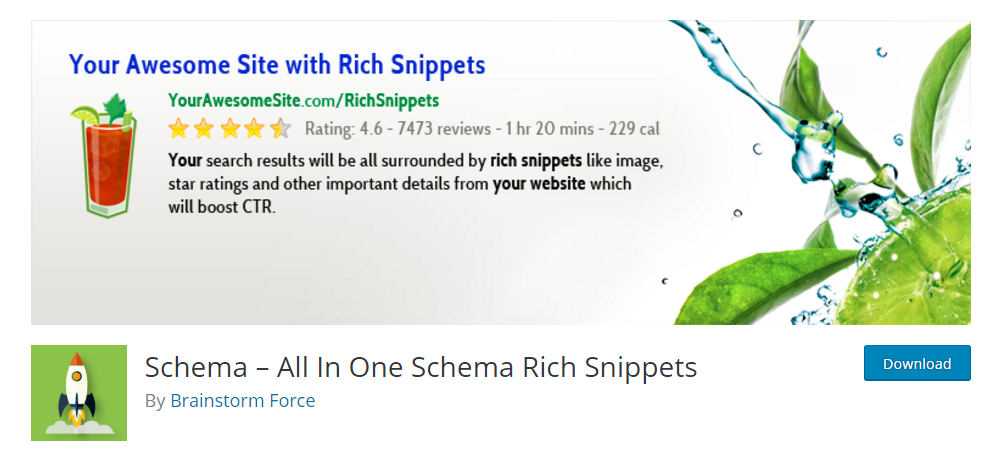 Schema by BrainstormForce is one of the famous WordPress schema plugins. It lets you create schema markup for your site so that you can provide the necessary information to Google.
Then, it will produce excellent search results. It supports schema types including Recipes, Events, Review, Products, Services, and so on.
Key features worth mentioning:
Support different types of the scheme, including event, review, people, recipe, video, articles, software applications, and so on.
Easy to use
Improves Click-Through Rate
Facebook can also display the schema information improving CTR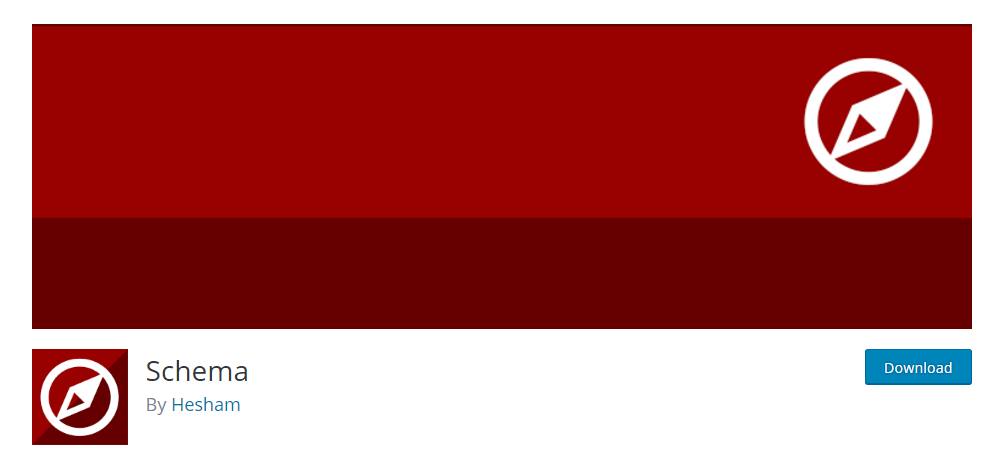 Schema by Hesham is yet another popular schema plugin. Adding structured data on your site is always a good thing, and the Schema plugin lets you do just that. By adding appropriate information, you can improve both CTR and also rank your content.
Key features worth mentioning:
Easy to use
Comes with minimal settings
Schema types can be enabled once per post category or post type
Markup validation supported
JSON-LD format output supported
Reusable data can be saved in post meta.
It also comes with premium features, including the ability to put the schema type anywhere on the site or have better integration options.
However, if you need basic features, then the free version is more than enough for you.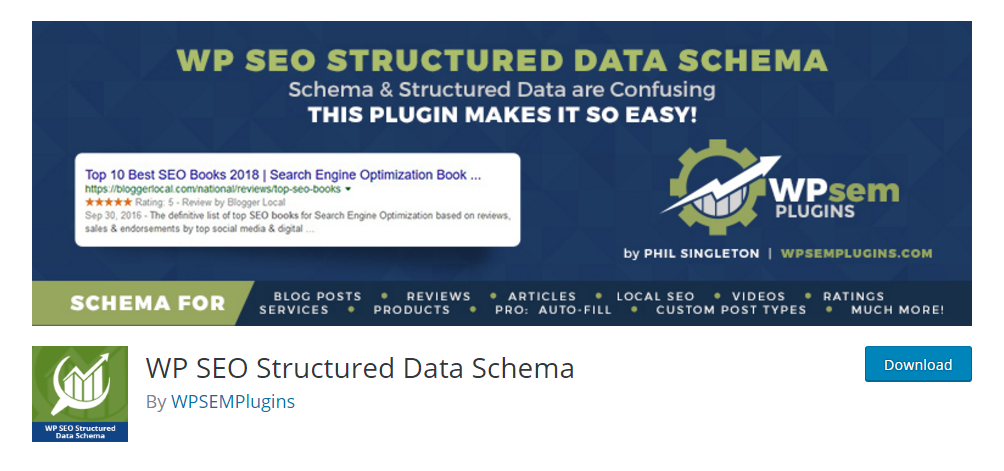 With the WP SEO Structured Data Schema, you can create structured schema data easily. The plugin supports schema creation for various usage, including blog postings, products, events, services, reviews, organizations, aggregate ratings, restaurants, and local businesses.
The plugin is easy to install, and you can also integrate schema on posts, pages, and categories easily.
Key features worth mentioning:
Easy to use
Support schema for different types of use-cases
Rich snippets supported
Supports videos, breadcrumbs, star ratings, and other metadata
Supports JSON-LD
It also comes in pro version where it offers auto-fill function, WordPress multisite, and more schema types.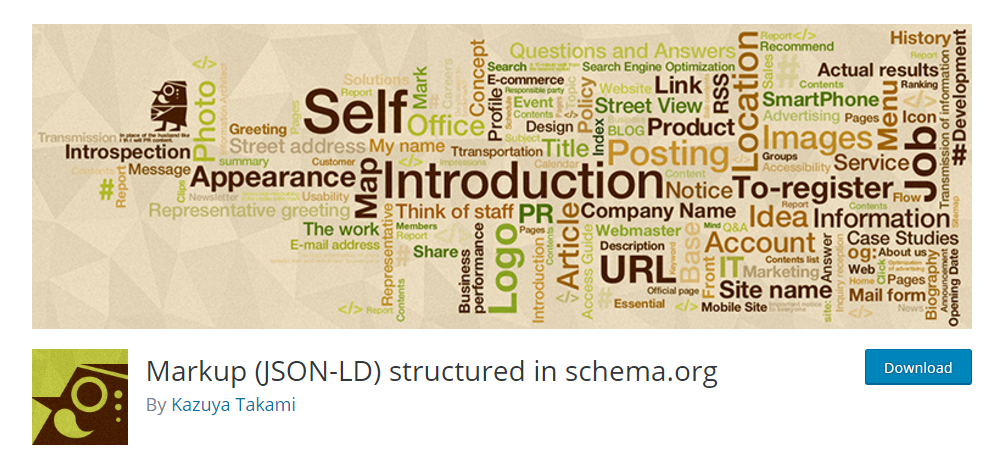 If you are looking for a simple to use schema markup that supports schema.org JSON-LD, then check out the Markup(JSON-LD) plugin by Kazuya Takami.
It supports a variety of schema types, including article, event, person, blog posts, organization, video, website, speakable, site navigation, and so on.
Key features worth mentioning:
Simple to use
Support breadcrumbs.
A lot of schema types supported
Shortcode supported
Schema filters supported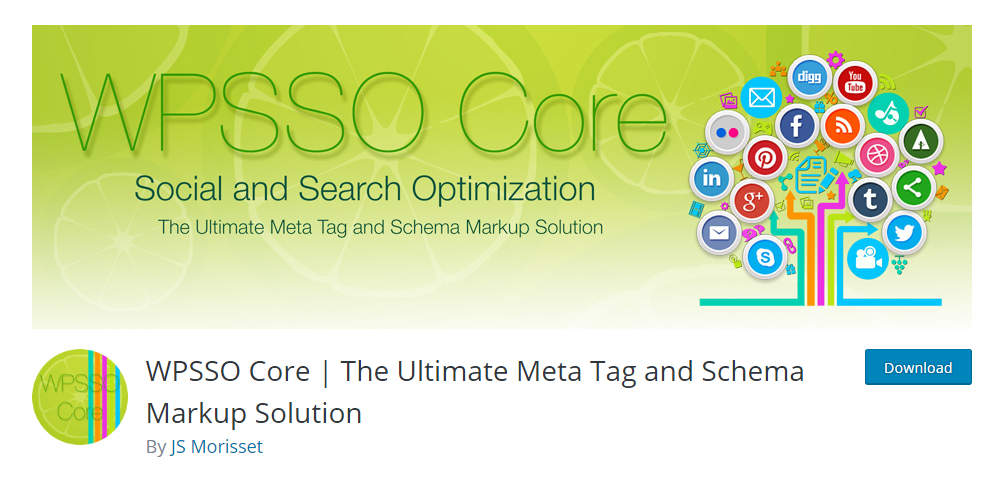 If you are looking for a fully-featured plugin for your content, then check out the WPSSO Core plugin. It lets you improve the website crawlability. It also comes with tons of add-ons that improve the visibility of your machine.
WPSSO Core can be installed on an old WordPress site. It also works with API data. Also, it does come with proper Schema markup and meta tags.
Key features worth mentioning:
Google Rich Results
Graph's knowledge Graph
Twitter Cards
Maximum performance
Comes with complimentary Add-ons
You can also check out their premium version which offers advanced features including customizable text, priority media, twitter card, movie information and so on.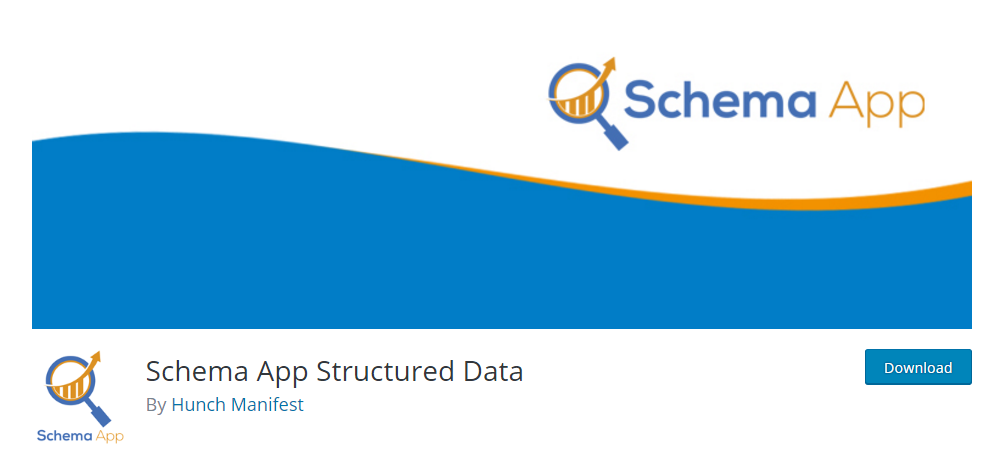 Schema App Structured Data is a popular plugin with over 10,000 active installations. The plugin lets you add schema.org markup for all your website pages, including posts, author, category, and so on.
All you need to do is install and activate the plugin. Once it is activated, you can then start optimizing your site content for a better click-through rate.
Key features worth mentioning:
Supports site links search box
Breadcrumbs supported
Integrates well with Schema App Tools
Markup types supported include page, post, author, category, search, blog, tag, website, and BreadcrumbList.
The Schema App also offers extended optimization with the use of Schema App tools. This way you can improve your search results and rank higher.
With tools, you can also add schema to your WooCommerce products or even manage multiple sites.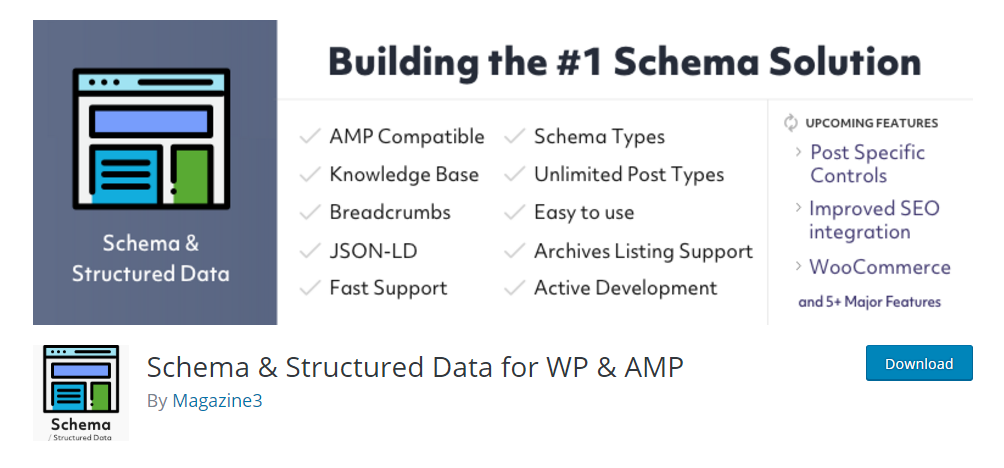 The last schema plugin we discuss in our list is schema & Structured Data for WP & AMP. It adds Google Rich Snippets markup according to Schema.org guidelines to structure your site for SEO. Also, it is compatible with AMP.
Key features worth mentioning:
Supports 33 schema types including blog postings, news article, local business and more
Knowledge base support
Google review supported
Advanced settings
Import the data from other schema plugins
Breadcrumbs listing support
JSON-LD Format supported
It also comes with paid extensions to add Google Rich Snippets for your WooCommerce store.
Conclusion
This leads us to the end of our best six rich snippets and schema WordPress plugin. Schema markup is essential for your site. It doesn't matter the type of your website you are running, adding schema markup can affect your site performance.
So, what are you waiting for? Start by choosing one for your site. Also, do post below which one did you choose!
We hope this article helped you choose the best schema plugin for your site. You may also want to see our handpicked list of best WordPress newsletter plugins.