WordPress table plugin allows you to add different types of tables and charts on your WordPress site to make it more interesting. Tables and charts help your audience to interact with the content of your website and hence increase the conversion. Table plugins are one of the best ways to add statistical content on your website.
Moreover, you can import and export charts and tables from various sources, customize the look and feel of your tables, sort table cells, and perform other actions. WordPress table plugin lets you do it all without requiring any programming background.
There is the number of WordPress table plugins in the market which you can use for your WordPress website.
If you are planning to add tables and charts on your website, you can utilize these plugins. However, we have handpicked six of the best WordPress table plugins for you.
Top 6 WordPress table plugins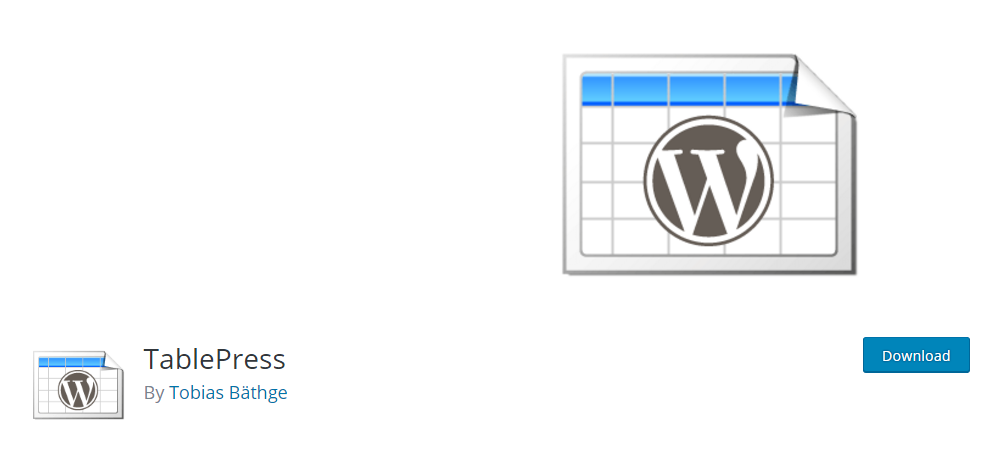 The first in our list is TablePress. The WordPress plugin allows you to create and manage beautiful and enticing charts and tables as per your requirements. You can add the tables into posts, pages, or text widgets with a simple Shortcode. These tables and charts can be managed and edited in a spreadsheet-like interface.
The plugin allows you to have Excel's formula like features that you can use within your website without any type of coding.
In addition to that JavaScript, the library adds features like sorting, pagination, filtering, alternating row colors, row highlighting, print name and/or description, and more for site visitors.
Key features worth mentioning:
Tables can be imported and exported from/to Excel, CSV, HTML, and JSON files
Create and manage beautiful tables
Use a spreadsheet-like interface and features
Use Shortcode to tables in a post, on a page, or in a text widget
Custom CSS text area on the "Plugin Options" screen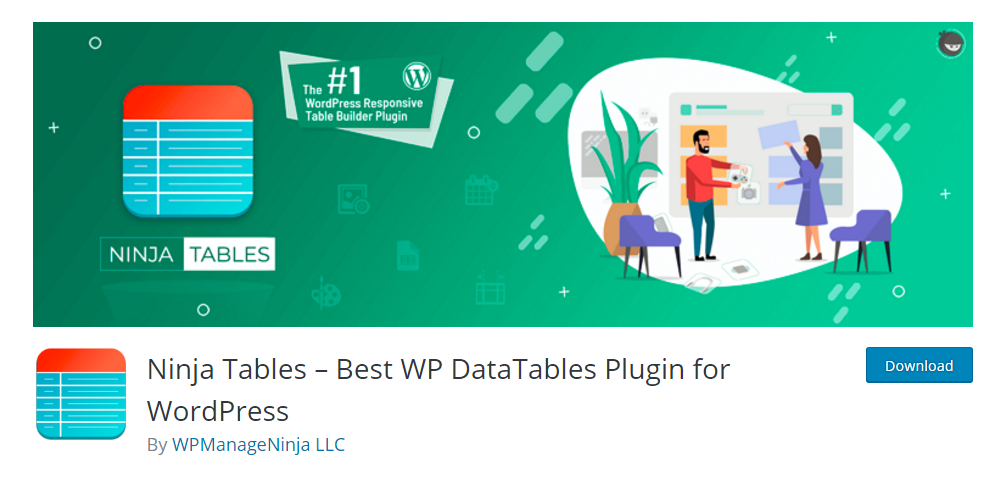 Ninja Tables, one of the best and powerful WordPress table plugins, allows you to create, manage, edit and format the tables and charts in your WordPress website. The best thing about this plugin is that the plugin won't make the site any slower and impact the performance of your website.
The easiest WordPress table plugin comes with most advanced frontend table styles, for example, Footables, Bootstrap 3, Bootstrap 4, Symmetric UI, etc. Ninja Plugin is perfect for creating a product list view, make order forms, wholesale WooCommerce products, product catalogues and much more.
Key features worth mentioning:
Ninja table is blazingly fast
Ninja tables got an amazing table editing environment
Export the table data into CVS or JSON format for importing
Build data table, pricing table, Amazon affiliate product table, product comparison table, member list and many more
Unlimited table colors and customization
Show data from your own custom SQL table and SQL query
SEO friendly, the content of your table picked up by search engines like Google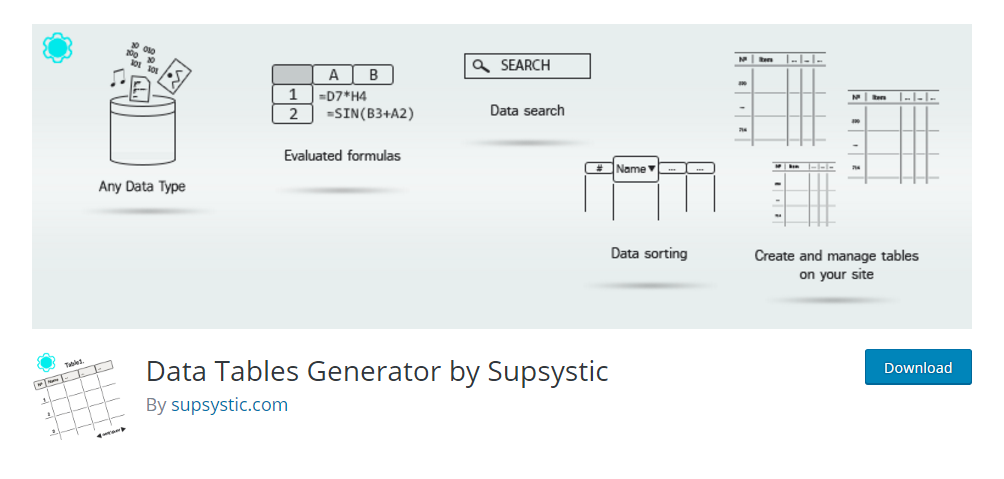 This is a one-stop solution for all your table and chart requirements. The plugin allows you to create different types of tables and charts including product price list, order forms, wholesale, product catalogs, etc.
You can even create custom order forms that increase your conversion rate and also improves the performance and SEO of your WordPress website.
Key features worth mentioning:
Process and manage SEO friendly data tables quickly and easily
Functional and visual customization of the tables
WooCommerce product table plugin has the most flexible and friendly table online builder
Responsive modes, pagination, sorting option, and more
The plugin fully supports product attributes, categories, and you can add any column to the table – SKU, Buy, Summary, Date, Price, Thumbnail, Reviews.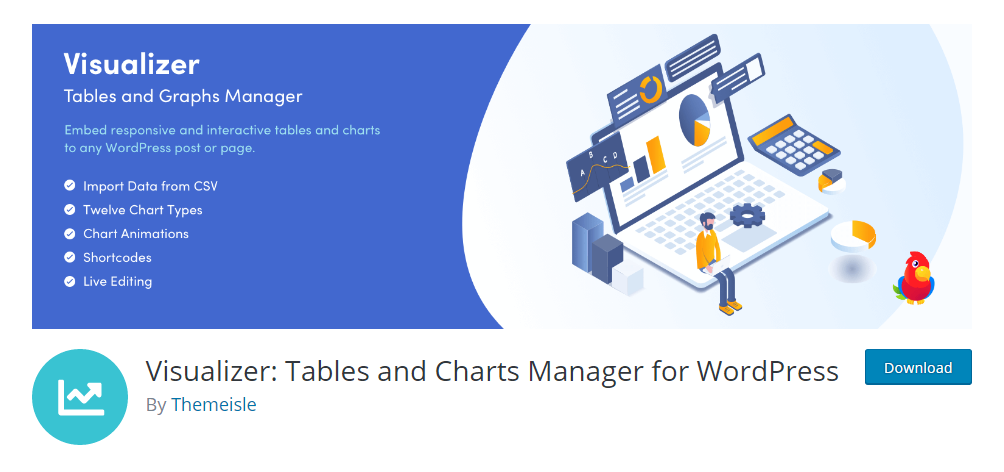 One of the most amazing WordPress table plugins that allows you to create and manage visually appealing and feature full tables and charts which you can embed with the post, pages, and specific content.
The plugin uses Google Visualization API, DataTables.net and ChartJS to add responsive & animated charts/diagrams, which support cross-browser compatibility and cross-platform portability to iOS and new Android releases.
The plugin is also an available pro version which comes with extended power and features.
Key features worth mentioning:
8 chart types + 6 more in the pro version
Configure an extensive set of options to perfectly match the look and feel of your website
Charts are rendered using HTML5/SVG
Create charts from your WordPress posts, pages, products or any other post type
Import data from other charts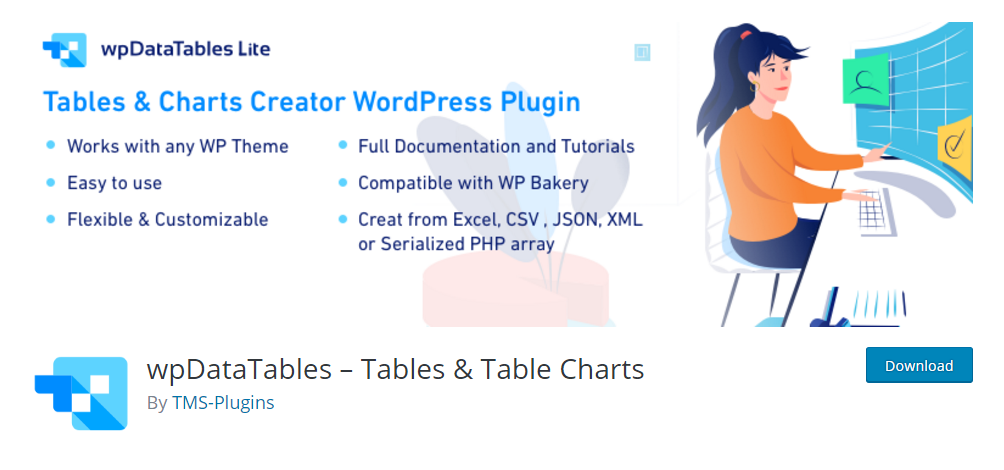 wpDataTables is a popular WordPress table plugin that allows users to create tables & table charts from Excel, CVS, PHP, and other data sources. wpDataTables allows creating Line, Column and Pie charts using the Google Charts rendering engine, or simply show data in a table.
The plugins also come in premium version and which limits the features of the free version of wpData Tables.
Key features worth mentioning:
Make tables and charts using Line, Column and Pie charts using the Google Charts rendering engine
Functions: "Copy to Clipboard", "Export to CSV", "Export to PDF", "Export to XLS"
Responsive mode for the tables
Excel-like editing
Table Constructor Wizard (step-by-step table generator)
WordPress tables by uploading Excel, CSV, JSON, XML or Serialized PHP array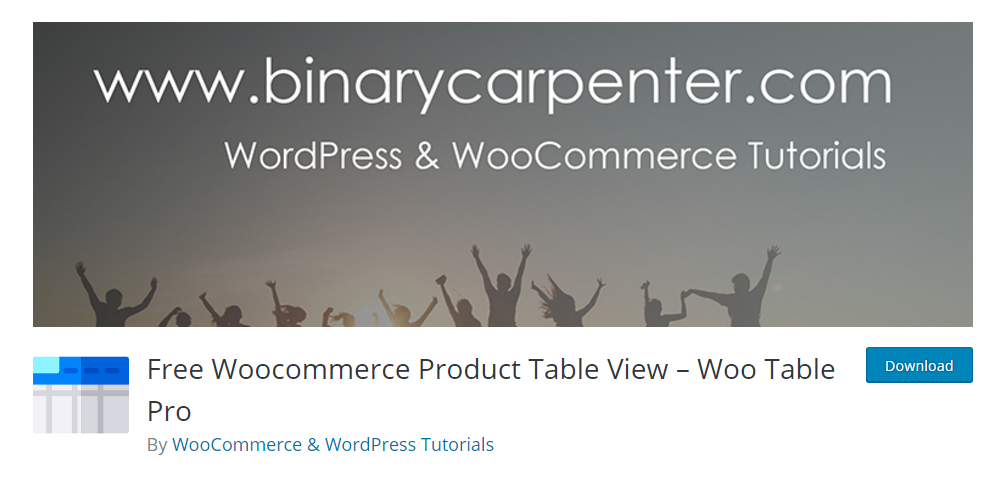 We never missed the special plugins created for WooCommerce WordPress websites. This WordPress table plugin features drag and drop table creation facility, product table builder, added with filters, etc.
Key features worth mentioning:
Display WooCommerce product table with shortcodes
Unlimited WooCommerce product table view
The easiest to use WooCommerce product table plugin
Drag and drop fields builder for the table
Display the filter on product price, name, and rating
Add product to cart with ajax and loading button
Final thoughts
All the above-mentioned WordPress table plugins are easy to use and a one-stop solution for all your table and charts requirements. I hope this list of six best WP table plugin will you to find the best plugin.
You may also want to see our handpicked list of best recent posts plugins for WordPress.