Want to present your content in a more organized and structuralized manner? Tabs can be really helpful in this department. WordPress doesn't come with any default functionality to help you create and add tabs on your posts and pages. For this, you will need the help of a WordPress tab plugin.
So, with that being said, here are seven best free WordPress tab plugins to help you out.
Top 7 WordPress tab plugins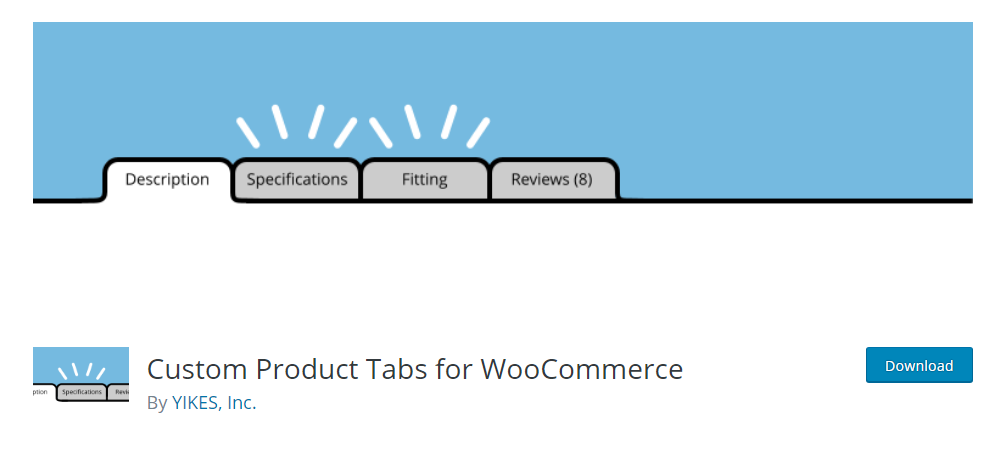 Starting off our list, we have the Custom Product Tabs for WooCommerce. As the name suggests, the plugin helps WooCommerce users to insert custom tabs to products. Each tab is displayed on the individual product pages, positioned right to the description tab.
You can manage all these tabs from the WooCommerce Edit Product screen. There are options to create and save the tabs on a per-product basis or add them to multiple products as required.
Key features worth mentioning:
Allows you to add custom tabs to your WooCommerce products.
You can add a custom tab to a single product or multiple products.
The tab content area uses the standard WordPress text editor and can contain anything from text, images, shortcodes, and even custom HTML.
Intuitive options to help you create, manage, and rearrange the tabs.
And much more.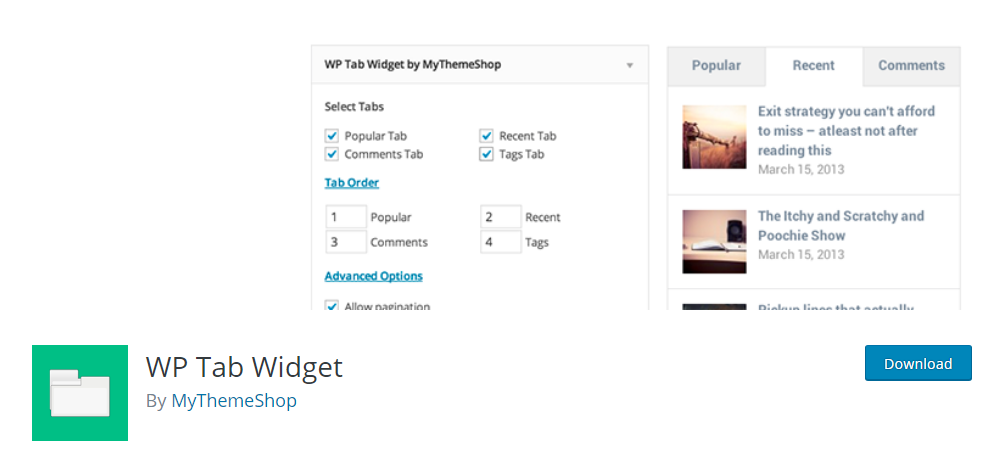 Next up, we have the My Tab Widget WordPress tab plugin. The tabs you create using the plugin are Ajax-powered, meaning it will only load when a user clicks on it. Not only that, but it is super lightweight which helps with fast loading speeds, making your website feel more professional.
Once installed and activated, the plugin will give you access to a widget that you can then configure to showcase relevant content from your website including things that are popular, relevant, or even your comment section. This can help improve user experience and increase user engagement.
Key features worth mentioning:
Helps you add a widget where you can showcase various content neatly categorized into tabs.
Three different styling options – small, big, and no thumbnail.
Ajax-powered tabs, only loads when a user clicks on it.
Option to choose between popular, recent, comments, and tags tab.
Comes with a built-in pagination system.
Built-in cache system.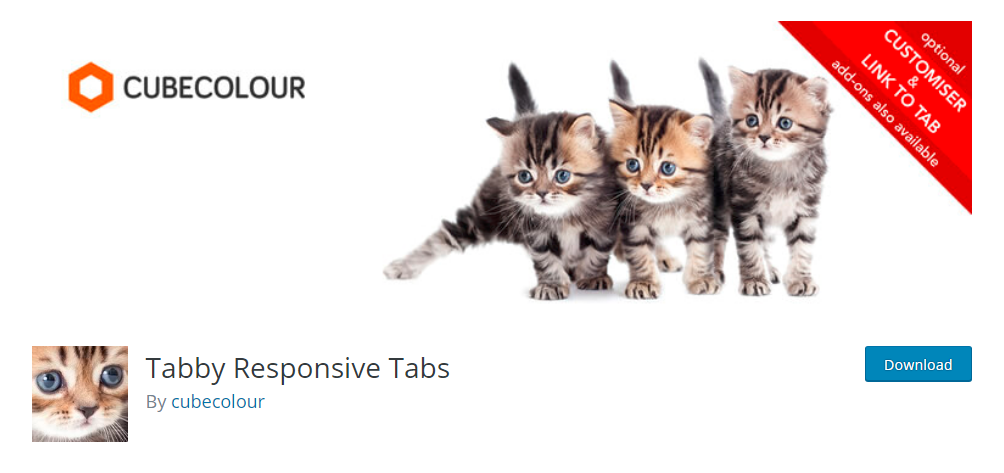 Tabby Responsive Tabs help users add mobile-friendly tabs to your WordPress posts and pages. However, as an added convenience to desktop users, the tabs can be accessed and switched using the Keyboard.
Once activated, the plugin will enable a horizontal tab created using jQuery with the option to create multiple sets of tabs on the same post or page.
All tabs are displayed horizontally and can be changed using an accordion or narrow viewport. Now the plugin doesn't come with a dedicated admin panel. However, you can change its look and appearance using built-in CSS rules.
Key features worth mentioning:
Adds a set of horizontal tabs to your WordPress posts and pages.
Option to add multiple sets of tabs to a single post or page.
Tabs can be changed using an accordion or a narrow viewport.
Tweak the look and feel of the tabs using the built-in custom CSS.
Fully responsive and mobile-friendly.
Can be controlled using the keyboard.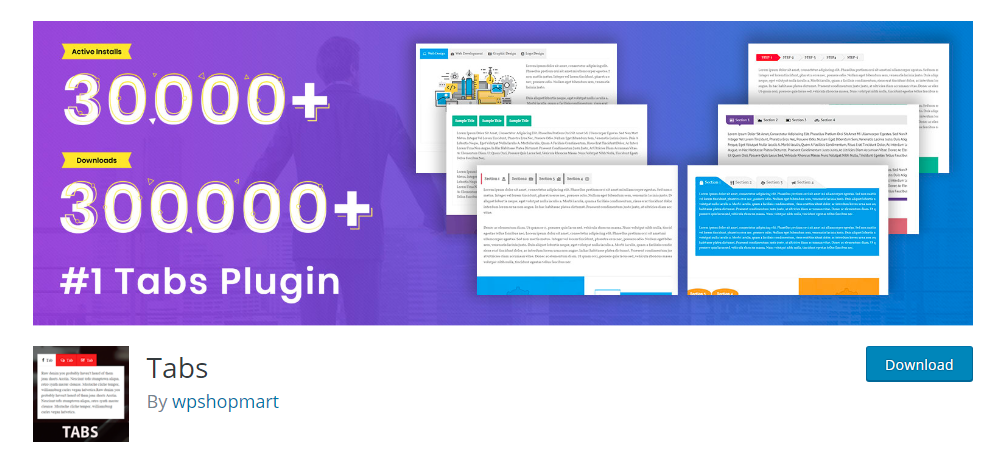 Tabs, the simply named WordPress tab plugin, comes with tons of features and functionalities. Based on top of the Bootstrap Framework, the plugin is responsive, intuitive and super flexible. It allows you to create both horizontal and vertical tab styles which you can then add to multiple posts and pages. On top of that, you get access to unlimited color schemes and font styles.
There is also a paid version of the plugin. However, the free version is more than enough for most of your basic use cases. For example, with the free version of the plugin, you can also add images, videos, as well as shortcodes in the tab content section. Widget support is also provided.
Key features worth mentioning:
Helps you create vertical as well as horizontal tabs.
Tabs are responsive.
Option to tweak color scheme and font style.
Add almost any content in tab description – text, images, video, shortcode, and even widgets.
Create unlimited tabs and add them to a single or multiple posts and pages.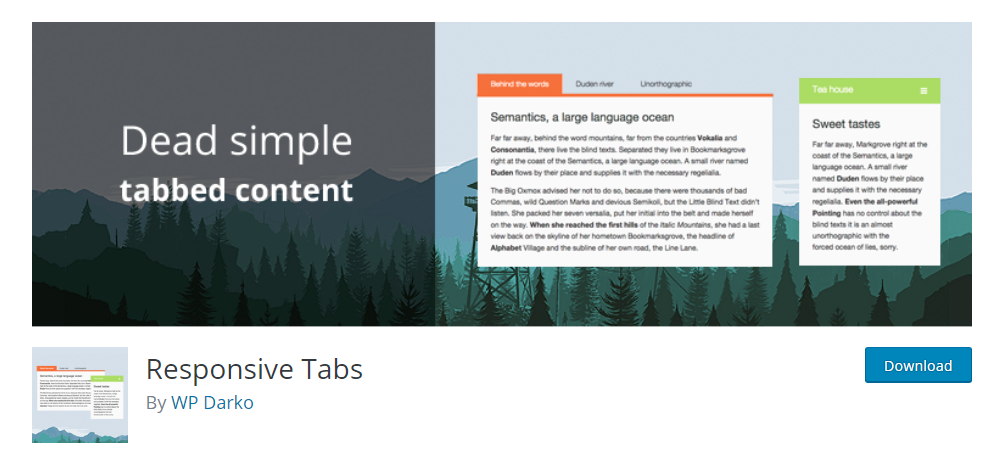 With the Responsive Tabs plugin, you can create mobile-friendly tabbed content for your WordPress website. It helps you to populate multiple tabs with your content and stylize them with custom colors.
The plugin supports shortcodes which helps you to embed the tabbed content anywhere on your posts and pages.
Key features worth mentioning:
Helps you add a tabbed content section on your website
Option to customize using different color schemes
Mobile friendly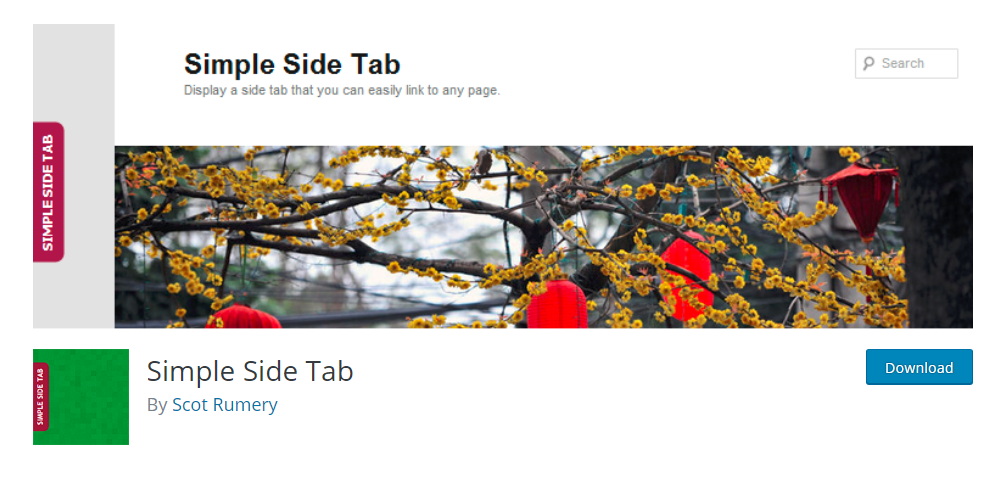 Simple Side Tab helps you add vertical tabs either on the left or right side of your website. You can then use the tabs to add links that can take your users to different pages on your website.
The tabs stay in place as the user scrolls through your page and are always clickable. It is a great way to place global call-to-action buttons on your website.
Key features worth mentioning:
Helps you add vertical tabs to the right or left side of your website.
You can attach links to the tabs to different pages on your website.
Acts as a global call to action
Mobile-friendly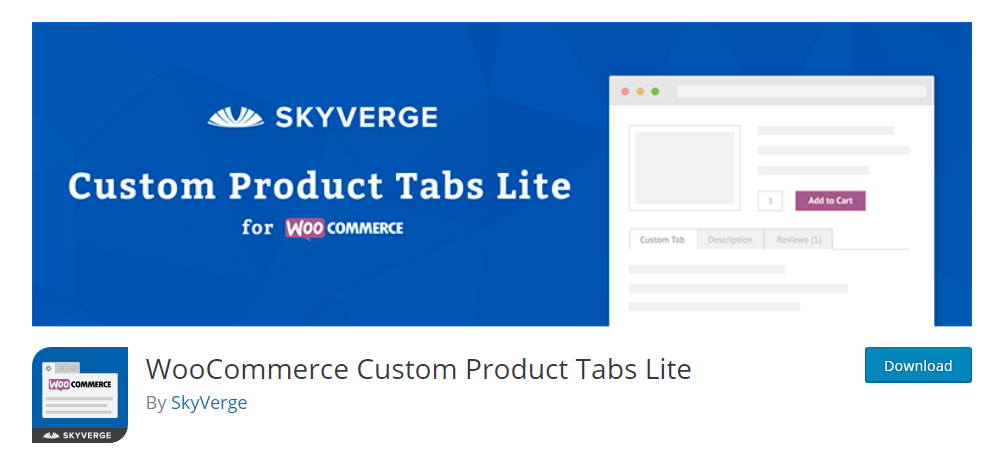 WooCommerce Custom Product Tabs Lite allows you to create custom tabs for your WooCommerce products with the option to add arbitrary content. You can add text, videos, HTML, and even shortcodes.
All your custom tabs are designed to appear between the "Additional Information" and "Reviews" tabs.
Key features worth mentioning:
Allows you to add a single custom tab to each product in your shop.
Populate the custom tabs with any desired content like product specifications, shipping info, and more
Option to add custom HTML and shortcodes as well
Conclusion
We made sure to include a diverse collection of plugins so you didn't have a lack of choices concerning style and functionality. As such, we hope that you can find the perfect WordPress Tab plugin for your website.
Experienced WordPress users are also welcome to share their favorite WordPress Tab plugin, even those not mentioned in the list, to provide your fellow readers with even more options.
You may also want to see our handpicked list of our best WordPress shortcode plugins.