If you own an online business selling services or products to your customers, you will need to set up a support platform to address any issue or problem that may arise. Now this doesn't need to be anything too complex. In fact, if you are a WordPress user, then you can simply install a support ticket plugin to provide your customers with a platform where they can drop their problems and wait for you to reach back.
So with that being said, here is a list of the severn best free support ticket plugins for WordPress.
Top 6 support ticket WordPress plugins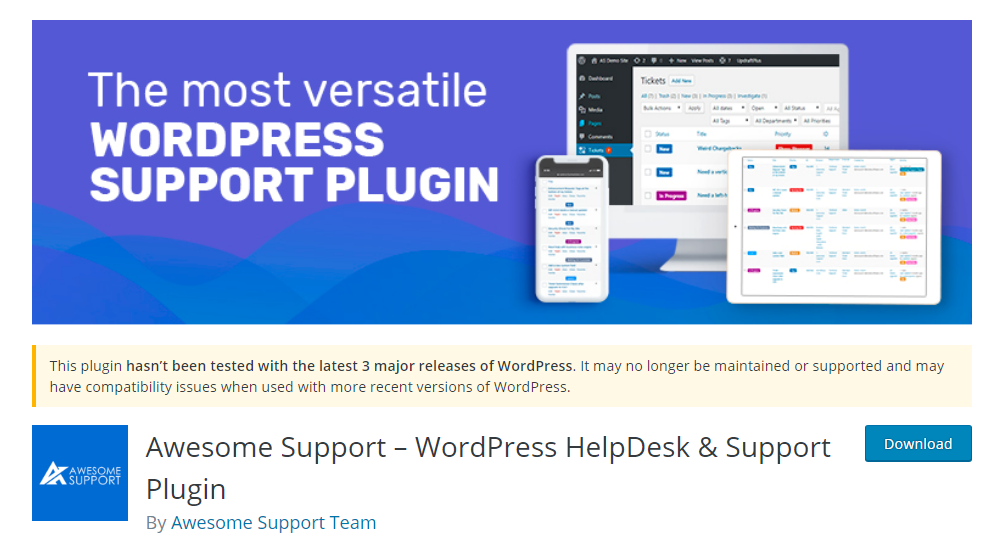 Awesome Support plugin is a free to use open-source software that can help you set up a feature-rich helpdesk with tons of advanced awesome features mostly found on premium plugins.
It can help you set up a ticketing system, supports file and media uploads by users, can send you email notifications when a ticket is raised and much more. And in case that's not enough, there is support for custom fields to extend the ticket forms.
Note: The plugin has not been tested for the last three major releases of WordPress.
Key features worth mentioning:
Lets users submit tickets via a front-end interface.
Option to send customized email notifications to relevant parties.
Users can upload files and media with no limit on size.
You can create and add your own custom fields.
Allows multiple agents to work on the same ticket to resolve an issue quickly.
Time Tracking integration.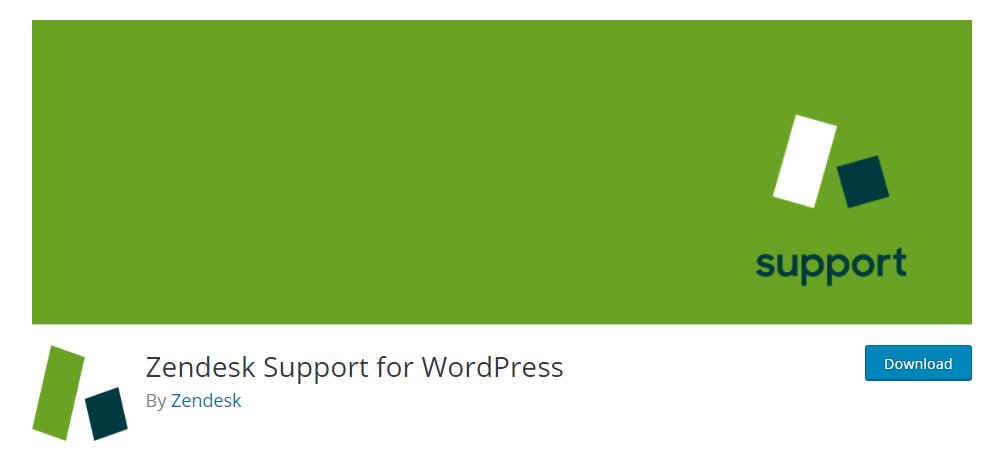 Zendesk is an extremely popular support ticket plugin for WordPress that helps you integrate the Zendesk helpdesk to your website. As such, it pretty much carries over all the features and functionalities that you get from Zendesk.
Some notable features of the plugin include support for single sign-on with Zendesk's remote authentication, raise tickets directly from users' comments, a dedicated Zendesk support widget, and a Zendesk feedback tab.
Key features worth mentioning:
Enable single sign-on so your users don't need to sign in to Zendesk Support to submit tickets.
Your support agents can create a support ticket directly from the comment's administrative screen.
Option to set up a Zendesk support widget on any page. Customers can use it to submit support tickets.
Access all your tickets from a single dashboard interface.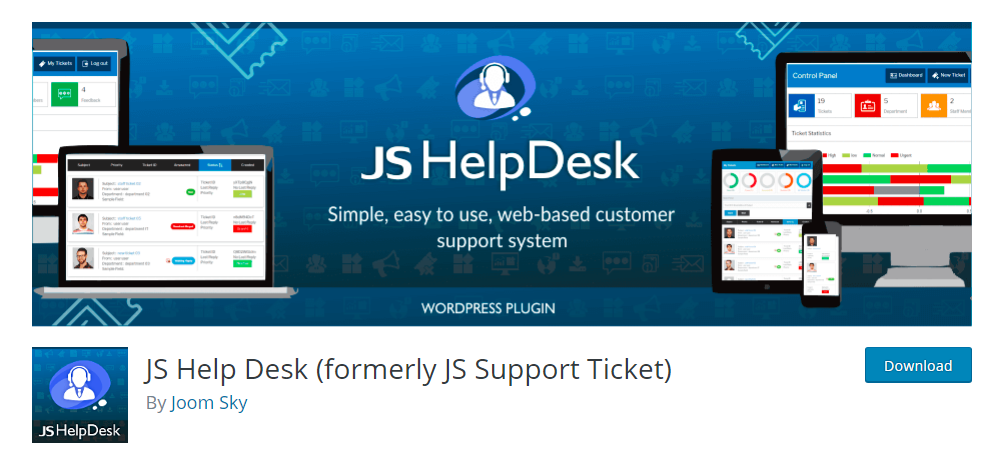 JS Help Desk is a decently popular support ticket plugin which formerly went by the name JS Support Ticket. It is open-source software that can help you integrate a web-based customer support system for your guests to submit a support ticket from the front-end.
Being an open-source plugin, it is completely free to use but bundles in tons of advanced functionalities. It also has a paid version that comes with even more premium features.
Key features worth mentioning:
Designed on top of the Bootstrap framework.
Users can create support tickets from the front-end.
Admins can create support tickets for a user/customer on their behalf.
Option to attach multiple attachments to a support ticket.
Tons of filtering options to help admins search through all the support tickets.
Loads of customization options that are easily configurable to your liking.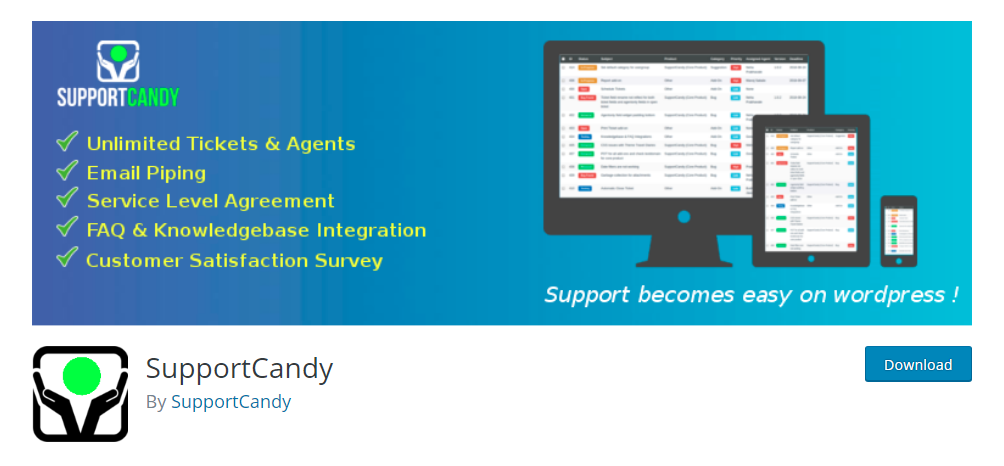 Next up, we have SupportCandy. With a focus on simplicity, functionality, and extendability, the support ticket plugin can help webmasters set up a full-fledged helpdesk on their WordPress website.
Adddtionally, it comes packed with all the necessary features and can help you deliver technical support, manage customer relationships, and even help with software release lifecycle management.
Although free to use, the plugin has premium add-ons that you can install to extend its functionality.
Key features worth mentioning:
Helps you create and manage potentially unlimited tickets.
Supports unlimited agents to handle and reply to all the tickets.
Uses Ajax to help speed up operations.
Supports agents get access to both a frontend and backend interface.
Allows guests to create tickets as well.
Users can upload multiple files as attachments with the support tickets.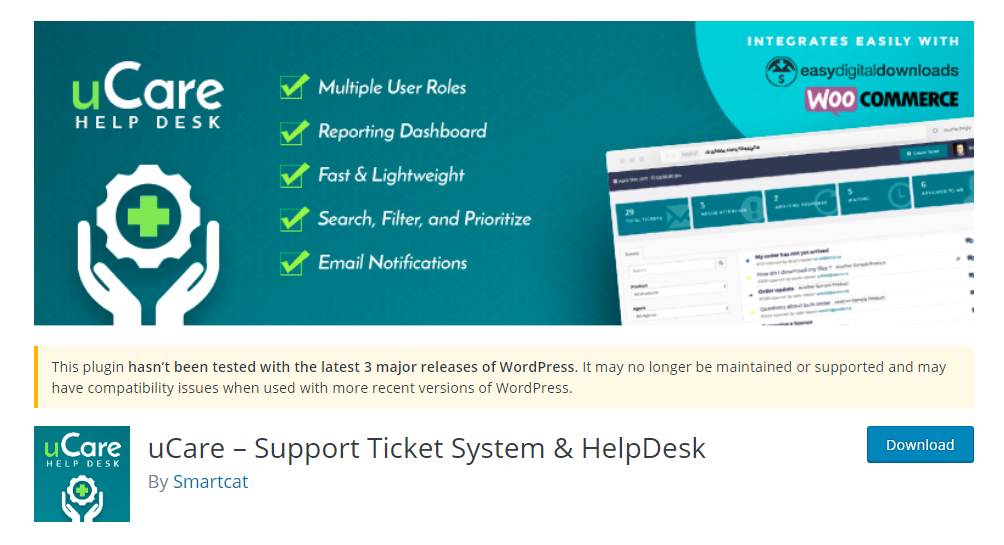 uCare is the perfect support ticket plugin for WordPress, especially if you sell products using WooCommerce or Easy Digital Downloads. Once installed, the plugin will create its own page designed to run separately from your theme, therefore having no impact on your site speed or performance.
It generates a fully responsive front-end interface to handle all support related tasks. There is also an option to create and manage multiple support tickets at the same time for better productivity.
Note: The plugin has not been tested for the last three major releases of WordPress.
Key features worth mentioning:
Create a Helpdesk compatible with WooCommerce and Easy Digital Downloads.
Dedicated reporting view to track all your ticket activities.
Support for user roles – admin, agent, and customer.
Tickets can be easily searched using filters and priority indicators.
Option to assign tickets to a particular agent.
Both frontend and backend interface.
Auto-close tickets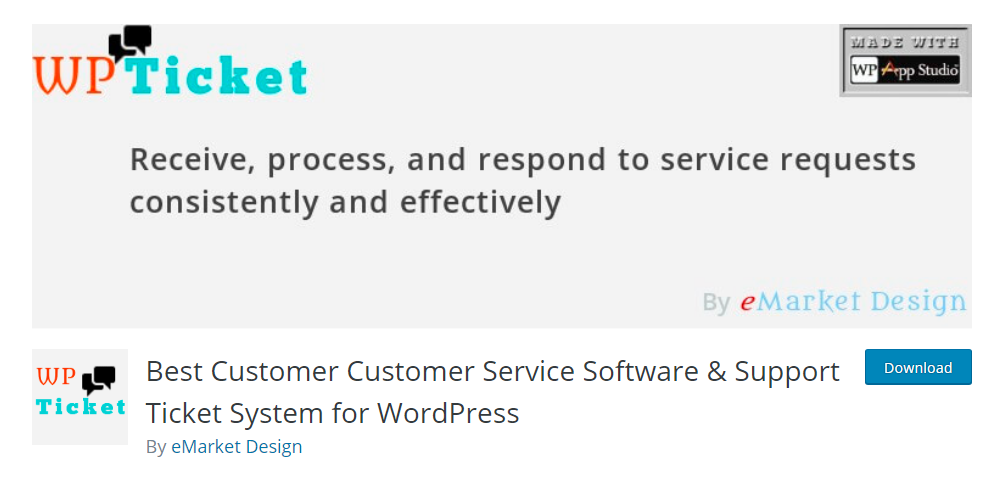 And for the last plugin on our list, we have WP Ticket. It comes with enterprise-grade customer support features and a full-fledged support ticket system.
You will get access to all necessary options to help you receive support tickets, process them, and resolve each issue as effectively and efficiently as possible.
Key features worth mentioning:
Comes with a dedicated customer support client area.
Frontend interface to handle support queries for non-technical agents.
Option to assign users to your customer support staff and restrict access to certain features based on roles.
Users can upload attachments with support tickets.
Customization options to help you tweak the appearance of the support tickets.
Premium version available with plenty more advanced functionalities.
Conclusion
We hope that you found the read to be useful and that it helped you in finding the perfect support ticket plugin to deliver proper customer care to your users.
As you can see, there are plenty of options for you to choose from and you should easily find a support ticket plugin that meets your requirements.
You may also want to see our handpicked list of best WordPress tab plugins.