Social login is a crucial feature if you are running a business or even a blog. As a business, you need to make sure that visitors can log in through their social media accounts. No user wants to go through the traditional email signups as they take a lot of time and effort to do so.
That's where social login comes in. And, if you are using WordPress, you will even find it even easier to make social login work on your site.
In this article, we are going to list the six best social login plugins for WordPress site. These plugins are needed as the default WordPress installation lacks most of the features, including the social login feature. So, without wasting any time, let's go through the six best social login WordPress plugins.
Top 6 social login plugins for WordPress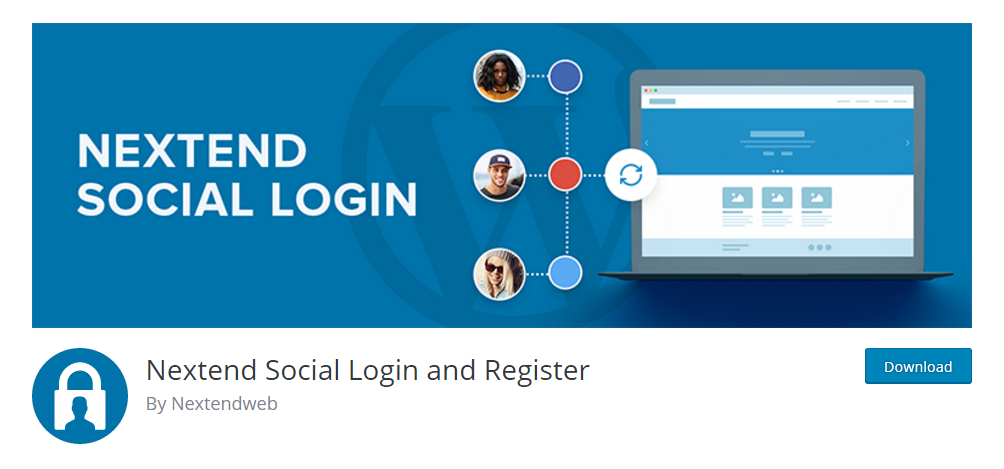 Nextend Social Login is the first social login plugin that we are going to discuss. It has over 200K+ active installation and is actively updated by the creator.
It lets users register to your website using social media profiles, including Twitter, Google, and even Facebook. This way, users can save time and can also become a member of your site.
Also, it removes the need to create a password, and users can simply log in using their preferred social media account.
Key features worth mentioning:
One-click registration for Twitter, Google, and Facebook
Social account tied to WordPress account
Custom URL redirect supported
Uses social media profile picture as an avatar
Customizable designs
User-friendly UI
The plugin also offers pro addon. The pro addon offers more features, including WooCommerce compatibility and other social media platform login.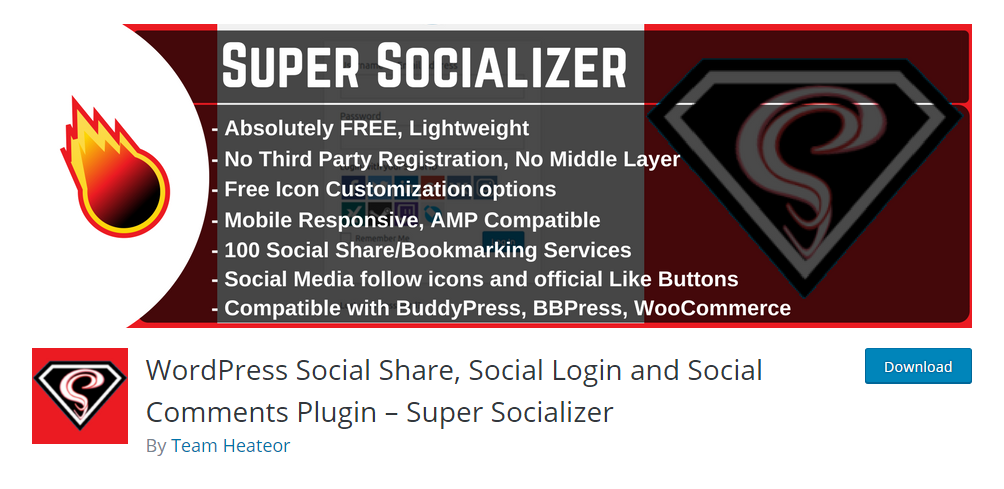 Super socializer is yet another social login plugin. With the plugin, you can integrate social login into your site. This way, you can easily integrate social comments on your site. To use the plugin, you need to install other plugins that enable those features.
The plugin is also feature-rich. It also offers social share with over 100+ social networks.
Key features worth mentioning:
Free icon customization options
Social share supported over 100 social networks
Offers social media follow icons
URL shortening option available in sharing
Auto-approve comments for users who use social login
Social comment supported
Multisite compatible
The plugin is completely free and doesn't have any premium version. It is also lightweight and completely responsive.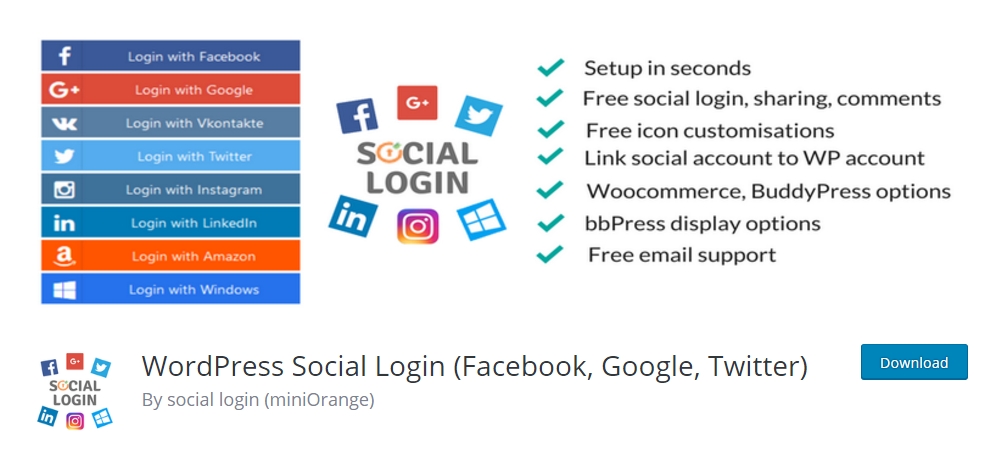 WordPress Social Login lets you enable social login on your website. By virtue, it also supports social comments and social sharing. Right now, it supports social media platforms, including Amazon, Twitter, Facebook, Google, Linkedin, Vkontakte, Instagram, Yahoo, Windows Live, and Salesforce.
In addtion, it comes in both free and premium versions.
Key features worth mentioning:
Social login icons preview
No setup required for social login apps (default)
Icon customization
Profile completion with email and username
Users can be assigned roles
Enable/Disable user registration
Login/Logout redirect URL customization
Shortcode supported
Preview supported
The premium version, of course, offers more features, including GDPR compliance, account linking, WooCommerce & BuddyPress support, and so on.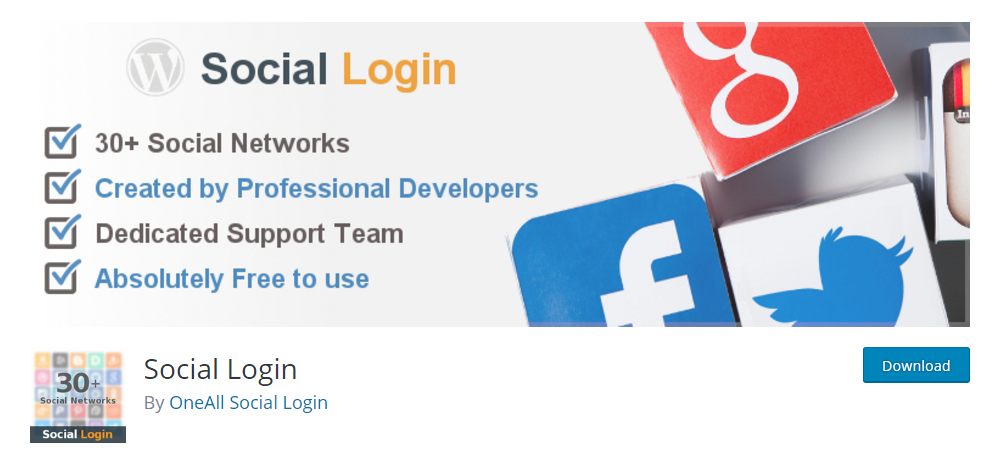 Social Login is a free social login WordPress plugin that is easy to use. It lets your website visitor not only register and login but also comments. It supports 40+ social networks, including the likes of Twitter, Google, Facebook, Paypal, Instagram, and so on.
The plugin offers a data protection guarantee, which means that it is compliant with U.S data protection and European. It also seamlessly integrate the login through social media platforms. In terms of protection, it offers spam and bot protection. It is also maintenance-free and is completely customizable.
Key features worth mentioning:
Compatible with other plugins
40+ social networks supported
Professionally maintained and developed
Data protection guarantee
Fully customizable
Eliminates spam and bot registrations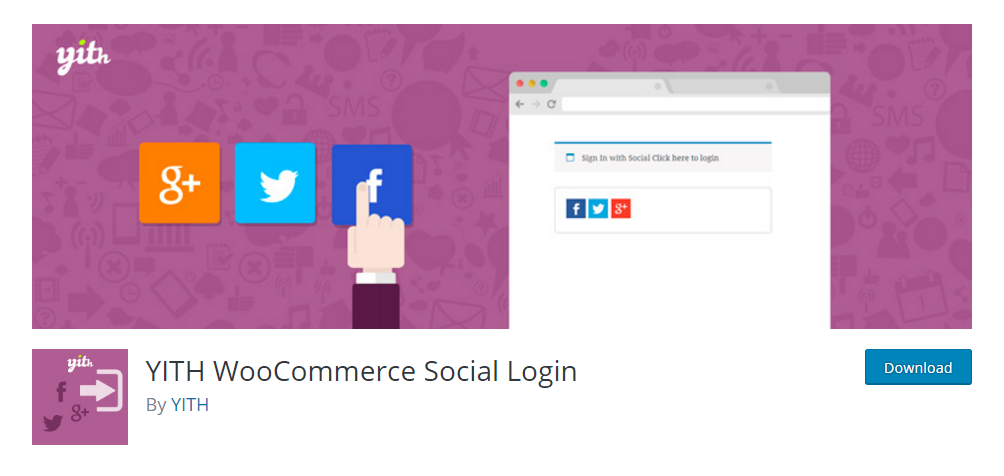 WooCommerce is slightly different than WordPress, even when it runs on top of it. That's why it requires a different plugin. Meet the YITH WooCommerce Social Login. It is a WooCommerce social login that improves your eCommerce site potential. With the one-click login, you can drastically improve your sales as users will find it easier to create an account.
It adds three pages to your site if installed. It includes the My account page, checkout page, and WordPress login page.
Key features worth mentioning:
Three pages created for ease of use
One-click login
Easy integration WooCommerce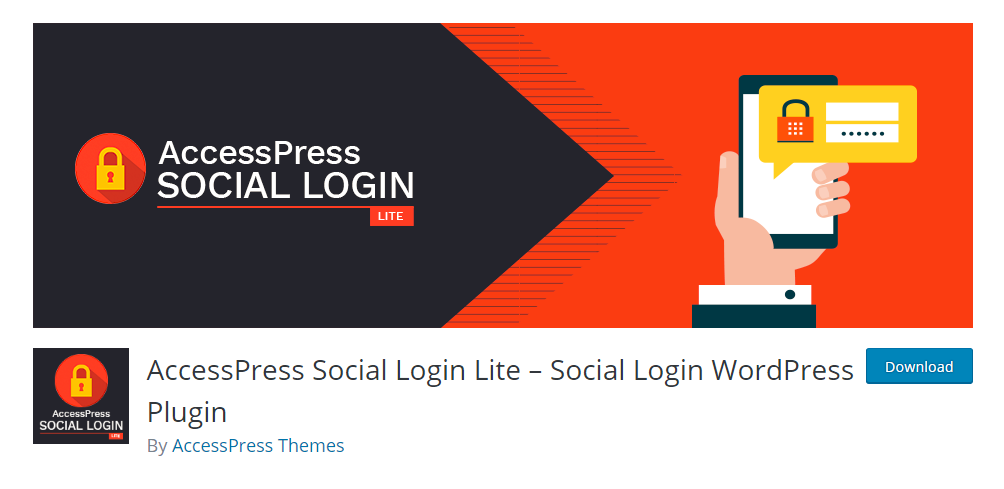 The last plugin that we are going to list is the AccessPress social login lite. It is a free social login plugin. Just like other plugins, it also lets users to register and login through their social media accounts.
With AccessPress, you can easily configure your site to accept the login from multiple social media platforms. You can enable and disable the feature anytime you want.
Moreover, the users can then comment and share the content easily. It also uses the social media profile picture as an avatar.
Additionally, the reconfigurability offered by the plugin is also useful, as you can configure it according to the theme you are using.
Lastly, it is also easy to set up, and three popular social media platforms can be configured out of the box. All you need to do is select the three social media, complete the setup, and then craft the login page for users.
Key features worth mentioning:
It only supports Twitter, Facebook, and Google
Each social account can be configured accordingly
Social login can be enabled and disabled
Shortcode support
Translation ready
One-click registration/login
It also comes with pro version, which gives you access to more social network support, more beautiful design templates, BuddyPress & WooCommerce support.
Conclusion
This leads us to the end of our social login plugin. They are a must-have feature for business, especially if you are running eCommerce. Simple blogs can also benefit from it. So, which social login plugin are you going to use? Comment below and let us know.
We hope this article helped you choose the perfect social login plugin for your site. You may also want to see our list of best WordPress SSL plugins.