Do you want to convert your WordPress site into a job board? If you do, then you have come to the right place. In this article, we are going to list the five best job board plugins for WordPress.
With the help of the job board plugin, you can do a job listing or build a job portal for your users. There are many instances in which this can be done. For instance, if you run a freelancer blog where you share tips and techniques, you can also add a section where you can do job listing.
Job site building using WordPress
As a business, you can take two approaches. The first approach is to utilize wordpress.org. It is a self-hosted solution where most of the hosting aspects are taken care of by the hosting service. If you want to create your own site by ground up, you should use the WordPress.com.
If you go by the second option, then you need a proper hosting service. This will also give you better control over the functionality of the website.
Top 5 WordPress job board plugins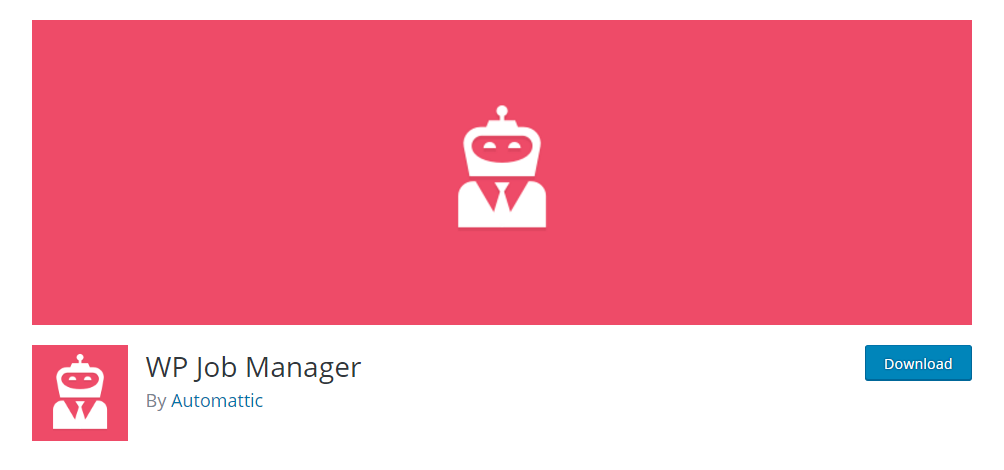 With over 100k+ active installations, WP Job Manager is the most popular job board plugin for WordPress. It is a lightweight plugin that lets you turn your WordPress site into a job board. The implementation is done using a short code, and you can always customize it by editing the code.
Key features worth mentioning:
Manage, add and categorize job listings
UI interface
Filterable and searchable Ajax powered listing
Shortcode support for easy implementation
RSS links for easy job search
Offers employers proper job management
Developer friendly code for easy customization including template files, custom post types, and endpoints
Listings can be tied with website or email address
The plugin also comes with add-ons, which add more functionality to the job site. Some of the add-ons include resume manager, applications, job alerts, WooCommerce paid listings, and so on. The add-ons are paid.
Lastly, it comes with great documentation, good support, and it also offers unit testing.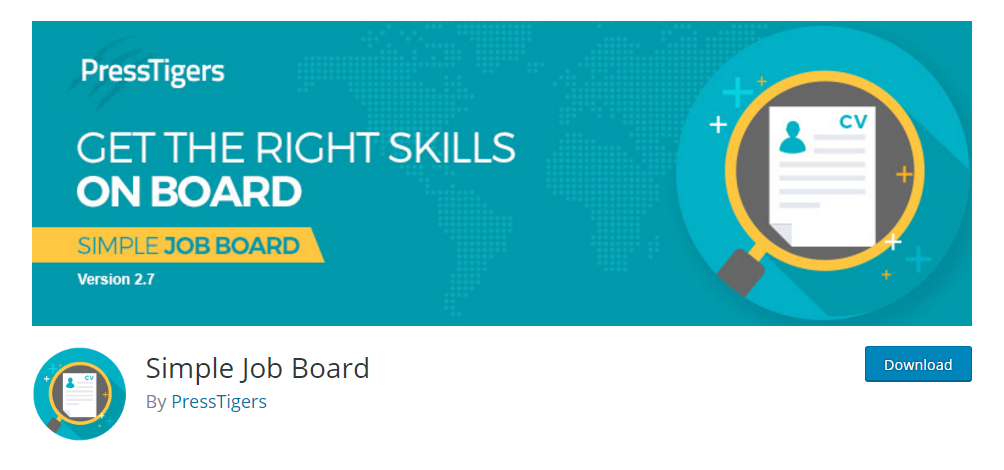 Simple Job Board is a free-to-use, lightweight plugin. It lets you add a job board to your site. Once installed, the plugin is easy to use and offers a customizable job board.
From the job board, you can manage jobs. Adding jobs is also easy and can be done through the dashboard. There is also no limitation on adding job listing.
Inserting jobs can be done using shortcodes for the sake of simplicity.
Key features worth mentioning:
Easy to use
Supports shortcode
Proper job management system
Customizable job board
Adds job listings, category listing
Offers user interface for easy management
Uploads documentation supported
Supports filters, email notification, application form and so on
Just like WP Job Manager, it also supports paid add-ons. Some of the premium add-ons include job level filter, how to apply, multiple attachment fields, category base hiring, and so on.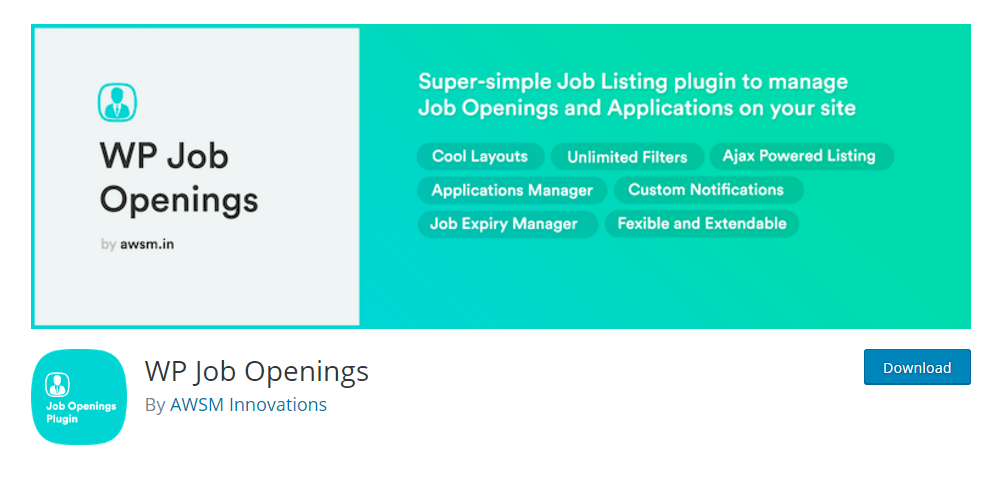 WP Job Openings is a relatively new plugin with 3000+ active installations. It lets you create a job listing easily on your site. According to the plugin page, the plugin is designed after carefully studying different job listing methods and layouts.
By using the plugin, you can make your site a great recruitment tool.
It offers two layouts – list and grid. Both layouts offer modern design and utilize an amazing user experience. It also offers flexible filter options.
Key features worth mentioning:
Comes with two modern layouts
Clean UI
Unlimited filtering options
Offers HR role
Job expiry options
Detailed documentation
Submit applications using default forms
It comes with two add-ons, Docs Viewer and Pro Pack. The Pro pack is basically the premium version of the plugin, which offers better functionality, including reject, shortlist and select applications, activity and notes log, templates and custom email notifications, and so on.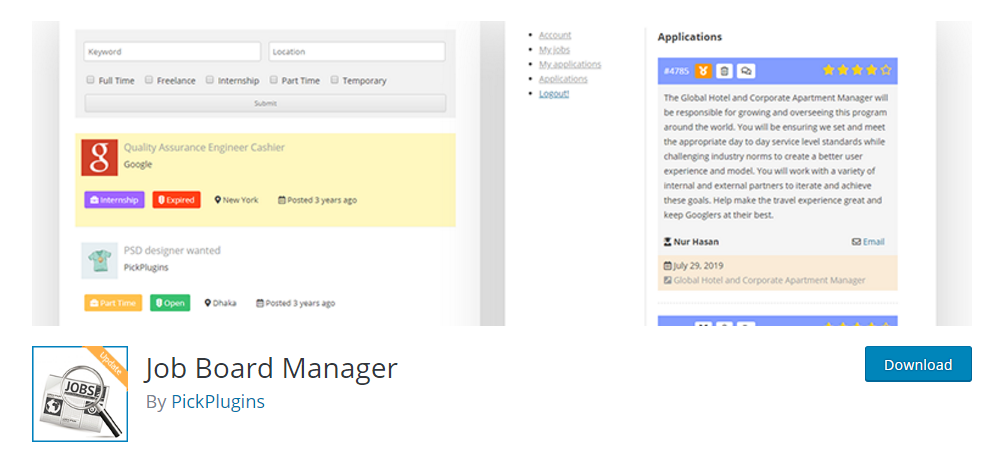 Job Board Manager is our next plugin in the job board plugin list for WordPress. It is also a relatively new plugin. It does let you create a fully functional job listing site. The plugin comes with a job board manager so that you can manage job posting directly from the dashboard.
To ensure simplicity, it offers shortcode for displaying, including job submissions, account, and so on. It also offers hooks for developers who want to add more features to the job board.
Extending functionality using hook is easy. Some of the key shortcodes include the following:
Advance job archive → [job_bm_archive]
Advanced dashboard → [job_bm_dashboard]
Job submit form → [job_bm_job_submit]
Custom registration form → [job_bm_registration_form]
Job edit form → [job_bm_job_edit]
Key features worth mentioning:
Offers fully functional job board manager
Shortcode support
Hook support for adding functionality to the plugin
Applications
Notification mail
Different application methods support
Job expiry
The plugin also comes with translation. It is a free plugin with no paid alternative.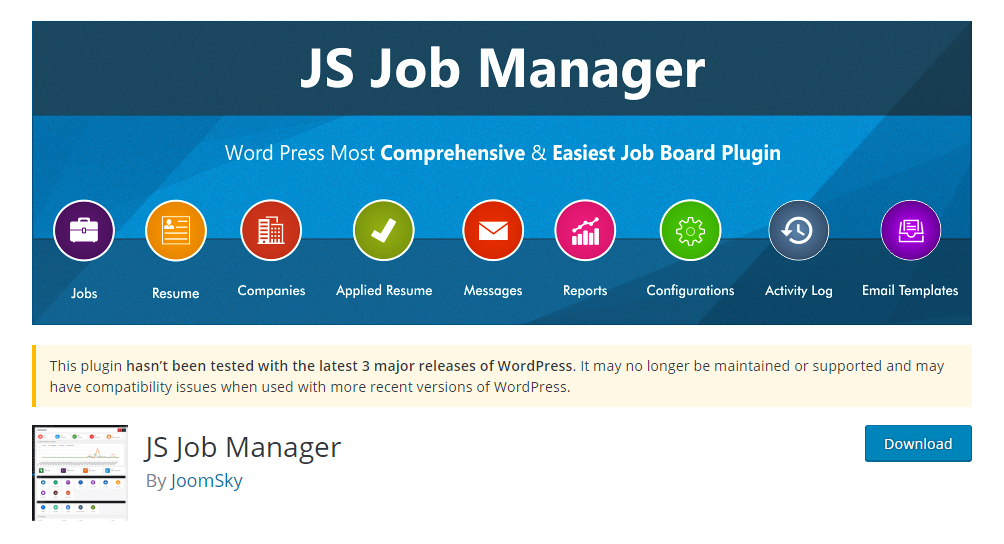 The last plugin that we are going to discuss is the JS Job Manager. It is a simple plugin that lets you run jobs classified service on your website. To get started, you just need to install the plugin. Once installed, you will get access to 45 shortcodes and 250+ configuration.
Key features worth mentioning:
Easy to install
Come with pre-configured options
Create powerful login/register pages
Responsive layout
Search engine friendly URLs
Proper admin level features
25 shortcode in the free version
Job alert
Message system
Widgets
Address management
Purchase history
And many more!
At the time of writing this article, the plugin hasn't tested with the 3 major releases of WordPress.
Conclusion
This leads us to the end of our five best job board plugins for WordPress. These plugins offer quite a good number of features out of the box.
The free plugins are good to start your job site, but later on, you might need to transit to the pro version of the plugin for better usability and more features.
So, which job board plugin are you choosing? Comment below and let us know.
We hope this article helped you choose the perfect job board plugin for your WordPress site. You may also want to see our handpicked list of best rich snippet and schema plugins for WordPress.